Criticism
*This is an idea, that I spoke about some time ago, that is slowly starting to gain some traction, after it was widely dispersed that the vast majority of film critics are White men, and after the actresses of Oceans 8 spoke out on why they felt their movie received lukewarm reviews. I have been saying that we need more reviewers of color because more and more movies, books, and TV shows are being released that are not specifically created for White audiences, and I think it's important that we hear from reviewers who are members of the audiences at which this type of media is aimed, not just White men.
https://variety.com/video/brie-larson-crystal-lucy-awards-critics/
 "[Audiences] are not allowed enough chances to read public discourse on these films by the people that the films were made for. I do not need a 40-year-old white dude to tell me what didn't work for him about '[A] Wrinkle in Time.' It wasn't made for him. I want to know what it meant to women of color, to biracial women, to teen women of color, to teens that are biracial."
Black Mirror and Critical Diversity
https://tvgeekingout.wordpress.com/2018/01/10/black-mirror-and-critical-diversity/
The Problem with White Critics
https://wordpress.com/post/tvgeekingout.wordpress.com/73012
 @@
See I think A Wrinkle in Time just proves we need more female critics and more critics of color because…okay, let me see if I can explain this.

I saw the latest Blade Runner movie and I was bored to tears yet on the movies subreddit, everyone said I either didn't get it or didn't give the movie a chance. And when I gave my reasons as to why I didn't like the movie, I was called close-minded. The movie wasn't just dull but it had this creepy obsession with women yet didn't respect women in any way and I found it ironic that a movie all about women and their rights to reproduce had the main character be a male. But obviously, I'm not smart enough to understand this movie.
Now with Wrinkle in Time, I enjoyed this movie and I do honestly feel like a lot of white, male critics are tearing the movie apart because they don't get it or don't try to get it. There is also a lot of callous talk concerning this movie.
"Oh, it's too emotional! It's too focused on self love!"
How…how are those bad things!?
Like I'm sorry but I am tired of every movie that is dark and gritty being hailed as something thought provoking and deep. Not every single piece of entertainment has to be depressing 24/7. I've also noticed that when it comes to movies that are dumb fun, if it doesn't feature a man, it's torn apart too. I liked Maleficent. It's fun but if I like it, I'm an idiot apparently.
What I'm getting to is this. The job of the critic is to tell people if they would like a piece of media or if they would enjoy it. I'm able to see a movie and sometimes say, "This movie was not meant for me but someone else might like it." I feel like a vast majority of today's critics can't do that and I think it's important that critics be made up of more than just white dudes.
@@
*In some ways I agree with the following article. But my point is not that straight, white, 40 year old, men don't have anything at all to say about films not aimed at them, like A Wrinkle In Time, (which is aimed at bi-racial teenage girls), but that they don't have anything, of real authentic relevance, to say to any of the bi-racial teenage girls who are going to see the movie, or read the reviews. As a straight white man, there are certain aspects of authenticity, in a movie not aimed at him, that he's simply not going  to see, and therefor speak about, and his viewpoint shouldn't be the only one expressed about a film.
This isn't about whether or not a movie is good or bad, or whether or not White men can  see a movie. Movies are meant to be seen, and are for whoever will go see them, but a bi-racial teenager may have specific insights into A Wrinkle In Time, which is directly aimed at her as its audience. What did she get out it? Did the movie accomplish its goal for her?
We need more diverse film critics because I do want to know what someone of Mexican descent thinks about Coco,  what women think about Wonder Woman, and what a Black person thinks of Black Panther and Luke Cage. Its not that white men have no insight about movies they are not the audience for, but that their insight might be somewhat limited, because they're not part of the group, or culture.
At the same time I can also acknowledge there are plenty of movies that are aimed at straight, White guys, that they may have insight into, that I just don't have, like Fight Club, and Taxi Driver. I've seen those movies, and can comment on them from a film school essay point of view, but I'm not a a part of the group those films are specifically aimed at. There are things about being a straight White guy that I just don't know about. I can see the thematic aspects of those movies, but I can't say a whole lot about their authenticity, and what messages I get from them may be completely different than what the creator intended, (although arguably, I can probably do a better job of it, than any white guy, on movies aimed at women, black people, and Latinx).
http://www.latimes.com/entertainment/movies/la-et-mn-film-criticism-diversity-20180620-htmlstory.html
@@
Publishing:
Last year, an author named Lionel Shriver went on a public rant about diversity in publishing. She has since doubled down on her views, which has prompted a scathing response form the author, Hanif Kureishi. And once again this backlash against diversity in publishing is entirely predictable, according to Samuel R. Delaney, (and can also be applied to many areas of media that seek to branch out to different audiences). I will reprint this link as many times as I have to to make my point:
As long as there are only one, two, or a handful of us, however, I presume in a field such as science fiction, where many of its writers come out of the liberal-Jewish tradition, prejudice will most likely remain a slight force—until, say, black writers start to number thirteen, fifteen, twenty percent of the total. At that point, where the competition might be perceived as having some economic heft, chances are we will have as much racism and prejudice here as in any other field.
Penguin's response:
:https://www.independent.co.uk/voices/penguin-publishers-diversity-inclusion-scheme-writers-queer-lgbtq-race-class-disability-women-a8393796.html
https://www.theguardian.com/books/2018/jun/11/publisher-defends-diversity-drive-after-lionel-shrivers-attack
Kureishi's response:
https://www.theguardian.com/commentisfree/2018/jun/15/diversity-publishing-culture-minority-writers-penguin
The British creativity I grew up with – in pop, fashion, poetry, the visual arts and the novel – has almost always come from outside the mainstream: from clubs, gay subcultures, the working class and from the street. Many of the instigators may have been white, but they were not from the middle class – a class that lacks, in my experience, the imagination, fearlessness and talent to be truly subversive.
Movies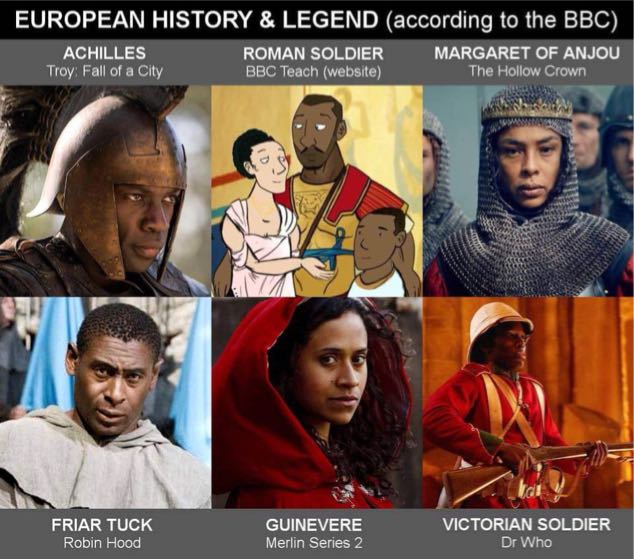 *An article on how the current crop of horror movies  are a reflection of America's greatest fears, and always have been. I spoke on this briefly, when I reviewed the Bodysnatchers movies, and how each iteration was a reflection of America's greatest fears, during the time in which they were made. 
https://tvgeekingout.wordpress.com/2018/01/10/invasion-of-the-body-snatchers-1956-vs-all-the-rest/
https://www.vox.com/culture/2016/12/21/13737476/horror-movies-2016-invasion
https://www.theatlantic.com/entertainment/archive/2014/04/why-sci-fi-keeps-imagining-the-enslavement-of-white-people/361173/
But it's worth remembering that in sci-fi, the future actually isn't safe or sterile at all. On the contrary, with its alien invasions, evil empires, authoritarian dystopia, and new lands discovered and pacified, the genre can look as much like the past as the future. In particular, sci-fi is often obsessed with colonialism and imperial adventure, the kind that made the British Empire an empire and that still sustains America's might worldwide.
TV
There was a long discussion, on Tumblr,  of what constitutes police propaganda, because some people were confused, and wanted to disregard Brooklyn 99 as propaganda, based solely on the idea that  the show was progressive and enjoyable. My argument, and the argument of many others was, this is exactly the reasons why the show is a form of  propaganda for law enforcement.  My argument was that it was the impact of the show, and not the writers intentions which make it propaganda.
http://www.slate.com/blogs/browbeat/2015/05/18/brooklyn_nine_nine_s_fantasy_world_doesn_t_stop_me_from_loving_it_video.html
 It's a well-crafted fantasy, with hardly any discernible connection to current cultural attitudes about law enforcement. On the surface, the show is really not so different from that subway ad. Does the fact that I love one and feel displeasure for the other make me a hypocrite?
I don't want to be That Person ™ who adds meaningless noise to discourse, but…
Who in the world thinks that B99 is police propaganda?
Police propaganda is shows like SWAT (which I enjoy immensely, except for the preachiness) or Blue Bloods or NCIS LA, in which law enforcement is glorified and the main characters can do no harm.
B99 focuses on cops, yes, and addresses cop-related issues, yes. But it never portrays policing as anything other than a normal profession, or the characters as more moral than anyone else. You could change the setting to an amusement park or a college or a law firm and the basic setup would stay the same.
Recently in B99, Jake tells Captain Holt that he's not ready to come back to work, because he has a "little voice in his head saying, 'but what if [the suspect] innocent'." And Holt tells him that the voice is a strength. Jake shouldn't think lightly of throwing people behind bars or accusing them of crimes. It's a serious matter. "I wish more cops thought that way," says Holt.
HOW IS THAT PROPAGANDA????
Actually the argument you just made for why it isn't propaganda is exactly why the show is propaganda The series does not show the Brooklyn 99 crew as just regular citizens. The main characters are glorified as being more progressive than the police actually are,  occasionally shown to do no wrong, and when they do wrong, they  correct their mistakes by the end of an episode.
So it actually is. Don't get me wrong, I absolutely love this show and all it's characters, but that's what makes it propaganda. Any cop show that is set up for you to think of the characters as likable, dutiful, and most importantly "good" is propaganda. I think the creators  intent is to be funny, with great characters, and tackle a couple of  social issues, but it is still propaganda, not because, not just because of their intent, but because of the effect of the series in this particular social landscape.
The "effect" is that you end up liking these very liberal, open minded, "woke" cops,  and in real life, cops are generally very conservative. Also, the police are employees of the state, so ANY show that makes us feel some type of way about them (good or bad) automatically makes the show (even unintentionally) political, making it propaganda.
So yes, as wonderful and lovable as the characters are, as nice as they are,   that is the reason that it qualifies as propaganda. Technically, even if all the cops on the show were evil and corrupt, it would still be propaganda, because the net "effect" is that you watch this show, and feel some type of way about the state-run, political entity of law enforcement.  The side effect is that the show makes the police look good, and makes you feel good about them.
Just because it's a comedy doesn't mean it doesn't have an effect on the net accumulation  of people's thinking about the police. In the end ,it's not about the "intention" of the creators. It's about the "effect" the show has in the landscape of television, along with the 15-20 other cop shows airing at the time.
Brooklyn 99 qualifies.
Fandom
Once again, we need to discuss the racism that has heavily infested the fandom. Why? Because its  merely a reflection of the everyday microaggressions and racism that White people practice on the daily. I'm also going to argue that this racism is informed by decades of television viewing in which White audiences were never given any alternative narratives about PoC, women, and gender, and sexual orientation.
https://fanlore.org/wiki/Race_and_Fandom#Racism_in_Slash_Fandom
Race and ethnicity has been an issue in the canons of fannish source texts for almost as long as fandom has been around. Because most entertainment is created and produced by white males, particularly in Hollywood, it tends to reflect the mindset and experiences of the majority of its creators.
http://www.blackenterprise.com/the-power-of-black-women-in-fandom/
As a black women who are fans of black female characters, we are constantly reminded how much hate there is for black women and how voraciously people in fandoms dig for reasons to justify it. Oftentimes white female characters are lauded for doing the same things that white fan bases hate black female characters for.
http://www.vulture.com/2018/06/kelly-marie-tran-star-wars-hollywood-enabled-toxicity.html
The lack of ethnic and gender diversity in the first three films is an original sin that allows toxic fans to point to the Original Trilogy the way gun nuts point to the Second Amendment. There's no productive argument to be had when anti-inclusivity extremism is at play. These people want what they want, and they're not disappearing.