This has definitely caught me in my feels this week as I learned that Kelly Marie Tran was, very possibly, driven from the only social media site she has engaged with, Instagram, since being cast as Rose Tico in the latest Star Wars film. She received so much racist and sexist hate, that she deleted all her posts, and shut down her page. I'm saddened by this, because I was really enjoying following   her actor's journey on Tumblr, and she seemed incredibly happy to be a part of the franchise. Joining the Star Wars franchise, as a principle player, was supposed to be a happy, and momentous, occasion for her, and a bunch of assholes spoiled it! She seemed like such a positive person, so bubbly, and pleasant,and she just wanted to share some of her happiness. I was interested in her journey to stardom, and planned to follow her career.
https://www.thedailybeast.com/the-persecution-of-kelly-marie-tran-how-star-wars-fandom-became-overrun-by-alt-right-trolls
So how did a breakout role in an incredibly influential film end in fear and self-censorship? For anyone who's been following recent trends within the Star Wars fandom, this outcome would actually be fairly predictable; in fact, given the racism, misogyny, and general toxicity that's built up around the franchise, it's impressive that Tran was able to last this long. Like so many other assholes, bigoted Star Wars fans have recently become emboldened, emerging from the chrysalises of racist Reddit threads as ubiquitous, bullshit-spouting butterflies. 
And now, like Leslie Jones, and Daisy Ridley before her, she's decided she has simply had enough of the constant racist abuse, and  the Star Wars fandom is just too toxic for her. This is what "fandom "has come to, people harassing and abusing the creators of the content they claim to love. This goes against the very definition of what "fandom" is.
https://en.wikipedia.org/wiki/Fandom
Fandom is a subculture composed of fans characterized by a feeling of empathy and camaraderie with others who share a common interest. Fans typically are interested in even minor details of the object(s) of their fandom and spend a significant portion of their time and energy involved with their interest, often as a part of a social network with particular practices (a fandom); this is what differentiates "fannish" (fandom-affiliated) fans from those with only a casual interest.
This isn't just about criticizing Star Wars, or disliking her character. No matter how much certain media sites try to play it down by mentioning that other Star Wars actors have been harassed out of acting altogether (Jake Lloyd, Hayden Christensen ), they must acknowledge that her harassment included the triple vectors of  racism, sexism, and fat shaming. This wasn't about calling her being a bad actress and is  the  the exact same thing that happened to Leslie Jones for daring to appear in a movie.
https://www.nbcnews.com/news/us-news/why-was-leslie-jones-targeted-trolls-n638291
And no, this isn't just the Star Wars fandom. This is a much larger issue than Kelly Marie Tran and its about time the mainstream media looked closely at it. Every type of fandom has this same toxic element within, from books (check out the Goodreads bullies from the early 2000's, and the SadPuppy Brigade in Science fiction), movies (Leslie Jones' retreat from Twitter, and the  attempted tanking of Black Panther on Rotten Tomatoes), games (see Gamergate, and the term "Swatting", which has already cost the life of one man), and television (see the racist harassment of Candace Patton of The Flash,  the erasure of characters of color, in media in which they are the primary characters, like Teen Wolf, and there was The Rick and Morty Schezuan Sauce Debacle last year).
The common denominator of all this toxicity is primarily straight, White, and male. White male geeks are showing their whole ass, in every sphere of geekdom, as they always have, but now this news has finally made its way into mainstream media, which has long ignored what goes on in fandom circles. How did things go so terribly wrong? Did this happen because being a geek has gone mainstream and attracted unsavory elements? Was geekdom always like this? And if not, what caused the behavior change? People are   thinking about this now  because this is a larger issue beyond Kelly Marie Tran, and The Guardian pulls no punches when it comes to naming exactly what this issue is:
https://www.theguardian.com/film/2018/jun/07/kelly-marie-tran-rose-why-are-some-star-wars-fans-so-toxic
These males – and it is males – feel they have ownership over a piece of entertainment: that geekdom is their safe space, theirs alone, and the newfound mass popularity of the genre is bringing a lot of casuals into their hitherto predominantly straight, white, male dojo. Diversity isn't what some of them want. Which is bizarre, considering the benefits of diversity are what quite a lot of sci-fi is actually about. But it's not what these people believe they paid for, and therefore see themselves of having part-ownership of. The sense of entitlement is staggering.
I can't even say its just White fanboys who are responsible because there is just as significant a contingent of White women, who are as toxic, "misogynoiristic", racist, and  delusional in their fandom, as the White fanboys, who insist that these creations are ruining their childhoods, by being inclusive of gender and race. For example, check out the 'shipping behavior surrounding Reylo, JohnLock, and Destiel.
White female fans have  attacked Candace Patton, the women of the MCU, the actress wives of the stars of Supernatural and Sherlock. Why? Because they believe these real life women stand in the way of their OTP (One true pairing.) These are the same women who think they're being progressive because they 'ship two White male characters, while ignoring the half dozen actually canon, gay characters of color, in movies like Moonlight, and TV shows like Teen Wolf, and Shadowhunters.
Female fans were so incensed at the character, Sharon, from Captain America: The Winter Soldier, that they harassed, and attacked the actress, and started a Twitter campaign insisting that Captain America have a boyfriend. (Never mind that Steve Rogers has NEVER  even been hinted at as being gay, anywhere in the comics, or the MCU.) (For the record, I'm not against gay characters. I  don't want canon straight characters being changed to gay in the source material, although I will headcanon them as gay in fanfiction. I would prefer creating media with actual  gay characters, of which there are plenty, that I'd love to see in movies.)
White male fanboys have even attacked Star Trek, for having too much  diversity, and social justice messages! They claim that is not what they've watched the show for and  I have to question whether they've EVER watched the show, because diversity, and social issues was the entire foundation around which the franchise was created. What the Hell have they been watching?!!!
I've tried to figure why these fandoms have become more toxic, and there are several articles that point to things like, the anonymity of the internet, and the feelings of entitlement that fans may have towards the source material, the actors, and characters. All of that is true, but those are just a couple of  elements in  the toxic stew that so many fandoms have become.
Not all toxic fandom has a racial component, because those fandoms without a significant portion of marginalized members can be just as toxic as the ones that do. But it cannot be denied that when there's a significant number of PoC, and women, in the source material, there's also a definite racial component to the backlash. I fear this will only get worse, as people who were previously marginalized as creators, actors, and fans, keep making significant inroads into Pop culture. I see that I'm going to have to pull out Samuel R. Delany's essay again:
http://www.nyrsf.com/racism-and-science-fiction-.html
As long as there are only one, two, or a handful of us, however, I presume in a field such as science fiction, where many of its writers come out of the liberal-Jewish tradition, prejudice will most likely remain a slight force—until, say, black writers start to number thirteen, fifteen, twenty percent of the total. At that point, where the competition might be perceived as having some economic heft, chances are we will have as much racism and prejudice here as in any other field.                                                           ——Samuel R. Delaney
And I believe that this is what's happening here. White fanboys are having a full on meltdown, as the Pop culture they use to claim entirely for themselves, has begun  broadening  its fanbase, by appealing to women and minorities. Not only that, but a significant portion of fandom has been infiltrated by people who are not actually fans at all. The loose coalition of the Alt-Right, and White Nationalists, for example, who see all this as yet another opportunity to harass women, and PoC, are simply jumping on the bandwagon.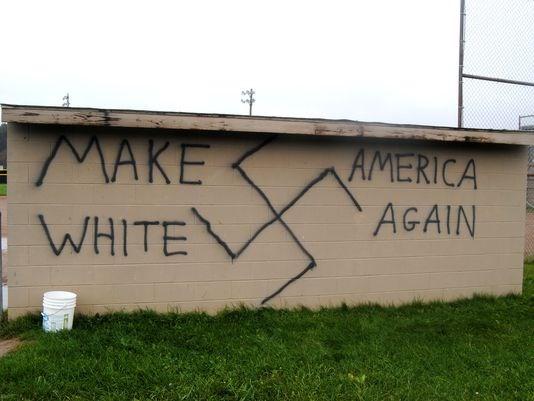 And yes, I think this behavior in fandom is directly tied to the behavior of White men behaving badly in the rest of the culture, from mass shootings, to car attacks, to violent marches. They have caused controversy in every field, including the fields of  History, and Science, as they attempt to change historical, and scientific narratives to fit their White racial agenda. There is an all out attack on every part of American culture.
https://www.publicmedievalist.com/race-racism-middle-ages-toc/
https://www.nationalgeographic.com/magazine/2018/04/race-rising-anxiety-white-america/
But I generally believe there is more racism in fandom, not because there are more racists in fandom, but because there are more races in fandom. Not because the business of entertainment cares so much about these groups, but because we have all been exceptionally clear about letting them know we will no longer be giving them our money for products that refuse to include us, (and they've also seen they can make serious  bank by appealing to us, i.e. Black Panther,  The Fast and The Furious, Star Wars.) Even some White fans have claimed to be tired of only seeing White men onscreen, and have been clamoring for more diversity.
https://io9.gizmodo.com/fantasy-writer-n-k-jemisin-explains-why-theres-more-ra-1586220859
She begins by explaining that racism has become a bigger issue in fandom lately, partly because people of color are becoming more powerful as creators in the publishing industry. And that means the backlash is going to be stronger.
But ultimately, it doesn't matter how many temper tantrums, and meltdowns White men have, though. Once "fans" start reacting this badly, they've already lost whatever war they think they are a part of. The business of entertainment has made so much money from appealing to people like me, that I don't think they have any plans to go back to the way things once were, of only appealing to the demographic of: White men ages 18-35. (There's also the side effect of fans and creators watching this behavior, and doubling down in their fight against racism, homophobia, and sexism, as they don't want to be associated with such rabid behavior.)

Further Reading:
https://www.huffingtonpost.com/entry/doctor-who-backlash-exposed-the-irony-of-men-who-dont-want-women-in-fandom_us_596f642ce4b0000eb1978720
http://minervamag.com/2016/01/when-fandom-goes-wrong/
https://splinternews.com/fandom-isn-t-broken-it-s-just-not-only-for-white-dudes-1793857254
Racism, Misogyny & Death Threats: How Star Wars Fans Turned to the Dark Side
https://www.theverge.com/2018/1/2/16840170/swatting-death-call-duty-toxic-fandom
https://filmschoolrejects.com/star-wars-fandom-is-broken/
http://talynnkel.com/blog/2017/10/9/your-fandom-is-racist
Racism, Misogyny & Death Threats: How Star Wars Fans Turned to the Dark Side
https://www.theodysseyonline.com/star-wars-fandom-toxicity-problem
https://birthmoviesdeath.com/2016/05/30/fandom-is-broken
http://www.syfy.com/syfywire/star-wars-has-a-white-male-fandom-problem
https://www.inverse.com/article/31867-star-trek-discovery-racism-sexism-reddit-youtube-trailer
*Twitter Reactions
It seems I wasn't the only person who felt some type of way about what happened to Kelly. A lot of people came out in support of her, including her co-stars and the director.
*And yeah, I'm not leaving White women out of this either. There are a ton of white women writing fanfiction, and meta essays, that seek to erase, and diminish, characters of color  from their own narratives.
*And Finally
When it comes to WoC in fandom:
https://newrepublic.com/article/137489/women-color-price-fandom-can-high
 If you've been involved in the dedicated fandoms of comics, science fiction, and fantasy as a black woman for any length of time you've undoubtedly had to face a degree of racism and sexism that such tweets are rooted in. It doesn't matter if you're an actress or a journalist, a screenwriter or a director, the price of visibility for black women in geek properties feels too high.