Guys! I've been horribly slack with the postings this week, but that doesn't mean I'm not working on stuff. (Actually, I have not been doing anything, really.) I've been on a sort of vacay all week, but I'll be back with more ramblings in June, starting Monday.
Here's some of the lighter stuff that's been sitting in my Pocket list for a while. Some of these are not new, but they're new for me.
I loved this piece from BNP/Facebook writer, Stephanee Killen, about one of my favorite episodes of Star Trek, The Enemy Within. I must have unknowingly taken the episode to heart because I've always thought of my less attractive qualities as useful, positive things. Or at the very least tried to turn them into useful things.
Like a lot of people I suffer from anxiety. I don't take medication for this, but I manage it very well. One of the ways I manage it is by turning it into something useful, like the ability to plan ahead. Making plans within plans is one of the ways I manage anxiety about things other people would probably consider trivial, like driving to new locations. When I have anxiety about something specific, I usually research the hell out of it, and the knowledge helps to alleviate some of the problem. Turning anxiety into knowledge is one of my ways of using a negative quality for good.
In this particular episode, Kirk gets split into halves, a  passive, lighter side, and a darker, more negative side. The argument, illustrated beautifully in the show, is that Kirk needs his darker half to function competently as a Commander. 
I think the philosophy I most disagree with in Star Wars is the concept that light and dark are two separate things, and that one of them is undesirable. Star Trek's more nuanced argument is that both these qualities are needed to form a whole, and that taken singularly, they're both useless.
McCoy tells him, we're all brutal animals. We all have our dark side. It's human. The dark side holds strength. The light side holds caring, love, and courage. Spock, who understands duality better than most, indicates that what enables him to survive the differences between his two often-contrary halves is his intellect. Scotty eventually fixes the transporter. Kirk 1 and 2 get put back together, and the question of whether half a man can live is answered: No, he cannot—but thankfully, that's not required.
http://blacknerdproblems.com/nerd-lessons-star-trek-the-dark-side/
@@
I am loving this newest season of Into the Badlands, and will have some opinions about that  next week. What I'm finding a hell of a lot of fun is the character of Nathaniel Moon. He's an important part of the show, with his own story-line, and agenda, and even a love interest. 
I've seen this actor there and about, from time to time, but never gave him much attention. I'm gonna fix that right now, cuz Lawd, is he foine!
And do it he has. Since his first film role in the movie Colors (1988), Sherman hasn't stopped sharpening his craft. With a career spanning over thirty years, he says that the characters, themes, setting and coworkers on Into the Badlands continue to inspire and motivate him.
http://blacknerdproblems.com/sherman-augustus-badlands-talks-film-football-acting-black/
@@
Here! Have some more Donald Glover think-pieces. It seems that every couple of months there's some new artistic piece from a Black artist. We just sat through Black Panther, and then came Beychella (which I watched online), and the release of Glover's video was a nice addition, marking 2018 as one of the "Blackest" years ever.
Jim Crow began as mere pop culture entertainment at the expense of America's freed slaves and became the means of their oppression. The term "Jim Crow" became so pejorative this country's apartheid separating Africans and their descendants from white Americans its name. pic.twitter.com/IEwLwfB2i4
http://www.indiewire.com/2018/05/justin-simien-analyzes-donald-glover-this-is-america-1201961450/
http://www.thisisinsider.com/this-is-america-music-video-meaning-references-childish-gambino-donald-glover-2018-5
https://thegrio.com/2018/05/07/this-is-america-5-powerful-messages-that-will-stay-with-you-long-after-your-donald-glover-hangover/
http://time.com/5267890/childish-gambino-this-is-america-meaning/
https://www.theatlantic.com/entertainment/archive/2018/05/this-is-america-childish-gambino-donald-glover-kinesthetic-empathy-dance/559928/
@@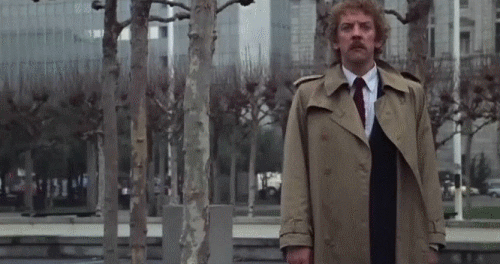 Here's an incredible review of Kaufmann's 1978 remake of  Albert Finney's Invasion of the Bodysnatchers. This is one of my all time favorite alien invasion movies, and although I did a film comparison of all the Invasion movies, I have yet to do a complete analysis/review of this one. I got some thoughts, ya'know! 
Like the remake of The Thing, it is a near perfect example of Science Fiction Horror. There's not one wrong note of dialogue in it, the acting is superb, and the setting is perfect for its message. 
In a more thrilling flourish, Kaufman channels Alfred Hitchcock by cutting back-and-forth between pod people following Matthew and Elizabeth on a city street; as the two speed up, their clacking exaggerated for effect, we see the feet of their pursuers speeding up in unison, until both reach a sprint. 
https://deepfocusreview.com/definitives/invasion-of-the-body-snatchers/
@@
This has been sitting in my Pocket page just waiting to be deployed. The whole thing just tickled the hell out of me.
Animals That Look Like They're About To Drop The Hottest Albums Ever
Obviously this is Country music (The chicken, tho'!)
He 'bout to drop that hot new Mixtape
I swear to gob, these two look like Hall &Oates
That hot new Norwegian Emo Band, or The Verve. Pick One!
This is that new Rock band with the twin guitarists
There's a whole bunch of these gothic looking pet pictures all over the internet. I'm still finding these deeply hilarious…
@@
 I actually love the Marvel Cinematic Universe, despite all my bitching. It is an unquestionably visually stunning place to visit, and even the worse movies in the MCU look gorgeous. They also look all of a piece, as if they really all belonged in the same world.
I grew up reading Marvel Comics. In fact, those were the first comic books I read (starting with Conan and Red Sonja.) I wasn't thrilled when Marvel started pumping out these movies, but only because I hadn't read any of the individual character's books, and wasn't particularly interested in their standalone movies. I was not a Captain America, Iron man, Ant Man, or Black Widow fan. I knew all these characters because they were in The Avengers, and I read all of those books. I dutifully watched the first few movies, not especially enthused, but cautiously interested. I didn't get excited until the first Captain America movie, which turned out to be surprisingly good, and The Avengers movie clinched it. 
I still haven't watched all the movies. I skipped the first two Thor movies, and the first Iron Man. I never cared about Ant Man, and never will, I'm betting, although I am a big fan of  The Wasp (from the comic books), so I might see that movie.
Here are some of the better MCU music videos on Youtube. This was one of the first ones I saw. Not all of them are this good, but the editing on this one, was astounding.
I liked this one because it includes everything in the MCU, including all of The Defenders, all except Blade (which really should have been included, along with the X-Men and Wolverine films, even though they're not part of the MCU. Yet!)
I skipped the first two Thor movies. I watched maybe the first thirty minutes of the second one before I fell asleep. I did enjoy this last one because I knew the director, Taika Waititi, from What We Do in the Shadows, and I trusted his film making skills.
This video was pretty good too. The editor of this one was nice enough to include  action parallels from the different films, something which helps to reinforce the idea that these movies all take place in the same cinematic world. I do object to the music of this one. I just dislike the song, and  would've chosen something more energetic.