On Gender:
I still have not gotten over how the Ghostbusters was so badly treated by the public, and how we will now never get a sequel. The "feminists " who are forever talking about how they love these types of movies, where women get treated like people, totally slept on this one. To be fair, the trailer did suck, but a trailer is not a movie, and I'm still a firm believer that most trailers are designed to make you hate a movie before its release. Some of them are successful at that, some less so.
http://www.unleashthefanboy.com/movies/analyzing-10-common-criticisms-of-ghostbusters-2016/140340
http://www.indiewire.com/2016/07/ghostbusters-reboot-backlash-1201705555/
My biggest criticism of the movie was this though:
https://www.polygon.com/2016/7/21/12239704/ghostbusters-is-still-haunted-by-negative-racial-tropes
https://www.salon.com/2016/03/04/the_new_ghostbusters_and_race_why_it_matters_that_leslie_jones_isnt_playing_one_of_the_scientists/
But despite my strong misgivings, I did like the movie, and  Leslie Jones, who endured so much abuse about her character, Patty Tolan, has a great defense for the criticism of her character. MTA workers apparently get paid more than college scientists, and she's a regular person who helps save the world, and there's nothing wrong with that.
https://www.theguardian.com/film/2016/mar/07/ghostbusters-leslie-jones-defends-remake-racial-stereotyping-criticis
Incidentally the scene above is one of my favorite one-liners in the entire movie. Patty gets some of the best lines in the movie, despite the fact that the trailer made it seem like she got the worst ones. in the director's cut Holtzman answers that by calling her mouthy, and I'm really glad they left that line out of the movie.
@@
I thought this was an interesting read about how the  Coen Brothers movie, Fargo, is really a discussion about toxic masculinity:
https://www.bitchmedia.org/article/how-fargo-captures-sad-realities-toxic-masculinity
@@
I liked this article about how WoC never get to have happy endings, as the friends and sidekicks of their White co-stars. It seems like we always have to suffer (I'm looking at you Handmaid's Tale.)
1201705555/https://www.harpersbazaar.com/culture/film-tv/a12022020/how-women-of-color-portrayed-tv-film/
@@
I skipped the second season of Jessica Jones, because I hated the first season so much, I couldn't even finish it. To give you some indication of how important that is, I watched all of Iron Fist, after I talked a lot of shit about that show.  That I've said almost nothing at all about Jessica Jones, says a lot about my attitude towards the show.
http://www.anathemamag.com/jessica-jones-doesnt-care-about-men-of-colour/
On Dystopia:
For some reason dystopias where regular, middle-class,  pretty, White people get treated the way they've always historically treated marginalized people, seems to be a popular sci fi trope. So popular in fact that even MadTV had a skit related to it:
@@
When I was a teenager, I used to theorize that White people liked to sit around watching a problem fully and completely develop, and then, instead of fixing the problem,  fix the blame. This also brings the to mind the idea that Black people don't envision dystopia as an exciting future, because we've already been there. We have nowhere to go but forward, and nothing to have but hope. Dystopia is a White people thing.
http://blackyouthproject.com/white-liberals-stay-predicting-dystopias-caused-by-whiteness-without-doing-anything-about-it/
In a recent discussion, my friend Preston Anderston posited that white people "can understand the destruction of the planet before the destruction of the white world," and perhaps nothing exemplifies this better than their dystopian imaginings. To them, there is no world without whiteness, so even if they acknowledge the hell whiteness necessarily brings, there is no other future possible than that hell.
@@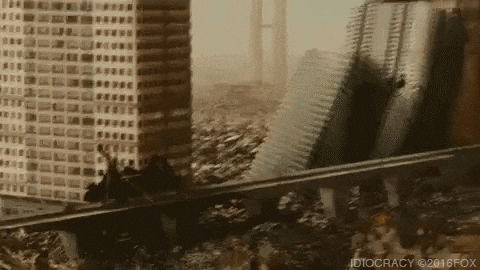 I found this post by the writer, Cory Doctorow, really interesting. Why does there need to be a dystopia at all? We've seen plenty of instances where crises  didn't end in some kind of Mad Max free for all, and we need more stories that reinforce the idea that we can get through a disaster with our humanity still intact.
https://www.wired.com/2017/04/cory-doctorow-walkaway/
@@
On Disability:
I found a series of articles about how Hollywood approaches the topic of disability in film and TV. 
https://byrslf.co/its-time-for-hollywood-to-rethink-disability-e1dfc4142c9b
@@
https://www.seattletimes.com/entertainment/tv/at-the-heart-of-hannibal-respectful-treatment-of-mental-illness/
@@
http://womenwriteaboutcomics.com/2015/05/28/disability-in-the-dystopian-future-of-mad-max-fury-road/
@@
https://www.inverse.com/article/15806-one-year-later-fury-road-resonates-on-disability-sexuality-and-the-end-of-days
@@
https://serfbazaar.wordpress.com/2015/05/22/furiosa-disability-representation-and-empowerment/
On Fandom: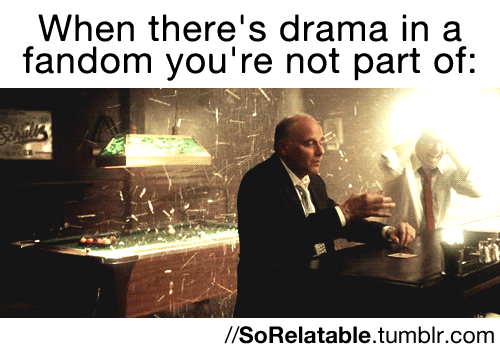 The discussion of Fandom misbehavior continues tonight on:  Tumblr Calls Shit Out
There a a lot of fans who change, misrepresent, or just straight lie about the source material to justify White prioritization of the characters. As I've said before, most White audiences have no other template, and in many cases will do these things to  reproduce a dynamic with which they've always been  comfortable: Poc as side narratives that support the White character's primary story.
princeescaluswords answered:
Because the disregard or misrepresentation of canon is frequently used as a foundation of fandom racism.  We live in a time of change, where Hollywood is oh-so-slowly beginning to understand that primary stories and primary characters don't always have to be entitled white males.  This stands contrary to seventy years of television history, which has taught the audience that the only thing that matters are the emotions and interests of those same white males.   Unfortunately, the viewing audience has learned the old lesson well and so expects the canon to support their predisposition.  When it doesn't meet their expectations, when the emotions and interests of characters of color are given priority, their need to see white men on top can be met by getting rid of the canon.
Take the most popular ship in my fandom (This is not an attack against shipping. Shipping does not have to be inherently racist or inherently demeaning.   Early in my fandom days, I thought so, but I do not any more).  This ship and its fandom which put together two white males whose purpose on the show was to serve as the main character of color's foils. The ship itself is not in question for me.  What is in question is the way that the fandom demanded that this ship become the center point of the show, and when it became clear that no matter how many nods that the powers that be were going to give to the ship, the show wasn't going to make it canon, canon was discarded in the most hostile and negative way imaginable.   This wasn't just in my (or others') imaginations.  When the star of the show and the executive producer have to comment on the impact of this canon erasure, it's pretty serious.
Canon misrepresentation doesn't stop with just shipping.  Attacks on the importance of characters of color and their role in the show are frequently aided by simply pretending parts of canon don't exist. For example, in my fandom, Scott is frequently vilified for a single act of perceived hostility towards Derek (the famous Gerard-neck-grab-bite), and it is used as a way to delegitimize him as a main character, ignoring the fact that not only was it a necessary evil to save Derek and those he cared about by disabling the enemy, it was a direct parallel to the very actions that Derek took against Scott previously. For fandom, those actions are dismissed as "yeah, Derek was an asshole, but it was for Scott's own good" but that same excuse is not sufficient. Or, when the idea that Scott ditched Stiles for Allison continually is used to delegitimize the central relationship of the show, when ditching never happened in the show, but is treated by fandom as if it did.    If you ignore or manipulate canon in order to keep a character of color from being the focus of the show, why shouldn't I add the tag?
People get rid of canon as a way of dealing with the fact that their white characters are not the center of the story, even though their favorites have important roles.  It's easier to just get rid of canon rather than let a character of color share the spotlight.  It's easier to dismiss writing as a 'trainwreck' even when that writing gives you the characters you enjoy, and thus delegitimize the whole story because that focuses on a character of color.
I must admit that I have considered that maybe this is all my own perception. Maybe Teen Wolf's canon is so bad that they have every right to ignore the parts that don't favor their white faves.
But then, I take a look at other fandoms.  I look at the Star Wars fandom, where the canon has been Death Star-ed as hard as Alderaan in order to celebrate genocidal white fascist man-children.  I look at the Shadowhunters fandom.  I look at the Flash fandom.  I look at the Supergirl fandom.  And another fandom. And another fandom.   And another fandom.
In the words of my favorite show, "three times is a pattern."  What do you call too many times to count?
@@
This discussion is an addendum to the above:
It's also a sector of fandom that mimics one of the worst traits that fandom can have – the "big name" Reylo bloggers are the arbiters of all info that gets through to their followers about Star Wars, to the point where the Reylo fandom en masse believe things are canon that were literally just made-up fanon, but the BNFs who made it up dig in their heels because admitting that they aren't all-knowing, or that their "analysis" of SW is insanely biased, would give their followers cause to doubt them and start thinking for themselves, looking at and listening to outside sources.
Reylo, like some other toxic ship fandoms – many of which aren't even about ships that are themselves toxic! Reylo is, but like, there are toxic ship fandoms based on perfectly benign ships, too – is more about the shippers being venerated than the characters they claim to love. (Their complete disregard for Rey as a human person and protagonist is p much proof of that, but that's not even the point here.) It isn't a coincidence that almost every Bad Reylo Meta either was OP by, or based on a meta by, a handful of "in crowd" bloggers, and it DEFINITELY is not a coincidence that Reylos are obsessed with the idea of Being Right and the idea of Casting Out the Other, more than they are about actual fucking Star Wars.
There is a huge aspect of Reylo fandom that, like their OTP, is based on manipulation and gaslighting more than anything to do with actual content, and that's 100% wrong and also deserves to be called out whenever it's seen. 
Like, part of why combating Bad Reylo Meta is a thing that needs to be done is not for the characters' sake, but for the sake of younger and/or more vulnerable fangirls who worship the Big Reylo Bloggers and think that they're genuinely smarter/more enlightened/"the only ones who really understand." It's absolutely fine to make up fanon about your ship. It's absolutely normal when ships have cliques. I can even understand the normalcy of ship wars, even if I think they're dumb as soup. But the way that Big Name Reylos rewrite the entire schema of the franchise and twist both SW canon and actual reality wrt the behavior of Kylo Ren – an INTENTIONALLY WRITTEN NEO-NAZI METAPHOR WHOSE FIRST INTERACTION WITH REY WAS STATED BY THE DIRECTOR TO BE A RAPE METAPHOR – is not normal.
It is not normal to care more about "Proving Antis Wrong" than just liking the thing you like. It's not normal to be so virulently fearful and aggressive towards people who just don't agree with your fave blogger's bad meta made up based on nothing. And it's not normal for a handful of bloggers to have such a stranglehold on not only their followers, but public discussion of the entire fandom.
Almost none of the SWST has actually unfolded, in canon, the way a handful of Big Name Reylos told their fans it did, but their version has spread like flat earth theory. And that's not a coincidence, either. Batshit conspiracy theory and charismatic leaders who willfully mislead their followers go hand-in-hand.
Make that your Shitty Snoke Theory™. (Who, by the fucking by, DID NOT BRAINWASH KYLE FROM THE WOMB. THAT'S FANON.)
@@
In my last post on forthcoming films, I forgot to add Crazy Rich Asians. I'm almost as excited about this film as I was about Black Panther because I know how much Asian Americans have been looking forward to this. This is notable because its a  film with a primarily Asian cast,that isn't about the martial arts, or nerds.
 It looks really cute, but the plot isn't something to my taste, as I generally dislike romantic comedies, but I probably will watch this at some later date. Ultimately this film  isn't aimed at me, but I hope everyone likes it. if it does well, we may get more of this type of movie.