I watched the season premieres of both shows live, thankfully, as they don't actually air at the same time. They air back to back, and are immediately followed by Last Week With John Oliver, another news show I have an addiction for. The overriding theme of Into the Badlands wont become explicitly clear until some time mid-season but the overarching plot of Westworld was stated by the characters.
Into the Badlands
In the opening sequence The Widow fights Nathaniel Moon to a draw, in order to make him her new Regent, after Waldo and Tilda left her last season. It's very nice to see Moon actually survived his encounter with Sunny and that he's back. He was one of my favorite characters from last season, and I hope he gets better treatment this season. He does at least get a new hand, having had the original chopped off by Sunny. He might also  be feeling some type of way about that during the season. To their credit, the writers have acknowledged the mistakes they made with the Black characters last season, and have said they will try to do better. I hope so, as that was one of my main criticisms . (Also, I like that they didn't give some bullshit excuse for their mistakes.)
I have a much more solid idea of what The Widow is trying to do this season,  Remember how we said that the basic storyline of the story Jounrey to the West from Chinese lore. Well The Widow's storyline is also based on Chinese lore, as she is attempting to unify the Badlands all under one rule. We see her standing in front of  the map we saw last season. She and Baron Chau are the only two Baronys left, and her task this season is to bring that Barony under her rule, unify the Badlands and institute social reforms. This is a reference to the Qin Wars that unified China.
I loved the scene where she first meets Moon at a lighthouse. (And can I just point out that it's still  kinda awesome watching  The Widow kicking ass in her three inch heels. I never get tired of that.) Now Silver Moon has been taking down any headhunters who come after him, and planting their swords in the soil near the lighthouse. At first he thinks The Widow is just another bounty hunter, and the two of them fight all the way up the stairs of the lighthouse. There's a lot of flight in these scenes, and the Western mind is prone to think of the ability to fly as a sign of the goodness of the person doing it. Since both the Widow and Moon are very gray characters, their ability to fly is not an indication of their morality, but of the purity of their resolve, and the conviction of their beliefs. Sometimes the ability to fly  indicates that a person strongly believes whatever they believe.
This is not a fight to determine the rightness of a certain point of view, as the two of them have just met and have no past history to fight about. The two of them also fight to a draw, with Moon proving that he would make an excellent Regent for The Widow. We start to get a better idea of her ambitions for the future of the Badlands, and although I'm still mad at her for her shitty behavior last season, I'm actually agreeable with her ultimate goal. With the Badlands unified, they can much better fend off any rivals for power from outside the Badlands, like Pilgrim, (although we're not certain how good or bad that character is yet.)
Qin's wars of unification were a series of military campaigns launched in the late 3rd century BC by the Qin state against the other six major states — Han, Zhao, Yan, Wei, Chuand Qi — within the territories that formed modern China. By the end of the wars in 221 BC, Qin had unified most of the states and occupied some lands south of the Yangtze River. The territories conquered by Qin served as the foundation of the Qin dynasty.
So while  I don't know how to feel about The Widow, right now, I find that I do still believe in her goals, but find  her methods  deeply questionable. She is still holding MK prisoner in her mansion, as the two of them try to find a way to re-introduce him to his superpowers. MK has become a  suicidal  opium addict, and this is probably going to have some type of effect on his abilities. I still like him though, as he's full of piss and vinegar towards her, giving zero fucks about her feelings. This is a gorgeously shot scene,  as slow motion  clouds of smoke pour out of MK's nose, giving it a very forties film noir feel, picture Rachel's Voight-Kampff interview in Bladerunner.
There are a lot more blues and purples this season, (along with more jewel tones in general). I love the color compositions in this show. The creators put some real thought into it.
Bajie has also returned, having not actually died last season in the tower. Unfortunately, his rogue-like manner has not changed, and he continues to get himself in trouble, becoming prisoner to yet another group of people. Tilda first saves him by accident, and later in the episode, he is saved from execution by Sunny. I'd say Bajie is more trouble than he's worth, but I like him, and he's  a font of useful information on the goings on outside the Badlands, and one of this show's few sources of humor. Oh, yeah, he's also possibly responsible for bringing Pilgrim and Cressida to the Badlands, as the signal he sent  out into the world in the last episode has now, seemingly been answered.
Tilda has adopted a kind of Robin Hood persona, that she uses to procure goods, and people, for Lydia, who runs a refugee camp for people displaced by the war, and this is where Bajie, Lydia, and Sunny meet. According to Bajie, its been six months since Quinn's death.
Pilgrim and Cressida arrive through the massive gate that we saw separating the Badlands from the rest of the country. They approach one of the forts manned by Baron Chau's people ,who are easily defeated by the two black eyed ,super powered teenagers who work for him.Pilgrim's intent is to rule the Badlands, as he believes himself to be a kind of prophet. Cressida seems to perform much the same function for Pilgrim that a Regent does for a Baron. She offers him advice and support in his endeavors. This is an intriguing role for one of the few Black women in the show.  (I hope to see the Abbess from last season, played by Chipo Chung.)
As for Sunny, all of his concentration is on Henry. He has gone into hiding to raise his son, and there's a very Lone Wolf and Cub vibe\ there There are still people looking for Sunny, and he finds that it will be impossible for him to stop killing, because now he has to protect Henry from harm. When Henry develops a fever one morning, he takes him to see a healer who discovers that the child is one of the black-eyed super powered people randomly populating the Badlands.
One of the major themes this season may be people finding out about Henry, and trying to kidnap him, along with The Widow and Baron Chau's war. Last season we saw Sunny coming to terms with his former life as a Clipper, but as Moon told him in the second episode. there's always going to be people who want to challenge him, and make a name for them self, by killing the most legendary Clipper in the Badlands.
Westworld
Here's the very funny Vulture review of this episode:
http://www.vulture.com/2018/04/westworld-season-2-premiere-questions.html
We pick up the show two weeks after Ford's murder by Dolores, and  the massacre of the Delos Board in the park. We get introduced to new people, re-introduced to all the major characters again, and we get to see what they've been doing since the event. Apparently Ashley Stubbs was not killed by the Natives, which is what we all thought happened, although frankly I would not be shocked to discover that Ford took Ashley's competence into account, and had him duplicated as a Host. What better person to have in charge of security than someone you can totally control, just like Bernard.
The episode moves aback and forth in time from the immediate aftermath 'til two weeks out. Two weeks later Bernard is found lying on a beach in the park by soldiers, who have been called in to investigate what happened, and subdue the Hosts. The rest of the episode is about events leading up to when Bernard was found on the beach.
Directly after the massacre Dolores and the other Hosts are hunting down any and all humans in the park and taking great satisfaction in executing them. I found myself unable to feel an ounce of sympathy for the humans they shot and in some cases lynched. Dolores wants revenge for all the atrocities committed against the Hosts by the Guests, and the slave/revenge allegory is made explicitly clear, when she references human slavery. It is an all out war between the humans and the Hosts.
I can't help but feel some type of way considering that the Hosts were treated by human beings in the same manner that Black Americans were treated by White people for some three hundred years (and seem reluctant to give up.) Dolores words are an echo of a post I wrote, about how the first season of the show specifically references real world slavery. (For the record, the show is written by an Asian American woman, Lisa Joy, and Jonathan Nolan, the brother of Christopher Nolan. Previously, Joy worked on the shows Burn Notice and Pushing Daisies.)
https://tvgeekingout.wordpress.com/2016/12/04/westworld-revisiting-the-slave-narrative/
https://www.theatlantic.com/entertainment/archive/2014/04/why-sci-fi-keeps-imagining-the-enslavement-of-white-people/361173/
When we last saw Maeve she made the decision to go back for her daughter. To that end, she teams up with Lee, the hack writer for Westworld, and he immediately tries to betray her to the security team, stalking the halls of the Delos Corporation, hunting down stray Hosts.I'm all for her killing him, and I guess the show must have some purpose for him, as he's still around. Maeve gets reunited with Hector who forgives her for leaving him. He vows to follow her no matter where she goes. Remember Maeve's name means "to enchant", and she seems to have definitely had that effect on Hector.
Bernard in the aftermath of the massacre, is in the company of Charlotte Hale. He's suffering from some type of corruption of his system programming, and is desperately trying to keep that a  secret from Charlotte. Charlotte must find the Host in which she secreted a special code last season, if she expects to be rescued from the park.
When Bernard is found on the beach, he isn't very forthcoming about what has happened in the park. Later he and the military come across the bodies of dozens of  Hosts who have drowned in a previously unknown lake in the park. Bernard admits he may be responsible for what happened to them, and his time with Charlotte may be the key, because by the time he's been found on the beach, Charlotte is nowhere to be found, but since the military is there to rescue what guests are left alive, we can assume her mission was successful.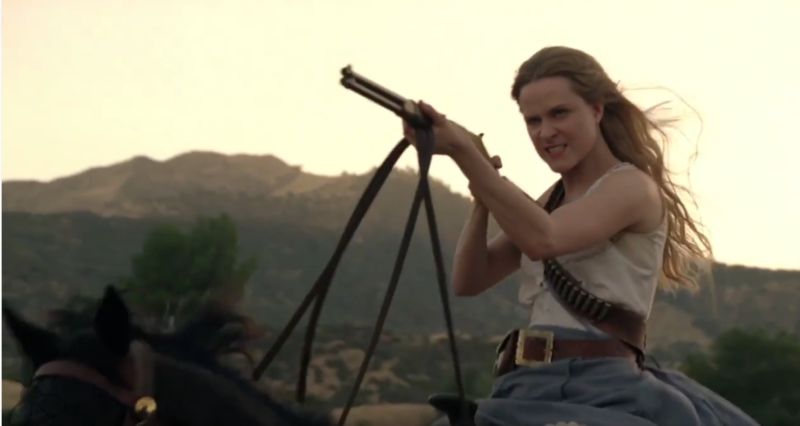 Dolores ambitions involve more than simply freeing the Hosts from one park, she intends to free all the Hosts from all the parks. To that end we may get to visit the other four parks, which consist of Samurai World, Future World, Medieval World, and possibly Roman World.
The Man in Black is in heaven as he has finally gotten exactly what he wanted from the park. he wanted the stakes to be higher, to actually have some skin in the game. he is enjoined by Robert Ford's little boy avatar to a new mission. To try to make it to the other end of the park alive.
So not a whole lot happened beyond introducing the two major character arcs for the season: Dolores ambition to free all the Hosts, and Maeve's search for her daughter. The two of them have not yet met, and I'm looking forward to that. I will be disappointed if they are written in a stereotypical female manner of rivals and enemies, but there is a woman helping to write these characters, and she has shown so ability to think from an inter-sectional standpoint, so I feel hopeful she may get that right.
I love stories of Westerners  in Japan, so I'm really looking forward to when Maeve gets to visit Samurai World.