Mom managed to talk me into going to see this movie, which I had no plans to see, at the theater. I didn't want to see it, not because I thought it was going to be bad, (I was really intrigued by it), but because sometimes my anxiety likes to ramp itself up, and I can't leave the theater. When you're at home you can turn off the TV, or pause a disc, but its a lot harder to call time out in public. I told her this, but she really wanted to see it, and it really did look good, so we agreed that I could hold her hand if I got too scared.
I loved it, actually. I love scary movies, but usually only only watch them when I can control my reaction to them. I didn't get too scared, though. There were a couple of moments where I was white knuckling it a bit, because I really did like the characters, and empathized with them. One of the ways of controlling my anxiety is telling myself is that its okay, I'm not actually in any danger, and this is what I'm supposed to be feeling during such scenes. This is a process that may, or may not, work for you in public, but I have many, many years of practice at managing such this.
Also, one of the reasons I didn't get too worked up is because the movie isn't exactly what I expected. It has a 100% rating on Rotten Tomatoes. Normally, I don't give a fly what a movie's rating is on that site, but in this case, I understand why it's rated so high, and I see why people are crazy about it. It really is very good, just not what I was expecting. I was expecting more bombast, more jump scares, lots of monsters, but the writers did more interesting things.
If you're going to see this for the monster, or for gore, you're going to be disappointed. There's not much of either, beyond the occasional blink and you'll miss it shot. You do get a good look at the monster eventually, but  the monsters are not the focus of the movie. Like the movie Alien, the focus is the relationships between the characters, and how they're dealing with a horrific situation.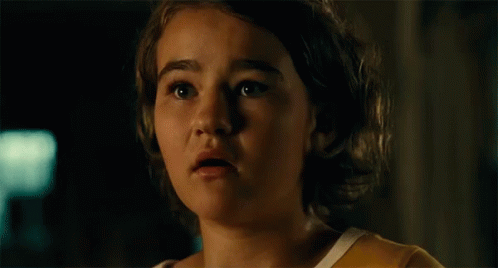 The Earth has experienced some kind of alien invasion, most of humanity has been killed, and the ones left alive mostly live underground, and can't make any noise, or the aliens, which operate solely on sound waves, (they don't have eyes) will attack them. The aliens are extremely fast and brutal, with long legs, and giant claws. They don't eat their victims it seems. They just kill them. I think they just dislike noise. I had the impression that they view loud noises as some sort of attack, rather than as a source of food.
The movie follows a family with a deaf daughter, and a hearing son, who are navigating this world with its new set of rules. They go barefoot, along sand trails that have been set down by the father, to the places they most often frequent. They use American Sign Language to communicate. They wear headphones to listen to anything. They live above ground during the day because the father has been working to perfect a radio system to communicate with any other people.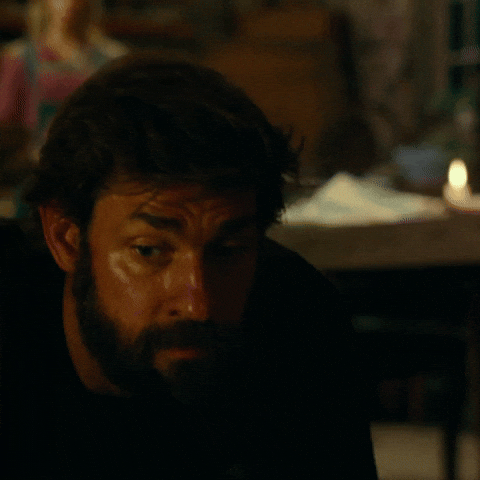 Most of this information you can get from paying close attention to what's happening on the screen. There's no sound for most of the movies running time, so there's plenty of time to concentrate, and if you don't like to read movies…too bad.. you're to see this movie anyway, and like it!
The terror comes from the logistics of living in a world in which the slightest sound you make could get you killed. When you think about it, human beings are made up of nothing but noise. It seems to be our primary superpower, and kids and babies are noise personified. Getting above a certain decibel level attracts the monsters, and just because you hunker down and get quiet doesn't mean necessarily mean they go away. There are work-arounds to be had, though. For example, natural sounds like running water, wind, storms, etc.do not attract them, and if you're near something that's a natural sound, that's louder than whatever noise you're making, you're mostly safe. I enjoyed watching some of the father's clever ideas of living within the rules.

The movie is mostly about this family, their relationships, how they feel about what's happening and how they navigate this world. The parents are genuinely in love, they love their kids deeply, and most of the film's tension arises from their need to keep their children safe, and past guilts. At the beginning of the movie something horrible happens that the daughter spends the rest of the movie blaming herself for, and believing her father blames her and hates her for, too. Meanwhile, the mother also blames herself for it, and the son is just terrified of living in this world, in general.
I loved Emily Blunt here. I've been a fan of hers for a while now, and she really carries the emotionalism in this movie. The rest of the cast is good too, especially the little actress who plays the daughter. I really enjoyed her performance, although I could've done without the "kids wander off on their own" plot points. A lot of the plot points are predictable too, but the acting is so well done, you're not particularly bothered by that. And the movie is just beautiful to look at. The country landscape is lush and green and…quiet.
There were a few things I noticed that I had questions about, and a lot of things you can infer from the information onscreen. I understand why cities would have been abandoned. And we witness that any animal that makes noise will be attacked, not just human beings, which implies that most of Earth's ground animals were probably killed. We can still see that there are some birds left, and that would make some sense.
My biggest problem was the ending, which was only disappointing in the sense that I wanted more of it. I wanted to see a big boss battle at the end. I wanted a little bit more closure. But I get why the movie ended the way it did. You get to tell your own ending and the one I made up was a happy one, that fits the last image we see.