I think you heard about those attempts to get White people to NOT go see the Black Panther movie, by posting false images of White people who'd gotten beat-downs for showing up at the theaters. It seems the template  these assholes were working from, came from the 80s, when a couple of movie theaters in California had riots at a showing of Spike Lee's Do The Right Thing. For the past thirty years White bigots (and the news media, but really, what's the difference) have been desperately hoping that something like would happen again.
Now you know,  once Black Twitter got wind of this, it was all bets are off. They really should've known better than to come for BP with that nonsense. 
— All these tweets were instantly and easily debunked; reverse image lookup toolsmake it easy to trace how the pictures of the bleeding "victims" were taken from stock-footage sites, TV shows, or legitimate news stories about domestic assault or other real attacks. Twitter users begin rapidly vetting each new false assault claim, responding to the posters by revealing their image sources. Twitter has suspended some of the accounts posting false assault claims.
https://www.theverge.com/2018/2/19/17029742/black-panther-fake-assault-stories-twitter-response-mockery-humor
But the  tweet to end  all other tweets, was this magnificent response, that for some reason, made me picture John Boyega in one of the lead roles. Brace yourself for  the funniest true life story on the internetz, involving a robot, time travel, babadooks,  and the monster from It Follows. This needs to be a movie now.
Now, I've dealt with Babadooks before, and these kids were really young, they all looked like they were 16. So I was like "Ok, you guys stay out here and I'll go check it out." They shouted after me, but stupidly I didn't listen.

So I went into the theater, and sure enough it was a whole nest of Babadooks. I was in over my head! I might have been able to sneak back out when I accidentally stepped on some discarded pop rocks, which started fizzing from the moisture on my shoe.

Now the babadooks were awake and I was cornered. Suddenly the youths ran in, they had rad glowing shoes and they got the babadooks off me by doing kickflips off the wall. They really knew what they were doing.

We were too far away from the exit, but we were able to hole up in the the projection booth. The kids introduced themselves. Two boys: Muhammad and Daniel, and two girls: D.C. and Frankie.

I knew something was up because they had clear babadook fighting skills, so I confronted them! After some hemming and hawing they let me in on the secret. Turns out I was right… they were time travelers!

We hatched up a plan to get out of the booth, Frankie slid my phone past the 'dooks then used hers to call. My ringtone "Sloop John B." Confused the critters long enough for us to make our escape.

Unfortunately though, I couldn't keep up with them, and soon I found myself surrounded by babadooks… Now, I need to make a confession, it's pretty embarrassing, but it's vital that you know why things happened the way they did…

When I was younger I wasn't very smart or careful. So some years ago I picked up an It Follows. I've been managing it pretty well, and I think it's not a particularly bad one, but an It Follows has to do what an It Follows has to do.

So at this point my It Follows shows up, like it usually does. Here's the thing: As it turns out babadooks and It Followses are natural enemies. So the babadooks go nuts! They swarm my It Follows and forget about me.

Then Frankie comes back into the theater. She dives into the swarm of Babadooks and explodes! She was a robot!

The other kids come in "Hey old man, are you alright?" I look at the pile of ashes that was the Babadooks and my It Follows (here's hoping anyway) and Frankie's gone.

I get really sad… even if she was a robot she sacrificed herself so I could get away. Then I see my phone under one of the seats, It says "New Download Frankie.exe"

Turns out she downloaded her consciousness onto my phone when she borrowed it, just in case. I'm ecstatic, the youths do celebratory kickflips everything is alright!

Then a strange magenta portal appears, the kids have to go back to their time. I text Frankie to Daniel and say bye to these excellent young babadook fighters. Then I leave the blown up theater.

So I guess what I'm getting at is I didn't get a chance to see #BlackPanther SO DON'T SPOIL IT FOR ME! (END)
@@
Black Nerd Problems had to get in on this post by discussing, in humorous detail, how each member of the writing  staff was getting ready for The Ascension:
Passport To Wakanda: How To Get Your Black Ass Ready For An Audience With The King
— To get back to my birthright, I've changed my name to something with a Z and an apostrophe in it. I have taken to wearing hoods everywhere I go, so I can look mysterious. When it is cold, I also wear a cape. I open my corporate emails with "To the People," and close them with "For Wakanda". My boss is too scared to ask me why. I bought a staff and a spear, which I practice with in the backyard. Well, maybe not "practice". Ok, I *have* a staff and a spear. Actual practice would tire me out before the movie comes. I thought about using them to go out and solve crimes—I love Black Detective Twitter and NCIS: Los Angeles (the one with LL Cool J) but this ain't Wakanda yet. This place won't let me be great, but one day, one day soon… – Leslie
@@
In the new trailer for Infinity War, Okoye got jokes:
@@
People are getting funny on Youtube:
@@
Sometimes y'all just mean:
@@
We got memes:
When life imitates art. #BlackPanther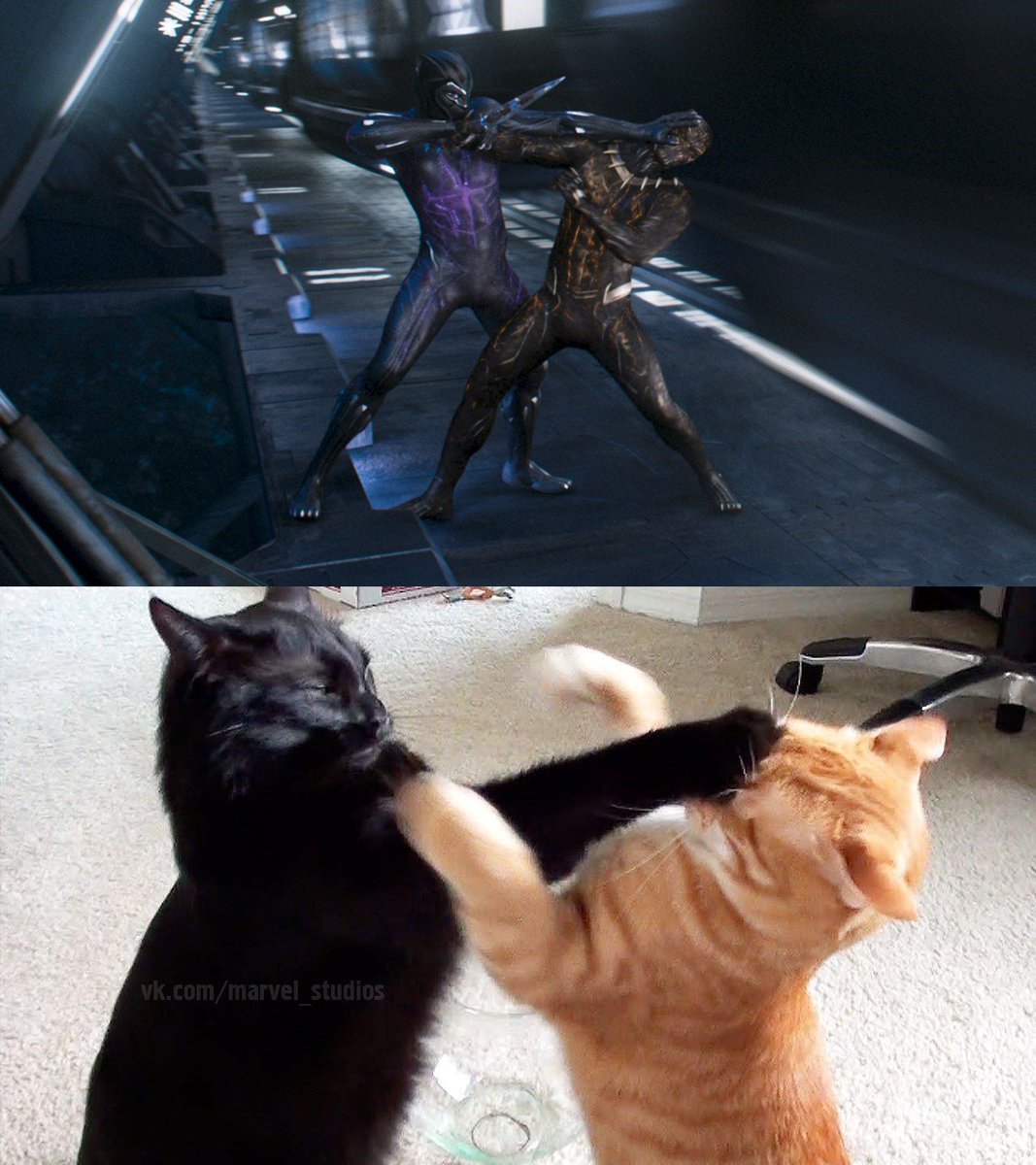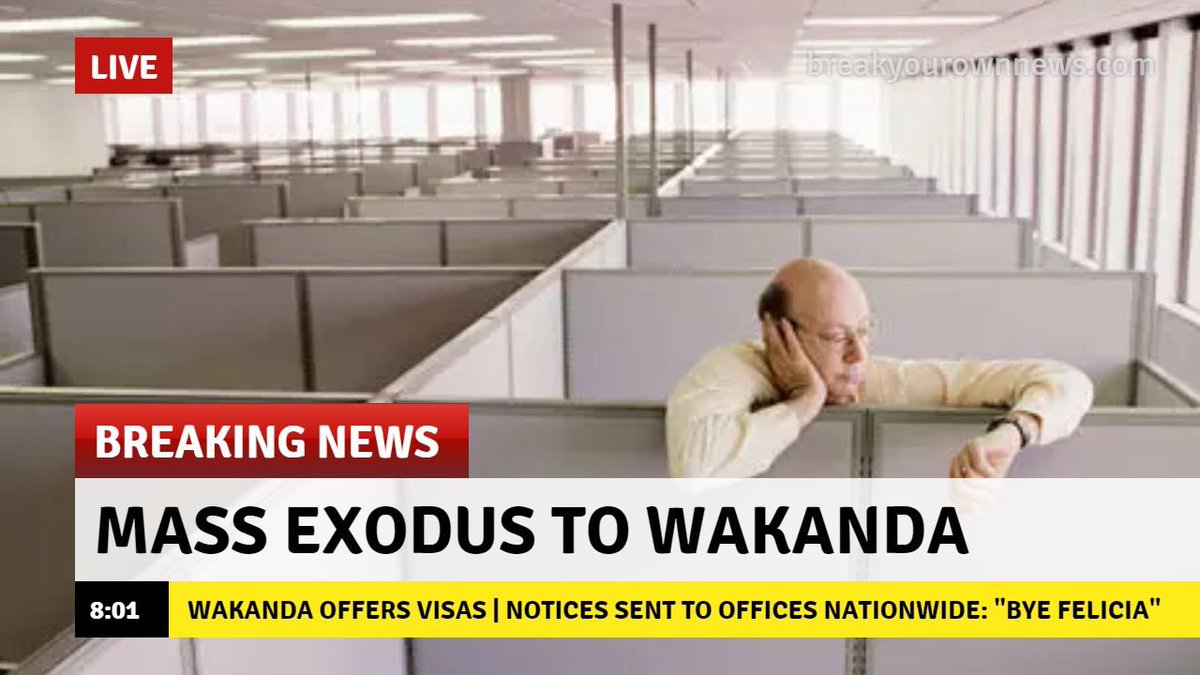 And there's even a Black Panther Dance Challenge:
@@
On a more serious note, have more essays:
https://www.peoplesworld.org/article/black-panther-villain-killmonger-is-a-symbol-of-black-pain/
https://rollingout.com/2018/02/22/black-panthers-killmonger-character-offers-painful-reflection-black-america/
https://www.rollingstone.com/movies/features/black-panther-chadwick-boseman-ryan-coogler-cover-story-w516853