You are all wrong, btw!😝
Saying I loved these movies is a strong word.  But I definitely liked them, and watched them multiple times.In some cases I can't  put my finger on why I liked them, and others, I know exactly why I'm compelled to watch them every time they air on TV. I still do not understand why so many of these films seem to feature Will Smith. Apparently, in my mind, the man can do no wrong, (except I really did hate Bagger Vance and Hitch, so go figure!)
And yeah, some of these reviews did determine this thing, where I'm completely disregarding the reviews of diverse movies by White critics, as being totally justified.
Suicide Squad: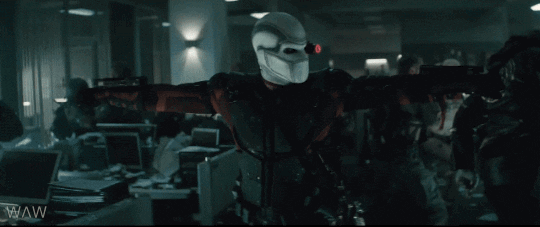 This movie starred two of my favorite actors along with two of my favorite characters. Viola Davis was a totally cold, badass, Amanda Waller. I've been a fan of The Wall since her first run in Batman. She's the only character who has ever told Batman, to his face, where he could step the fuck off, and although Batman sits in my personal pantheon, I totally ugly laughed when she did that. The Wall was a woman who feared no man, not even The Bat, and Viola perfectly captured that. I liked how she wasn't just a straight up villain either. She was on the side of good most of the time but she's also utterly ruthless, and smart as fuck. Like Nick Fury, she's not evil, and I would classify her more as an adversary, or anti-hero.
Then there's Will Smith. I will watch Will in anything, even if I know I might hate it. He has played far too many magical negroes for my taste, but he seems to have gotten that phase of his career out of his system, and is killing it in some interesting roles now (including a short cameo as Lucifer in A Winters Tale). I didn't know shit about Deadshot, other than he was an adversary of Batman, but it's Will Frickin' Smith, so I don't care that I don't care.
I've been a Harley Quinn fan since her inception, (mostly the CN version) and I liked how she was portrayed here. The movie didn't forget to add her tragic backstory, and if you've read the comic books, you know she eventually sets Joker aside, and has some healthier relationships. So I watched the movie with that in mind. And I just liked the zaniness of her character. She was fun! I also liked the relationship she was developing with Deadshot.
Then there's Diablo. I knew nothing about Diablo before this movie, because I'm not a huge DC fan, really. Had never even heard of him. So when he turned into an Ancient Fire God, at the end of the movie, I nearly popped out of my bunny slippers! THAT SHIT WAS FUCKING AWESOME!!! (Whew! Let me calm down). I was totally not ready for that shit. Why didn't anybody tell me? You know what, that's okay because that would have spoiled the joyfulness of seeing it for myself.
I also liked seeing Killer Croc onscreen. He's terrifying ,and insane, in the comic books, but he's almost sympathetic in this movie. Almost. He's still pretty terrifying, though. My favorite scene in the entire movie is when the meta-villains are sitting in that bar talking about their identities. I felt that scene added a great deal of depth to the characters.
I'm also one of five people who actually think the movie is funny, but that is mostly due to the presence of Will Smith, and Margot Robbie. Like most people I hated the villain. She was ridiculous, but the movie has a lot of great scenes, great music, and interesting characters, and I didn't feel like my time was at all wasted by watching it. I wish there been more Slipknot, and Katana, though.
So yeah, there's gonna be a sequel because this movie cleaned up at the box office, because audiences loved it, even though most of the (not so diverse) journalists critiquing it, hated it. I don't know what movie they were watching, but I know what I'm gonna spend my money on next year.
I also heard Diablo is not dead and will be in the next movie. WHOOOOOOT!!!
I Am Legend/After Earth
Here are some more Will Smith movies. I have a longer review in order for After Earth, but I Am Legend is definitely a favorite of mine. I am starting to develop an interesting theory on why these critics hate these films, and it goes a little bit beyond disliking movies not centered around white people, and wanting to see such movies fail by giving them bad reviews.
White Racial Resentment and Implicit Bias are real things that have been studied extensively, that have made their way into every aspect of American life, and its ridiculous to think it wouldn't have made its way into film journalism, or that journalists would be unaffected. (I consider most of White fandom to be an entire shitshow, and generally limit my fandom activities to Black spaces whenever possible. It's about the only way I can retain any of the sanity I have left.)
But I consider I Am Legend to be one of Will Smith's greatest performances, up there with Ali. At least right up until the last thirty minutes. Yes, the ending did indeed suck, but the ending was not enough to keep me from liking the first two thirds of the film. I was totally in my feels watching this movie, and I feel like Will killed it!
I'm going to have to go into greater detail about After Earth in a later post, about that movie is relevant to Black men, and the inadvertent dialogue it appears to be having with other films, like Moonlight.
The Village:
One of the reasons people hated After Earth, is the same reason that The Village was panned by critics. They were hating on the director, and not the movie itself. I found nothing in this movie that was worth the bad reviews this movie got. It was beautifully filmed, thoughtful, and melancholy. I liked the actors, and their performances were wonderful. I loved the characters and their relationships to each other, including a beautiful sister/sister relationship, and some beautiful scenes of love, unrequited.
It seemed like, at some point, people decided to turn on the director and hate everything he made, after a couple of his movies failed at the box office. I Iike M. Night, and wasn't ready to write him off as a good director just for making a couple of awful films, after he made some really good ones, and I think this is one of the good ones. I watch The Village whenever I'm in a certain mood, and it has never failed to move me. Not only that, but I feel like there's some type of dialogue happening between After Earth, and The Village, with their themes of father/child relationships, emotional suppression, and the philosophy of fear.
Alien Resurrection:
I've been a Winona Ryder fan since her role in Heathers, waaay back in the 80's, so I'm always gonna fangirl over her, in even some of her worst roles (I'm talking about you, Dracula!) I was delighted to see she'd been cast in the Alien franchise, which has always been heavily woman -centered, from its inception, and I was hoping for some wonderful female to female moments between her and Ripley, and I got this beautiful mother/daughter dynamic, which echoed some of same themes in Aliens, where Ripley bonds with Newt.
There's also Ron Perlman being an ass, while using grammatically correct English.
Call, the robot Wynnona plays in the movie, is one of my all-time favorite Aliens characters, right up there with Ripley, and Vasquez. I think my love for Call has a lot to do with my age at the time when I saw the movie. I have all kinds of thoughts about this movie, and Call and Ripley in particular, so I should probably review it, huh?
Alien Vs Predator:
Yeah, we talked about this in an earlier post, and if you haven't been paying attention, there is a trend in the kind of movie I enjoy Vs the kind of movie critics hate. Don't get me wrong, there are a lot of movies that I can agree are wonderful, but I'm still feeling suspicious about how some movies end up with really awful reviews, when I've not noticed a great qualitative difference between it and any other mediocre film it's type. Sometimes though, the timing of a movie's release is just bad, and people are rejecting it in the moment, only to embrace the movie many years later, as with Bladerunner.
And sometimes critics hate something, and they're right about that, but then movies like that tend to be very obviously awful, too.
And as a special bonus round, cuz sometimes y'all know some stuff that I don't:
Movies I Hated (But Y'all Loved!)😐
There are only a couple of these movies that I actively hate, so hate is maybe a stronger word, than I need. I should say I'm mostly indifferent  to them, (but the word "indifferent " doesn't look good in the sub-title). Also this list was initially a lot longer. It seems I'm apathetic to a lot of movies that other people really, really love.
E.T.:
I think I was one of five people that was unimpressed by this movie. I watched this when I was a teenager, and thought it was really cute, but beyond that my feeling was…meh. I liked Elliot, and the E.T. was kinda adorable, but ultimately this movie didn't end up on any of  my favorites list. It may also have had something to do with the hyping of the film before and just after it's release. I do remember feeling sick and damn tired of seeing the ads for it. And once again, it all comes down to timing, too. I probably wasn't in the right mind frame, or right age to appreciate it. Released a couple of years earlier, I probably would've loved it.
Wonder Woman:
I don't actually hate this movie. It's a perfectly adequate action movie. I think part of the reason I wasn't too ga-ga over it is probably because I'm a forty something year old Black woman, whose seen this kind of movie before. I saw it the first time when it was called Alien, and again when it was called Aliens, and again, when it was called Ghostbusters, and Mad Max Fury Road. I am well used to the idea of White women being non-sexualized badasses in movies. This ain't new to me. Hell, Ripley is my patron saint, and sits in the cinematic pantheon. So maybe I'm just really tired, or the timing was off, or I wasn't the audience for it.
But you know what? I've decided this movie just wasn't for me, I guess. I respect that some people really, really loved it, so I'm not gonna talk too much shit about it, but really, I wasn't feeling that. The movie was just alright. I was crazier over Mad Max. If I were a twenty year old White woman, I might be insane over this movie, and wtf, twenty year old White women still need representation too.
The Deer Hunter:
I just hated this depressing-assed movie,which wasnt as awful as Deliverance, but well within spitting distance. The characters are fine, the premise is great, but this is one of those movies that only ever needs to be watched one time, after which you cleanse yourself, and try to recover from the mood it caused. This movie along with
Casualties of War:
…are two of the most depressing and/or horrifying war movies ever made. I have one word of advice for anyone coming across this film, because it stars Michael J Fox, and they think it might be worth watching…
DON'T!!!
Please save yourself the abject misery of watching this film. Sitting through this movie was an act of sheer fucking endurance,and I will never get the hours of my life back, that I spent watching it. Other than the movie looking beautiful, there is nothing enjoyable about this film. I basically spent two hours watching Fox's character wish-wash, back and forth, over whether or not to save the life of a young Vietnamese woman, who is never given a name, and had been kidnapped, and repeatedly raped and brutalized by his commanding officer, and the small squad of soldiers he commanded. The movie manages to make it all about his dilemma and guilt over ratting out his commanding officer, for war crimes, rather than the story of the young woman actually undergoing the ordeal over which he feels so conflicted. The most galling moment comes at the end of the movie when he is offered redemption for his difficult decision, by a young Asian American woman he saw on his bus route, whose face reminded him of that long ago victim.
This is exactly what we mean when we say White writers should no longer be allowed to tell other people's stories. The story is very obviously about her, and her ordeal, but written from the point of view of the lone white man, with a conscience, who is deeply concerned about turning against his squad buddies, and reporting them to upper command.
I hated this movie.
Critics seemed to like it just fine.
Back to the Future:
For the record, I am a fan of Michael J. Fox, and don't hate all his films, but this movie also misses me. Ive seen it about three times, and watched the two sequels when they came on TV. I thought they were really cute. I do not understand the foaming at the mouth level of glee I've seen from movie fans for it, though. It just doesn't move me that much, even though something about it, I don't know what, seemed to have thoroughly captured the imaginations of White male nerds. I say that because I've never heard, or even read, of a single PoC, woman (or man), who loves this movie like that.
To me, it's just a fun, not too deep, Scifi movie, aimed at teenagers.
Point Break: 
Patrick Swayze was one of the sexiest men in Hollywood when he as at the height of his career. That said, this ain't one of my favorites by him. (That would be Roadhouse.) I hated the characters in Point Blank, and thought the plot was deeply stupid, and not in a good way. Roadhouse was stupid too, but the plot was audaciously stupid, and everyone just ran with it, and I couldn't help but give it two thumbs up. Also, I liked the main character, so that helped.
Titanic:
I remember the huge hype around this movie, but I didn't go to see this in the theaters. I watched it on cable a few years later. I wasn't really trying to see it either. It was just on TV. I watched it with my Mom, and we were both mostly bored, although the romance of Jack and Rose was really cute . I didn't object to the romance and the prologue and stuff, and the movie was very pretty, but I didn't find any of it especially compelling either. We were almost clinically fascinated by the disaster scenes, with me discussing the physics of it with her, but apparently the physics is not something you tell people that you enjoyed about this movie.
Avatar:
Yeah, this was another movie I absolutely hated. It has the distinction of being the only movie, starring Sigourney Weaver, that I've ever intensely disliked. Omg! This motherf… movie is gonna need a whole hate post about it, starting with Sam Worthington, his character, the plot, the aliens. I don't normally do shitposts about movies. I like to stick with movies I loved, and why I loved them, so don't hold your breath on that.
Ugh! Lemme stop thinking about it!
Speed:
This movie was just alright. I liked the characters okay, and Sandra Bullock was a lot of fun in the role, but I wasn't very excited by this movie. It did have the affect of making me like Keanu Reeves a little bit more than before,and it was thrilling, I guess, but I wasn't greatly moved to laud it as the second coming of the action movie.