This show came across my dash, while I was scrolling through Amazon Prime, and I  had to say something about it. I did watch this show when it aired, and it wasn't a bad show, but I had some trouble watching it now, as I'm spoiled from having too much of the good shit.
Earth The Final Conflict is a Gene Roddenberry show, (it says so right in its title), even though the show doesn't seem very Roddenberry-ish in tone, and one of the only other shows he ever created besides Star Trek. I remember deciding to watch it, back in the day, because I thought it would be kinda Trekky, but it wasn't. Its a very different type of show. than Trek.
It aired from 1997 to 2002 ,and you'd think people would remember this more, because it wasn't actually awful, but maybe because it was so middle of the road, people don't care. Hell, even I feel that way about it, and I watched it. I only remembered it because it was suggested to me as part of my viewing history on Amazon.
The show kinda reminded me a little bit of V, because aliens called the Jaridians,  visit Earth with the public intention of helping humanity, as they always  say. In this case though, the aliens really are ALIEN, and deeply enigmatic. I watched this show for about three years, and I still don't know what the fuck the aliens wanted on Earth. But no matter what their intentions, you know there has to be a group of human beings in opposition to them, because they're suspicious of the aliens, even though the aliens have provided food security, cured various diseases, and stopped war.
ETFC starred Gene Roddenberry's wife, Majel Barrett, and a handful of bland White people, along with PoC who had too much character, because that's how TV did things in the 90's. The show had an Asian actor as one of the leads, Von Flores, but his character was pretty  sketchy, and was in league with the aliens, so I don't know if he counts as good representation according to today's standards, and because I still can't say whether or not the aliens were evil. The aliens are such a gray space that they might have actually been good, but its  the humans around them who were a bunch of duplicitous assholes, and maintaining the drama.
There was the token white, male, hero of the show, Kevin Kilner, playing a guy named Boone, who gets conscripted into working for the aliens, after his family is fridged. This actor was so lacking in character, and personality, that I don't even remember his name, nor do I remember seeing him in any other shows after this. Not that he didn't star in anything else, it's just that I wouldn't have noticed if he did.
There was also  the token Black guy named Richard Chevolleau, and he played some type of rebel hacker. I remember him because he had a weird accent.
But the standout characters were actually the aliens themselves. Someone put some real imagination into making them really alien, especially the leader, Da'an, played by a woman named Leni Parker. All the aliens were played by women, but played in such a way that they were meant to be non-binary, so the aliens did not behave as either males of females, in any stereotypical manner. They put some real thought into things like how to dress them, body language, speech and their actual voices. These aliens were so mysterious, that I didn't even consider them stand-ins for some other race of human beings, which is a trap that shows like this frequently fall into.
I actually liked Da'an, because they seemed okay, and I liked the way they were portrayed. I remember when I watched the first episode, and heard Da'ans voice for the first time, and was deeply puzzled. It took a few episodes to get used to the depiction of the aliens, because there just wasn't anything on TV like them. My brain kept wanting to read Da'an as female, but the show creators actually took things like that into account, and put some real effort into making sure Da'an didn't conform to any gender roles.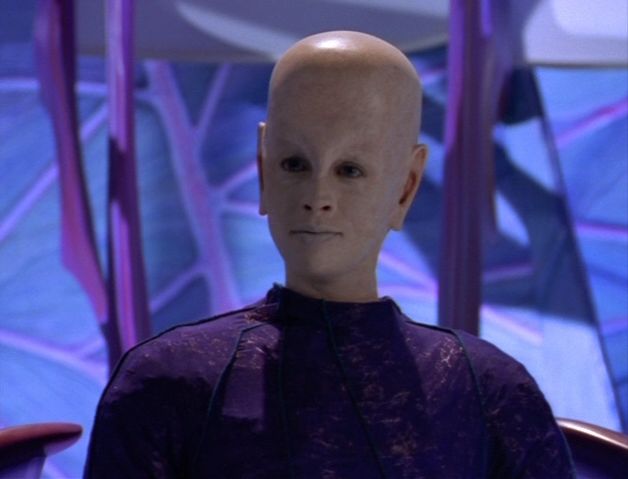 I do  remember  mildly disliking most of the humans on the show. Except for the token Black guy, named Auger, and Von Flores, as they were the only two characters with actual personalities. Flores was sneaky and duplicitous, so he was hard to actually like, but at least you remembered him when the episode ended, and Chevolleau's character had a sense of humor, something which no one else on the show displayed. Everyone on the show was always deeply grim and serious, even though the show didn't look that way until the later seasons.
Later on, there was an alien- human hybrid added to the show because, of course, and some extra, more suspicious, aliens were added to the show, to contrast  Da'an. Basically, because the show was unclear  if Da'an was a villain,  they needed to clear that up by adding an actual villain,  which did not work, because, many years later, I'm still unsure if Da'an was a villain. So  that didn't work either, and  there were some actual evil aliens added to the show, called the Atavus that the Jaridians were fighting.
I also got tired of the humans fighting colonization by aliens plot that was the primary plot of season one and two. I still hate this plot today. Once again, it's always White people (the ultimate colonizers of everywhere on Earth) who get to decide, and fight for the future of humanity, and then there was the idea in the back of my mind,  that the aliens weren't actually bad guys,  just the humans who worked for them were bad, and that these resistance fighters were blowing up buildings, and assassinating people, for nothing.
The rebels seemed to be resisting the idea of aliens making human beings behave better towards each other, and I remember being upset about them making the decision to kill other beings, for all humanity, without asking the rest of humanity if they wanted to be fought for. I remember disliking  the rebels deciding  that humans needed saving, because I'm not entirely sure the aliens were evil. I, for one, welcome our new alien overlords.
The show is also an interesting depiction of how humans might actually behave, if Earth were colonized by an advanced species, that weren't obviously hostile. Because of their good behavior towards humans, some people would worship them, and some people  formed churches, in which Da'an is deified. Some other human beings would definitely be upset about the deification of the aliens, and want to break that shit up, I guess.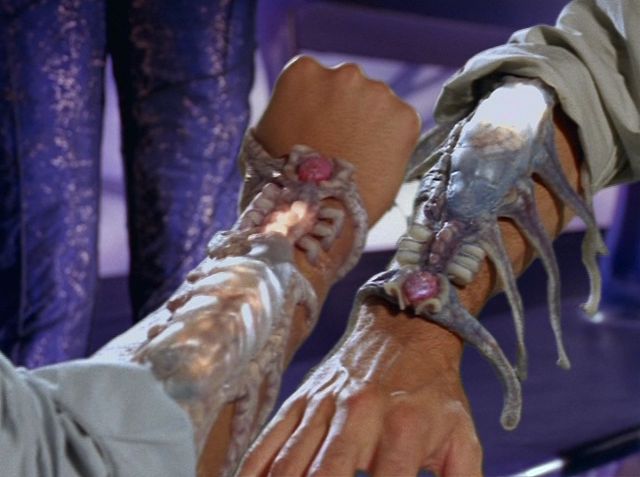 I thought the special effects were pretty good, especially the flying ships, the depiction of the aliens, who were these semi-transparent creatures, that seemed to be made out of layers of energy, and the destructive blasters worn by their human assistants, called Skrills, which I think were living creatures of some kind. I remember being more curious about the living writstblasters than any other technology displayed on the show, and wondered what it was like to wear one, and if the aliens were monitoring their human companions through their bioware.
Anyway, the show is  worth a re-watch if you can get past the bland acting of the humans. The aliens are definitely worth watching, if only to try to figure out if they are actually evil, or not, and because they are an  interesting interpretation of non-binary, a-gendered beings. I didn't watch the show through its entire run, so I can't say what the outcome is, or whether or not the conflict was, indeed, final.