The Plot:
When we last discussed this show, the Discovery was stranded in the Mirror Universe, where our characters encountered their worst selves, and had to touch base with the darkest part of their natures to survive. many of them worried that they might not recover from the ordeal, and some didn't. Ash  discovered he was the surgically altered Klingon Voq, and attacked  Michael.  Captain Lorca originated from the Mirrorverse, and more than likely, the original Gabriel Lorca is dead.
Michael Burnham encounters a dark version of Philippa Gheorgiou, who is the Emperor of the Terran Empire. Captain Lorca, and the Burnham of that universe, became lovers, and betrayed her, teaming together to form a coup against her. When Dark/Philippa discovers that this Michael is not her adopted daughter, the two of them team up to defeat Lorca, and he is killed. The Discovery makes it back to its own universe, but the mushroom spores they used to travel there, are all destroyed, and they overshoot their mark, and land nine months in the future, where they find that the Klingons are winning the war.
Because of the death of their leader, the Klingon clans never united and are now contesting among themselves to see how many humans they can kill. Earth is about to be attacked, as well. Having kidnapped Philippa from the Mirrorverse, Michael enlists her aid in defeating the Klingons. Philippa's solution is to destroy the Klingon homeworld, but Michael talks her out of the idea by giving the power to destroy the Klingons to L'Rel, who uses her new weapon to unite the Klingons, which brings about the end of the war.
Realizing he has no future in Starfleet, Ash Tyler accompanies L'Rel on her mission. Philippa is free to go her way,rather than remain a prisoner of Starfleet, and Michael is reinstated as a Commander on the Discovery, having been the architect of the end of the war, and she and Sarek reconcile.
In the last few minutes of the episode, the Discovery is on its way to pick up its new captain from a nearby starbase, when it receives a distress call from Captain Pike of the  USS Enterprise, the ship on which Spock is the First Officer.
Themes: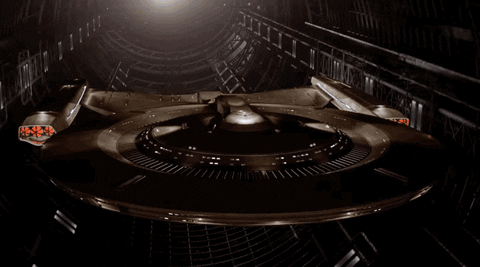 One of the things I know I'm good at, is seeing the bigger picture, yet being a visual artist, is what taught me to pay attention to the tiny details that make up that picture. The ability to see the "macro" from a micro level is a mindset that not many people cultivate, but if the viewer is to understand this season, they will have to. Michael's story and her future is all in the details.
There are a lot of plot details during the course of the season, so this show is much more complex than some previous series of Trek. Because it's so complex, a lot of fans haven't been able to grasp exactly what this season was about, and have had difficulty wondering what the writers are trying to do. A lot of fans have complained that the show isn't very Trekky, but that's the point.We haven't got there yet.
Every character has an arc, and so does the crew and ship. but the overall point of all these arcs, appears to be getting to know Michael Burnham, not just through the things we see her do, and the situations she responds to,  but  through her relationships on Discovery, and how other characters respond to her. Through Michael we are also witnessing the origin story of this crew. By the end of the season, we are on our way to seeing the ideals of Starfleet reflected in Michael, the crew, and the  plot.
All of the plot points, and all of the characters, revolve around, and are informed by, the existence of Michael Burnham. We are watching a show chronicling the growth and maturity of a StarFleet officer, and its crew. We visited the Mirrorverse to learn what type of crew, what type of people, they are not, and cannot be, to contrast with who they should, and can be. The writers wanted to show us negatives before showing the positives.
The flavor is different from the other Trek shows, but then they all felt different, so this means little to me. The colors are brighter, the lighting is dimmer, the humor is a little different. There's sex, nudity and a little cussing, but over the course of the season the show begins to lighten and there's a little more humor between the characters.
The Bridge crew is very intriguing, and I'm looking forward to seeing more of them next season, with stories being told about them, and narratives involving them, as we didn't get to see or hear much from any of them. In fact, we know nothing about any of them beyond how they look, so I'm excited to get to know them. (Interesting Note: There's not a single White man in the regular Bridge crew of the Discovery. Actually, the only White, straight man, in the entire speaking crew, was Lorca and he turned out to be evil. The present cast consists almost entirely of PoC, and mostly women. Make of that what you will.)
http://trekcore.com/blog/2017/12/meet-the-star-trek-discovery-bridge-crew-cast/
Michael Burnham
Michael is introduced to us as a rather reserved, and somewhat rude, Vulcan wannabe, in the premiere episodes, but during the course of the season we watch her become more human, discovering and dealing with the faults of her character. As the audience, we travel with her on her path to self discovery. Essentially, we are watching Star Trek: The Making of a Starfleet Officer, or The Fall and Rise of Michael Burnham.
We see her fall from grace in the first couple of episodes, as she mutinies against, and then presides over the death of, her Captain, a woman with whom she had established a mother/daughter relationship. Michael's hubris begins a war with the Klingons, and she will have to live with the repercussions of this for the remainder of the season. This is why the very first minute of the first episode is a shot of Michael and Philippa together. Their relationship is going to be the center around which almost all of Michael's decisions will revolve for the next 14 episodes, and the loss and betrayal of her mother figure, and commanding officer, will be the impetus behind many of Michael's decisions later in the season, just as the death of her parents informs her decisions in the show's premiere. I think,had that particular trauma been dealt with, by the Vulcans, Michael would not have made those decisions.
Everything that happens, for the rest of the season, can be traced back to Michael's betrayal and mutiny of Philippa, and that can be traced back to unresolved trauma, after the deaths of Michael's parents, at the hands of the Klingons.. The war she inadvertently started with the Klingons, killed her captain, and made it possible for Capt. Lorca to be present in the Prime universe, which puts him in  place to make certain decisions that affect her  development, and the lives of the Discovery crew. For Michael to become the person she will be, her old life needs to be destroyed, but she cannot move forward until she deals with all of its loose ends.
Her introduction to the crew of the Discovery is a bit rocky at first, but she eventually establishes herself as a reliable and intelligent officer, and even develops a positive relationship with her roommate, Silvia Tilly, that echoes her relationship with her late Captain, with Michael in the role of mentor. The first part of the season finds her making peace with Lt. Saru, her former Science Officer from the Shen Zhou, and developing a romantic relationship with Ash Tyler, a former prisoner of war.
By the middle of the season, Michael experiences another setback as she visits the Mirror Universe, and discovers the worst possible versions of the people she knew, including Phillipa, Capt. Lorca,  and Ash Tyler. Since coming on board the Discovery, Michael has had a  decision to make, about the kind of human she would like to become, and in the MirrorVerse, she is presented with the contrast, and the temptation, to be the worst kind of human she could be, which she roundly rejects. In every episode Michael gets a chance to redeem herself and reflect the ideals of StarFleet.
Just because Michael knows what kind of person she wants to be, doesn't mean she is done. She  must still deal with the emotional fallout of Philippa's death, which is also tied into the emotional trauma of her parents death, that she has never dealt with either.  Given the choice between allowing the Mirrorverse version of Philippa to die, or saving her life, Michael saves her life, and takes her to the Prime universe. Michael's, guilt and regret, at causing Prime-Phillipa's death, informs her decision, and even though this version of Phillipa isn't hers, Michael hopes to atone, by saving the soul of this less worthy version of her former mentor.
Michael  cannot do anything with her life, until all the issues in her past have been properly acknowledged and dealt with. We are really seeing an origin story for Michael Burnham.
Captain/Emperor:  Philippa Georghiou
Philippa adopted Michael as a surrogate daughter by the time we saw her in the season premiere, and had done a lot of work to introduce Michael to her human side by that time. Michael's attack on her,  and that betrayal, was really hard on her ,and the situation was never resolved between them because she died.
Later in the season, we meet the Mirrorverse version of Phiippa, who also had a mother/daughter relationship with the Mirrorverse version of Michael. That version of Philippa is also the autocratic, despotic, Emperor of the Terran Empire (So when Michelle Yeoh said we would see her character again, she really wasn't lying.). Her version of Michael had also betrayed her, and she feels some type of way about that. When she discovers that the Michael she is talking to is not the one who betrayed her, she teams up with her to defeat her rival, Gabriel Lorca.
When her life is endangered, she makes it clear she wishes to go down with her ship , but Michael decides to save her life instead, and spirits her away to the Prime universe. The two of them have many feelings to work out between them. Mirroverse people claim not to love, considering it a weakness of character, but it is clear they have feelings for one another, and Philippa  has feelings for this version of Michael, whom she refers to as Not Her Daughter. Mirrorverse Philippa needs to reconcile with the "ghost" of her version of Michael, and Michael needs to finally lay Philippa's ghost to rest through this version of her.
This Philippa's presence will give Michael an opportunity to work out issues that she had with the Prime universe version. This is yet another opportunity for growth, to lay to rest the demons in her past, and move forward. To become the person she is meant to be. Because she was raised on Vulcan, Michael did not mature in the way that most humans did, and a lot of what we see is Michael experiencing these emotional life events for the first time. Through letting go of Philippe, she is dealing with the trauma of losing parental figures.
In a sense, Michael is still a teenager, albeit a teenager with a formidable intellect. She makes the kind of mistakes that only a human, who has not reached emotional maturity, would make. There's nothing wrong with her intellect, but she is interacting with humans, and with issues that, had she been raised with humans, she would long ago have dealt with, like the deaths of her parents by the Klingons. Vulcans simply don't handle emotions the way humans do, and Michael had been taught to act like a Vulcan by suppressing them, not working through them, which brings us to:
 Silvia Tilly
https://io9.gizmodo.com/my-favorite-character-on-star-trek-discovery-is-the-on-1822646454
One of the first people Michael meets is one of the most important people on the ship for her, and that's Lt. Silvia Tilly, Michael's  irrepressibly bubbly roommate. It's important that Michael meet Tilly first because Tilly will be her very first human "friend", and that s important in the development of Michael's personality. Tilly also turns out to be one of my all-time favorite characters in Star Trek, right next to Spock and Data,and a great embodiment of StarFleet ideals. Tilly is also one of the youngest members of the crew, and one of the greatest things is  watching her grow and mature, along side Michael.
When we first meet Tilly, she pulls one of those mean girl stunts towards Michael that immediately causes me to dislike her, but later she redeems herself by becoming  Michael's biggest supporter and cheerleader. Michael develops a relationship with Tilly that has deep echoes of her relationship with Philippa, as a mentor and mentee, as she encourages Tilly to fulfill her dream of becoming a starship captain. Tilly's acceptance is the first step in Michael's long journey to find herself.
It is Tilly that gently encourages Michael to open herself up to her feelings. Later, she encourages Michael to pursue a relationship with Ash, and when that falls though, she is the one who puts forth the idea of closure, telling Michael she needs to speak to Ash and resolve the issue between them, when Michael would rather run from it. Every time Michael tries to ignore,  run away from, or suppress her emotions, it is  Tilly who encourages her to fully engage, and  experience  the human condition, and does so without judgement. In return Tilly receives Michael's full trust before anyone else does. It is Michael's relationship with Tilly that paves the way for her relationship with Ash.
Tilly experiences her own character arc as she becomes more confident in her ability to solve problems, and in the Mirrorverse, she gets an opportunity to sit in the Captain's chair, encouraged by Michael's words of support. In fact, Tilly's time in the Mirrorverse results in a positive outcome for her. Getting in touch with her worst self allows her to channel that energy into the self confidence that will get her that captain's chair. After her adventures in the Mirrorverse, we can see the seeds of the captain she will eventually become.
Michael's affect on Tilly is especially evident after Ash Tyler is re-introduced back into the crew rotation, after his Klingon persona killed Hugh Culber. In any other environment, he would be a pariah, as Michael was when she first came onto the Discovery. But Tilly, in an act of reconciliation , decides to put Ash's behavior in the past. She takes the initiative to welcome him back, and the rest of the bridge crew follow her example. This is an example of Tilly's growing confidence in her leadership skills. Her compassion, her positive experience of befriending Michael, another social pariah, informs her decision here.
Lt. Commander/First Officer Saru
When Michael is brought on board the Discovery by Capt.  Lorca, Saru does experience a bit of panic. I didn't really like this character very much, at first, mostly because he didn't like Michael, but as the season moved on, I began to understand that he had his own traumas that he was dealing with, and  he feels those traumas are Michael's fault.
Michael cost him his captain, a woman he respected, and had worked under for a long time, and he not only had to deal with that loss, but the loss of his position, ship and crew, and the knowledge of  Michael's betrayal. He is understandably a bit wary of her, thinking her dangerous to him. I'll wager, since Saru is the way he is, he probably had his entire career mapped out on  the Shen Zhou, and Michael derailed all that, so he definitely feels some type of way.
One of the first hurdles Michael has, is to get past Saru's guard, reconcile with him, getting him to trust her once more. Over the first several episodes, she goes a long way towards getting him to trust her again, and one of the ways she does so is by acknowledging her mistakes, and bonding with him over the shared loss of Philippa. When Philippa died, she left remembrances to Michael, one of which was a family heirloom, a giant telescope. Michael gives the telescope to Saru instead, and this goes a long way towards mending fences between them.
In another episode, Saru gets possessed by alien spirits that cause him to turn on Michael and Ash during an away mission. This is a callback to Michael's betrayal of Philippa because she believed she was doing so with the best of intentions , as  Saru believes that he is helping Ash and Michael, when he attacks them. This puts Saru in Michael's footsteps for a short time He then has some understanding behind her thinking when she was on the Shen Zhou.
I  want to give a shout out to Doug Jones, who turned in an exemplary performance this season, given that he can show so little facial expression under all that makeup. He has to convey everything about the character through voice and body language, and does a wonderful job of this, reminding me of his work as Abe Sapien in Hellboy.
I was a little reluctant to cozy up to Saru, at first, but he's become one of my favorite characters. We even get to see him give a rousing  speech, and be a total badass, in the Mirrorverse, when he becomes acting Captain, after Lorca's demise.
Lt. Paul Stamets
It is through working with Stamets that we get regular doses of Michael's fierce intelligence, and her compassion. If the first two episodes are meant to introduce us to Michael's weaknesses, than the next two introduce us to Michael's strengths, and stoicism, as she works closely with Stamets to develop a new kind of engine, a kind of Sporedrive that works with mushroom spores to allow the ship to travel along a plant "neural network" that connects all things.
Stamets was not a very likable character at first, but redeemed himself when he stepped in to take the place of the creature that he was torturing to get the SporeDrive to work. He also nearly sacrifices his life. I feel like he did it as a form of atonement for the harm he initially caused, and also because he's thoroughly dedicated to his work.
He and Michael don't interact much, but he does exist, as an example to Michael, of self-sacrifice and  atonement. This is why I think Michael takes the attitude she does with Saru. Reconciling with Saru is one of the first steps on her journey to dealing with her past mistakes, and mature as a person, and I think Stamet's self sacrifice may have been the inspiration for  at least part of that.
Michael isn't just being affected by the world around her, she is also affecting the world, and people, in her orbit. I believe that it's her act of compassion towards the creature they realized they were killing to run the SporeDrive, is the impetus behind Stamet's decision to atone by taking the creature's place, after Michael sets it free.
Being infected by the spores has the added benefit of mellowing Stamet's personality because I wondered what it was that his lover, Dr. Hugh Culber, saw in him. He is goofier, and more funny when he's possessed by the spores. As  we see  Stamets and Culber interact during the season we start to get some idea, not just of the deep love between them, but why they're together.
Later, we are treated to a touching scene of the two of them, meeting after Culber's death, inside the spore's neural network. Many viewers were devastated about Culber's death, but we have been assured by the writers (and the actor, Wilson Cruz) that this is not a Kill All Your Gays Trope, and that we will see Culber again in the future, and I'm inclined to trust all of them on this. After all, we got to see Philippa, again.
Voq/Ash Tyler
In the Harry Mudd episode, we learn that Michael has never been in love, and she begins a romantic relationship with Ash Tyler. Their relationship has all of the torrid passion that you expect in a first love situation. Michael is rather emotionally immature for a human, with her emotional development having been suppressed while being raised on Vulcan. There are a host of situations that are brand new to her, that most humans have already been through by the time they reach her age, so Michael falling in love with Ash, is another step forward in her emotional journey.
So is betrayal by one's lover and  the breakup song. It turns out that Ash isn't just a traumatized victim of the Klingons. He actually is the Klingon, Voq, who has been surgically altered to look like the dead human, Ash Tyler, with Tyler's personality as an overlay. When Voq's personality begins to reassert itself, after meeting his counterpart in the Mirroverse, he tries to kill Michael. Naturally Michael is having some serious trust issues after the Ash Tyler personality is restored. She breaks up with him because she realizes that neither of them are well enough, or mature enough, to have a healthy relationship or be good for each other, which is probably one of the most mature romantic decisions I've ever seen in any show. Most plots are predicated on the characters making really bad romantic decisions.
A lot of the things Michael goes through in the season are the kinds of events that most humans have already dealt with by the time they are Michael's age, like love, trust, and the  betrayal of those things, against her, and by her. She must deal with the enormous fallout of her betrayal of Philippa, and in turn with being betrayed by others like Lorca and Ash.
Captain Gabriel Lorca
One of the primary themes of the season is trust and betrayal, with many episodes dealing with the the emotional fallout and events that occur when characters betray each other's trust. In one episode Lorca betrays Harry Mudd, leaving him behind to be tortured by the Klingons after it is discovered that Harry is their spy. This is something that comes back to bite Lorca in the ass later, when Harry Mudd gets revenge by taking over his ship. Lorca also betrays Cornwell to the Klingons, in the episode where he refuses to look for her, after her capture by them, which he set up.
But most importantly Lorca betrays Starfleet and the Discovery, when it turns out that the real Captain Lorca is probably dead, and has been replaced by the Mirrorverse version, as the audience suspected. While in the Mirrorverse, there are a number of crosses, and double crosses, as Michael learns that the Mirrorverse version of Michael had also betrayed that world's version of Philippa, and had teamed up with Lorca to dethrone her as the Emperor. It turns out that, in the Mirrorverse, Lorca started out as a kind of father figure and lover (Eww!) of that world's version of Michael. The two of them planned to rule the Terran empire together.
We had wondered about the meaning of Lorca's bond with Michael and why he was so protective of her. Not only was he in love with her, but knowing  Philippa's greatest weakness was her love for Michael, he used her to gain access to the Imperial ship, to get close to Philippa. In the end Lorca dies when they both turn on him.
Now that Lorca is out of the way, we can see the bridge crew start to behave more like the Star Trek crews we've always known. The writers have stated that because of Lorca's presence, the crew of the Discovery didn't get to bond in the way they should have, and now that he is gone, they can show a level of teamwork that Lorca may have actively worked to suppress. It is the female members of the bridge crew who make the effort to welcome Ash, after his Voq personality has been destroyed. Contrast that with how they treated Michael when she first arrived.
More than anytihng else, its the regard and respect that starship crews show for one another that makes Trek, Trek,  and we get to see them really come together and start to act like a crew, ironically, enough, during their stint in the Mirrorverse. So the show isn't just about the evolution of Michael its also about the parallel evolution of the various crew members, and the ship, in general.
Sarek
Having grown up on Vulcan, Michael has only ever suppressed her emotions, instead of working through them. After her parent's death by the Klingons, and then her own death, as a child, from Vulcan rebels (who hate humans), she has a lot to work through, including her feelings of betrayal from Sarek.
When Sarek is attacked and nearly killed by the same Vulcan rebels who killed her, when she was a child,  Michael has to save Sarek's life, using the mindbond he established with her to bring her back to life. Through that  bond, Michael discovers Sarek's deepest regret.  Sarek had an opportunity to gain her entry into the Vulcan Science Academy. he could only enter one of his children to the school, and he chose Spock over her.  In doing so, he derailed Michael's life and career. This decision put Michael on the career track that would eventually land her on Philipa's  ship, and Sarek feels that all that happened afterwards, Michael's betrayal, the mutiny, and her conviction, are partially his fault. She and Sarek both have to come to terms with their feelings about what he did, and Michael needs to restructure her relationship to Sarek, before she can move forward.
We are essentially watching Michael take care of all the failures and remnants of her past. Watching her clean it all that up,, and begin to tie up loose ends, before embarking on whatever new phase in her life, which is something she cannot do, until all these issues have been acknowledged, and purged, and her relationships reconciled, including the one with her adoptive Father, and by the end of the season the two are on their way to doing so, with Sarek acknowledging her as the child of his heart, and Michael, with a better understanding of what type of person Sarek is.
Rather than the trusting and childlike relationship we saw at the beginning of the season, with Sarek admonishing Michael, like a child, to "Behave" before leaving her alone with Philippa,  the two are developing a  more equal and adult relationship, built on mutual respect, rather than obedience to his authority, a stage  most humans have undergone by her age.
Last Episode
Last episode saw the death of Lorca and the return of the Discovery to their own universe. But they miscalculate and jump forward in time by nine months, where they discover that the Klingons are winning the war, in a piecemeal fashion. The Klingons, because of the disappearance of Voq and the death of their leader at Michael's hand,  never unified under one clan, so all 24 of the clans have been carving up the Federation in a contest to see who can take the most human lives, and have been indiscriminately killing all humans, with no honor. Admiral Cornwell is still alive, but reaching her breaking point, as the Klingons make a play for Earth.
Sarek and Michael go to Mirrorverse Phillipa to request her aid in defeating the Klingons. Her suggestion is that they destroy the Klingon home-world of Quonos, a ploy that the last remnants of StarFleet have agreed to. In preventing the destruction of the Klingon homeworld,  Michael is finally putting to rest the trauma of her parents deaths, at the hands of the Klingons. Michael demonstrates the best ideals of StarFleet by  showing compassion to a race of people who affected her life course, through their actions. She has come full circle from wanting to kill them on sight, ,which set the entire Klingon war in motion, to helping to save their race, which ends it.
In Conclusion
This entire season is one where we have been watching Michael essentially play catch-up to the other humans around her. Having been raised on Vulcan as a Vulcan, has built her intellect, but stunted her emotional growth. Because of how she was raised she has no emotional experience to call on when dealing with a highly emotional situations, and I think her past trauma, coupled with her desperation, is what informed her decision to attack Philippa, as there are other ways she could have handled the situation, that did not include giving her captain a Vulcan nerve pinch.
Whether  or not Michael was right, in the decision to send a Vulcan Hello to the Klingons, is beside the point.  She thought she was right, above all and everything else. Her panicked decision to have her way, and impose her will on the situation by attacking her captain, set an entire series of actions in motion, that affected two universes,  cost countless lives in both of them, and that  Michael has no hope of fixing any, or reorganizing her life, until she clears away the detritus of her old one, and that's what this first season was all about.