I read an interesting article that stated, one of the reasons that the Civil Rights Movement was successful, was because of the progression of technology. Basically, the invention of portable hand held cameras, in the 50s, which allowed the media to be on the scene, up front and center, when riots, marches, or any type of civil unrest was occurring, instead of photographers who showed up after the fact.  It allowed the media to film, in real time, exactly how Black people were being treated in America by the police, and it provoked a global response. Some of the global response to such images is what helped to  promote the passing of the Civil Rights Bill. I don't know if this is true but it was an interesting thought.
With the invention of camera phones, and apps that record our deaths in real time, one would expect an equal progression on racial issues, along with the technology, and there is some. Certainly there's a greater degree of awareness about how we're treated, that media news cameras were unable, and in some cases, unwilling to capture. Now, images of Black death and brutality are everywhere in social media, but there has been no corresponding progress in empathy from White people.
In some cases, watching some of these videos, has become for some White people, little more than pain porn, or virtue signalling. In some instances, the prominence, and easily availability of such images, has had the side effect of producing a defensive White-lash from some people, who don't want to admit that they don't care about Black lives (or any lives but their own, really), are content with the status quo, yet are too ashamed to admit that they are callous, soulless, individuals, because they still want others to see them as "good" people.
Black pain and degradation has always been on display. It has always made great spectacle for a certain class of people. High visibility does not mean that Black Americans have power. There are those who use the spectacles of of our brutality to try to make themselves look good to others, and those who are certainly willing to watch Black pain, can sympathize with  it, and yet, are content to do nothing but  emote about it on Facebook, because it's not something that  directly affects them.
And then, there are those non-Black people of color who mistake attention and visibility, for power, and think we should also do the free labor of speaking out on their behalf, while never having spoken on ours.
This is from one of the more mature discussions about race I've seen on Tumblr. (It's been my observation that most of the people there are too young, and lack enough nuance, to be able to hold deep discussions on the topic, but sometimes there are exceptions.)
Anonymous

  asked:

People are still burning over how we got "too much attention in Charlottesville," and I'm like, …? What people don't realize is that attention is fruitless. Our suffering makes good clickbait, but nothing's really being done about it unless we do it. And all that attention just gets us the envy and bitterness of other groups who insist there's a checklist of things we not only have to fight for, but things we have to put *before* our own lives.
Exactly.
I think that part of the problem is that there is a lack of education about black people, a lot of people really don't see us as people they're willing to learn about. I think there is a problem with people conflating Imperialism with "American" and they take it out on minorities that are based in the U.S. because we're an easier target. And I also think a lot of non-black people internalized that racism against us  because it is so engrained all over the world so that informs their opinions of us.  So they only  go off of the little bit they're taught about us in school or see in the media.  I feel like they they believe that anti-black racism is something we deserve, and the point is to avoid being tread like us more than it is to stop white supremacy all together.  However, I think things go a little deeper than that.
I believe that they don't know (or don't care) about the way anti-black voyeurism has been an instrumental part of white supremacy in the U.S.  So they see a bunch of pictures of our dead bodies and some crying people and think "oh folks care about *them*."  They don't realize that people were passing around images of our lynched bodies for hundreds of years and people still didn't care, there still weren't consequences, no one stood up for us.  It was an acceptable part of our existence in this society.  They don't realize that the way that they talk to us and react to us is directly affected by the idea that violence and hostility are our lot in life and the only way we can relate to people.
So they get envious because their histories are different than ours.  They forget that we live in this strange dichotomy where we are both visible and invisible at the same time.  We're visible as targets, and invisible as victims.  We are everywhere when folks want to make ahistorical claims of oppression we "inflicted" on others but we don't exist when they want to erase our contributions to their communities or when they want to appropriate our history to a more "deserving" minority group.  People will spread pictures of dead black children but won't show up to support us when we want justice, worse, they'll argue how we deserved to be victimized.  They want us loud and visible to fight battles, but refuse to give us the credit (only the blame if the activism isn't perfect or something goes wrong). They want us to know everything about their cultures but they don't know a thing about us beyond what racist media tells them.
Heck, the only time I've seen people really focus on black people is when they want to tell us we're doing something wrong or leaving someone out.  I've never seen non-black people focus on black people in a way that has helped us.  People who have never overtly supported black people a day in their life have this misconception of our privilege and obligations, because they honestly don't relate to us as suffering *people* with priorities as much as they see us as a social justice customer service line they can call and rant at.  Case in point: Look at how many people will talk about how *others feel* but will never examine how we feel or what we're facing.
But its not just their fault: They weren't property so they don't get how our race gets us attention because we were primary targets, not because people wanted to help us.  Black skin was equated with whatever negative qualities they could project on to us to justify our enslavement.   When we were enslaved, our race meant that anyone who was black could be kidnapped and sold into slavery even if they were free.  We were criminalized by laws just for being black and not working for the same people who owned us after slavery was made "illegal" after the Civil War.  We've always had "attention". We could never "assimilate".  We had to be visible to survive, because the moment we were silent they could destroy all of us and the world wouldn't bat an eye.  We had a precarious existence here, and a lot of people don't realize that because they were never in our position.  They might have been oppressed in other ways, but they were never *property*.  The U.S. didn't base the countries prosperity on their enslavement so they don't get how visibility works here.
They don't realize that our visibility has never been a privilege, because they experience racism in different ways than we do, and that they don't have to act hostile towards us, and erase our history just to bring visibility to other people.
tl;dr: I think that people let their anti-black bias inform how they relate to us, but I also feel like they don't understand that visibility doesn't work as a privilege for us like it might for others who have a different history here in the U.S.  A lack of education is definitely to blame and they need to take the initiative to practice what they preach when it comes to solidarity (and intersectionality) and learn how our visibility informs our reality as black people in the U.S. and that needs to be a central part of anti-racism discourse.
And I'm warning you now, the charge will be lead by  young White women, who lack knowledge of intersectional politics, or a nuanced understanding of feminism, who are  pretending to be progressive, and concerned. You can argue with them if you want to, but remember, the Block button is always available, when the bullshit gets out of hand. When you feel your mind start to unravel from the nonsense, don't argue. Just block!
The "White Feminist" bullshit has already  started regarding Valkyrie from Thor Ragnarok. I apologise in advance for subjecting your eyeballs  to the following  argument. (Feel free to check out at any point after the second paragraph, cuz its a shitshow of several isms.) This topic was already addressed by Stitch's Media Mix (on her blog,) so I'll follow her lead, and not link to the author's name, but here is the original post and some of the other responses:
I finally realized what bothered me so much about about Thor: Ragnarok. Well, aside for all Thor's characterization that went out the window in favour of him being a blumbering idiot who has no idea how to respectfully speak to a woman. Or the poor language choices, but I hope that was a problem with the Italian adaptation and Thor didn't actually speak like a dumb teenager.
Anyway, my problem was with Valkyrie, more specifically with the fact she's male coded. Heavily so.
Let me explain: there is this war veteran, who is drunk in the very first scene, whose fight buddy, who was supposedly its female love interest, died in the last war and said veteran became a rogue, violent drunkard lost in an empty life polar opposite to the past of gretness and honour of before, a past said fighter doesn't want to be reminded of.
How many male characters are there in cinematography with this same, boring, pathethic story?
The only difference between them and Valkyrie is that she has a female body. But only that, her body, because nothing in her behaviour, gestures, way of speech or anything at all shows the slightest hint of female feelings or qualities. Loki is more feminine than she is (which is arguably intended by both writing and acting, but that's another matter).  Gosh, even Thor has feminine bits and pieces!
My point is, Valkyrie's character was written exactly like a "tragic male character", then they took a female actress for the role because they realized they didn't have enough female speaking characters (read: none other than Hela) to pass the Bechedel test. Spoiler alert! They still don't.
 This whole post is pretty anti-Black, specifically anti-Black women.
I'm gonna need you to examine why you felt like Valkyrie, a Black woman, was "too masculine" and lacked femininity to the point of seeming more masculine than both Loki and Thor.
Valkyrie was so wonderfully female in pretty much everything she did, I just can't with this.
Look, the Bechdel test needs to stop being invoked as the end-all be-all marker of well-written female interaction. Not that Thor gets off the hook for this, because no two female characters ever really interact with substance (though it's notable that the two female characters who did interact—Topaz and Val—are women of color) but that's not really your point, OP, is it?
So back to Valkyrie being a male character in a female body, I….yikes. So much wrong with this statement. Reading Valkyrie as heavily male-coded means we're assuming that women can't have alcohol dependencies, that they can't be powerful and flawed, that tragedy and fear and trauma as a result of war are sole domains of men, that women can't or shouldn't have the same complicated and flawed existences as many male characters do. Do we need a woman onscreen to, idk, nurture someone or reference her inferior upper body strength in order to be classified "feminine"? Did we need her to make a boob joke like Bruce did for Nat in AoU? Did we need her to use her ~wiles~ to trick someone or be a sexpot? I think you're ascribing to a very binary understanding of gender qualities, and perpetuating some harmful stereotypes with this idea…after all, Valkyries are referenced by Thor as an elite force of female warriors—that they're women is a significant factor. She is a Valkyrie. She is a woman. She gets a moment where we see her brush her hand over the Grandmaster's cheek and he blushes in satisfaction. We see Thor try and preen for her as a show of attraction. We see Bruce call her "so beautiful." We see her femininity in other people's reactions to her, and that's enough. Everything else is gravy because the story doesn't need or doesn't rely on any tired tropes of femininity to move forward.
 No matter what black women do y'all racists will always see us as "too masculine" lmao. And you vision of what is or is not "feminine" seems pretty sexist op. Not to mention, since when are tragic soldier backstories only meant for men? It's actually refreshing that for once, a woman gets the "turns rogue after being traumatized by the war and the fact that she's the only survivor of her faction, but eventually joins the hero to fight the villain" storyline.
 *Valkyrie  sounds very like the character Jessica Jones, who is also  a flawed, complex woman, who has been through  severe trauma, and copes by drinking. Jessica  is  also stronger than most men, is unsympathetic to other people's emotions (too busy dealing with her own), doesn't act in a traditionally feminine manner, and yet, not once did I ever hear her being called "unfeminine" or "male-coded". In fact, she was lauded as the epitome  of feminism by White women fans. (I personally can't stand the character but I get why she's important to others.)
Then there's Charlize Theron's Atomic Blonde, and Fury Road's Furiosa, all hailed as feminist highpoints in cinema. Not once did I find any essays declaring that Charlize Theron lacks femininity, or that her story was too masculine coded. So, in light of the reception of Theron to the ranks of movie action heroines, it will be interesting to see what White female fans will think of the Dora Milaje, Taraji P Henson's character, Proud Mary, which will be released in January, and Deadpool II's Domino character, played by Zazie  Beetz.
Never mind that plenty of Black girls and women will look up to Valkyrie, played by a Black  woman (of Cuban descent), that  they're arguing has no use, because her character doesn't fit their standard of White European femininity, (which is an utterly ridiculous admonishment, because her character is an alien from another planet. What the hell does masculine coded even mean in that context?)
One of the primary reasons, (among many), that that critique is so horribly wrong, is because it falls right in line with the Masculine Black woman stereotype, (which, ironically, seems to be something that both Black men, and White men and  women, can all get together to agree on). This is an insult that has followed any Black women who White people perceive as  even the slightest bit threatening, from Venus Williams (my idol) to Michelle Obama. Woven into the accusations of being too masculine are threads of transphobia, and misogyny, as well as racism.
Excerpt from:    https://blavity.com/how-serena-williams-and-viola-davis-taught-me-to-be-an-unapologetic-black-woman
"The type of body-shaming in Tarpishchev's comment, while subtle, comes gift-wrapped in a triad from hell: misogyny, racism and transphobia. By referring to the Williams sisters as "brothers," Tarpishchev resurrected the tired notion that black women are unattractive because we are more "masculine" than other women and are "indistinguishable" from men. These types of jokes are used to say that black women aren't "real women," that there's something just not right about our bodies, not feminine enough, too muscular, too "scary" and that we're worth less because of it. Look at radio host Sid Rosenberg, who called Serena an "animal." Imagine how many black women are internalizing these messages. There's little difference between Tarpishchev's words and the transphobic slur the late Joan Rivers used to slam First Lady Michelle Obama, calling her a "tr*nny." Both use black women and trans people as the butt of a body-policing joke.
*(While searching for articles on the topic above, I had to scroll through all manner of racist garbage, that so pissed me off… well, basically, do NOT do that shit, if you value having low blood pressure.)
@@
https://www.salon.com/2017/08/25/despite-declarations-to-the-contrary-black-people-watch-game-of-thrones/
My response is a little off topic, but I wanted to address the two twitter hashtags for Game of Thrones referenced in this post. You have to check them out. They are hilarious, and totally from a Black American perspective.
I initially resisted watching the show. I just wasn't interested, which is weird because yeah, I am a geek, and required, by some type of natural law, to automatically like such shows. I only started watching it at the behest of, ironically, a White girl-friend from work. It wasn't until after I started regularly watching the show, that I discovered there was this huge Black component of the fandom, who really, really loved this show! And I only found that out because I was looking for reviews by Black critics and stumbled across one by accident.
Other people  would be puzzled by Black fans love of the show, but I'm not. GoT is kinda like a White mashup of Scandal and Empire, with ice zombies, and dragons. Now if we could only transport Cookie Lyons to that world, she would have things whipped into shape, by the end of the season. (Cookie is more terrifying than any dragon!)
Over the weekend I binge-watched 3%, a dystopian sci-fi Netflix original set in Brazil. The plot was rife with quirks and unexpected turns, but the biggest surprise of all was that the diversity in the show reflected the diversity in Brazil. The cast featured myriad shades and races, absent the stereotypical casting, such as the confinement of black and brown actors and actresses to supporting characters with botched, surface-level backstories.
*And oh yeah, according to actual  Historians, the term "Historical Accuracy" can no longer be used as an excuse for not adding Black and Brown people to fantasy narratives. It's  past time to retire that fucking term! If your mind can wrap around orcs, dragons, elves and ice zombies, then you should have absolutely no problem dealing with the idea that PoC also exist in a fantasy world.
@@
*I always love reading about Black people's excitement for this movie. I have often referred to the release date of this movie as "The Ascension", so you can see I have already lost my everlovin-mind about this movie.
…Come Feb. 16, 2018, black people across the African Diaspora will pack the theaters with our ceiling-touching geles, our brightly colored dashikis, and our sharpest black-and-white attire, and lose our collective black minds.
All for the purpose of celebrating the blackity blackness that will be the premiere of Black Panther.
 http://www.theroot.com/wakanda-forever-on-the-importance-of-black-panther-1820459283
@@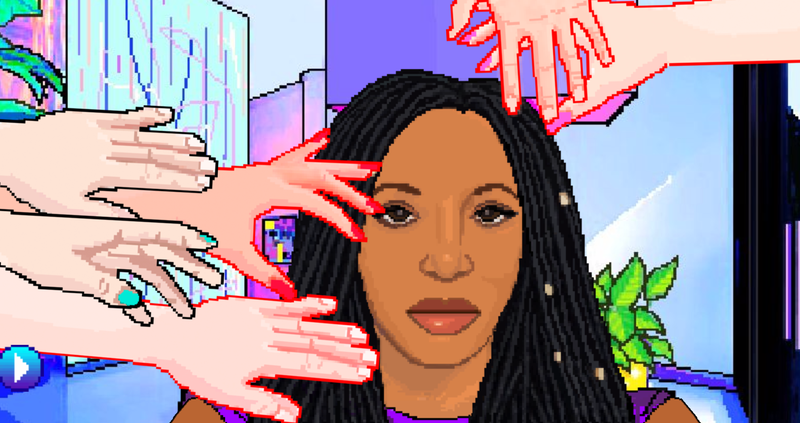 * I just finished playing this, and it's a helluva lot of fun. (Its also hilarious.) It's a very simple game, that requires you to "throw some hands", to protect whatever updo you've chosen, from a selection of hairstyles, while you travel to diferent parts ofthe world. You can choose your skin tone, a hairstyle, and the area of the world you're attempting to travel to, while dodging pale hands that are trying to invade your personal space. You lose energy if the hands make contact for too long. The sheer level of "Bitch, please!", on that woman's face, is priceless, (although I suspect this is an expression that most people, of any color, wear at the airport.)
There's a link at the end of the article:
 @@
 And from the irrepressible Terry Crews:
 https://youtu.be/2jNFymV3J-M
There are still some people who want to victim blame this man for what he's been through, saying he should've hit the man, or hurt him, somehow. People like that are not taking into account that Terry's situation isn't any different from the situation of the White women who have been assaulted. He was powerless at the time it happened, and his wife was ready for it. Many blessings upon her for being the level headed woman she is. Sometimes "keepin' it real" isn't the smartest response to a situation.
Some of the less smart among us don't understand that not everything in the world can be solved by hitting someone, and Terry would only have destroyed himself, and his career, by responding with a suckerpunch, and his assailant knew that. In fact, as a Black woman, his wife would probably be intimately familiar with such a dynamic. 
Terry is no dumb jock. He clearly states why the optics of race also come into play. A large Black man, hitting a small, (but powerful) White man, who just assaulted him, would not look good in the media. He would've lost everything.
For those questioning why he chose now to come out about his assault, he addresses that in the interview, as well.