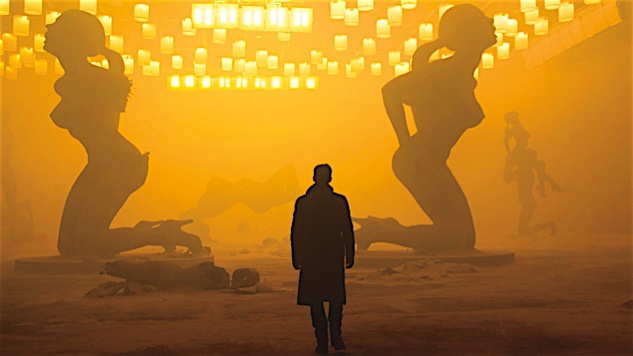 Hey there! Have some weekend reading on one of my current favorite films: Bladerunner 2049. Yes, I have read all of these, but there are quite a few out there that I haven't had a chance to read, so if you have a link that's not listed here, please feel free to post it in the comments! And just a word of warning, since so many of the articles deal with social issues, you should probably avoid reading the comment sections, if you want to keep your blood pressure at a manageable level.  The White Nonsense Faction was out in full force for a lot of them.
Identity
*One of the primary plot points in the new Bladerunner is Ryan gosling's character, Officer K believes he's the special child born of a replicant from the first movie, Rachael. He believes tihs because of an uploaded real memory, something forbidden to replicants. He finds he's not as special as he seems, when he discovers other replicants also hold  the same memory. He becomes more human when he moves past this need to feel special. And so would we:
https://www.washingtonpost.com/news/act-four/wp/2017/10/17/blade-runner-2049-is-about-learning-that-youre-not-the-main-character-in-your-own-story/?utm_term=.47e2d3dd43f2
https://www.pastemagazine.com/articles/2017/11/blade-runner-2049-knows-you-arent-special.html
https://www.vox.com/culture/2017/10/9/16433088/blade-runner-2049-spoilers-review
https://www.theatlantic.com/entertainment/archive/2017/10/the-real-and-unreal-in-blade-runner-2049/542574/
@@
Dystopia
*Do the Bladerunner movies predict the eventual outcome of capitalism run amok?
http://thephilosophicalsalon.com/blade-runner-2049-a-view-of-post-human-capitalism/
*Are we tired of dystopian narratvies yet, considering that we might well be living in one? And does that fatigue acoount for Bladerunner's poor run at the box office?
http://www.rollingstone.com/movies/news/why-blade-runner-2049-may-have-been-a-victim-of-peak-dystopia-fatigue-w507722
@@
Race
Bladerunner has been criticised for doing a lot of borrowing, mostly of  Asian aesthetics,  and Black American cultural narratives. 
As critic Angelica Jade Bastién recently noted at Vulture, mainstream dystopian sci-fi has always been obsessed with oppression narratives. While it returns over and over again to the downtrodden-rises-up-against-the-subjugator model, the genre has always had a remarkable ability to overlook the persecuted groups—people of color, women, the LGBTQ community, people with disabilities—whose experiences it mines for drama. White creators, men in particular, tend instead to whitewash their casts, imagining themselves as both villain and hero. Rather than simply putting the real thing in the story, their tales become metaphorsfor the real thing. Blade Runner 2049 falls into this trap: Even as Wallace grandstands about "great societies" being "built on the backs of a disposable workforce," everyone the movie deems powerful or worth exploring is still white and almost 100 percent male, relegating those disposable workforces' descendants to the story's incidental margins.
———–   https://www.wired.com/story/blade-runner-2049-politics/
@
http://www.thestranger.com/slog/2017/10/06/25457531/race-and-blade-runner-2049
http://birthmoviesdeath.com/2017/10/13/on-blade-runner-2049s-asian-influence-and-disconnect
http://www.hollywoodreporter.com/heat-vision/blade-runner-2049-why-it-matters-deckard-is-a-replicant-1046963
https://www.theguardian.com/film/2017/oct/06/blade-runner-2049-dystopian-vision-seen-things-wouldnt-believe
@
By contrast, in both Blade Runner and Blade Runner 2049, the notion of white-skinned replicants as escaped slaves does not fit the historical and representational iconography that we associate with slaves as being both black and engaged in menial labor.  Neither film gives us a glimpse of the 'slave labor' that the replicants were engaged in on the off-world colonies.  Therefore, the written preamble in both films about replicants being used as slave labor in off-world colonies does not become a significant theme in either film.  From the perspective of dispassionate black spectators, all we see are white people killing other white people for somehow not being authentic white people.  The replicants are near perfect reproductions of white people that even the authentic white people in pursuit are unsure about until after they have been killed. It is in this way that one might consider both Blade Runner films as mediations about white-on-white crime.  "Do white people kill other white people for not acting like authentic white people," might be an alternative title for both films.  Furthermore, does being a slave for the benefit of white people automatically revoke one's status as human? 
—————–   https://shadowandact.com/blade-runner-2049-slavery
@@
Women
One of the themes in Bladerunner 2049, is the commodification, of  not just labor, (which has always been so), but women . Of their bodies, their sexuality, and in the case of Niander Wallace, the commodification of reproduction.
There are also all the issues surrounding the character of Joi and her relationship to Officer K, what she is, what she thinks, and does any of it matter if she's not real.
There are also issues stemming from the films excessive use of the male gaze and how that impacts the film's message.
http://mashable.com/2017/10/14/blade-runner-2049-feminist-environment-patriarchy/#Dp20nOimkkqJ
http://www.nybooks.com/daily/2017/10/20/blade-runners-immaterial-girls/
http://www.denofgeek.com/us/movies/blade-runner/268248/blade-runner-2049-and-the-role-of-joi-in-a-joyless-world
@@
The Actors
I disagred with a lot of this article. The author completely dismisses the role of of the holographic Joi, in K's existence, and her projection of a certain type of mindset onto Robin Wright's Lt. Joshi, but otherwise, this is a nice solid article on how well Gosling captures K's quiet inner life.
http://www.vulture.com/2017/10/ryan-goslings-vulnerable-performance-in-blade-runner-2049.html
@@
THE MEANING OF LIFE IN 'BLADE RUNNER 2049'
A philosopher expounds on the film's deep questions about knowledge and genetically engineered life, and offers some clues as to its ambiguous ending.
https://psmag.com/news/meaning-of-life-blade-runner-2049
@@
Audience
*This new movie seems set to duplicate the box office results of the first Bladeruner. In this article, the author of Robopocalypse, Daniel H. Wilson, wonders why that is, and ponders the new film's thematic content.
https://www.wired.com/2017/10/geeks-guide-blade-runner-2049/