This was number four of the five Black Women in Horror reviews I wanted to do for October.
When I first saw this movie I had no idea who Naomie Harris was. I 'd heard about the movie in a magazine and I was already a Cillian Murphy fan, having loved him in Kinky Boots, so I was pretty much just watching the movie for him. Naomie Harris came out of nowhere and just killed it. Literally!
Now, I'm going to go off on a bit of a tangent, and mention once again, that this is why we need diverse reviewers of Pop Culture. When I read the early reviews of this movie, all of the focus was on Murphy, which is understandable, because his star was definitely on the rise at the time, and people were enamored of him. (He is very pretty!) But Selena was barely mentioned, and I feel some type of way about that. I think if I had known there was  an awesome Black woman in this movie, I would've paid more attention to her.
And people really should pay attention to Selena. In fact, I would argue that though the film is from Jim's point of view, the movie is really about Selena, and Jim, as they both grow and change, and adopt what the other thought of as each other's worst traits to survive. Selena grows from someone who is cold and calloused, who disparages Jim's compassion for others, into someone warm and compassionate, willing to love and let herself be loved. Jim grows from someone who is too trusting and idealistic, and saying he could never live the way Selena has been living, into someone willing to fight and kill for the people he loves.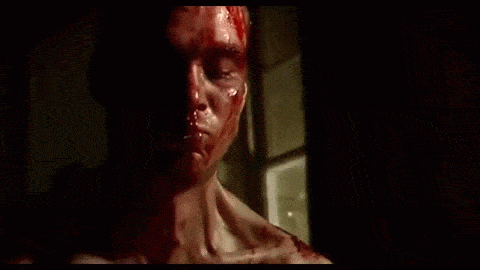 When we first meet Selena, she is essentially  the Sapphire stereotype, of a cold an unfeeling Black woman. She loves no one, isn't capable of loving anyone, and is angry, cold, and bitter, saying she would cut Jim loose, in a hot second, the moment he jeopardized her survival. That her anger and bitterness is justified is not made specifically clear, but she has reason. Her entire world and life has been destroyed. She believes the only thing worth doing is surviving, for survival's sake. She is unlikable at first, (and Jim says as much), but she grows into a  more sympathetic character as the plot moves forward. Selena is the co-protagonist of this movie. She has a definite character arc, and her decisions  help to carry the plot.
Jim wakes up alone in a hospital and discovers that the entire city of London has been evacuated because of a disease called Rage, which makes the infected viciously attack anyone they encounter. When he meets Selena, she really isn't all that different from the infected herself, violent and quite vicious. She is travelling with another young man, who is accidentally infected, and Jim witnesses the brutal manner with which the uninfected, like Selena, have had to deal with the situation. She is cold, and incompassionate, and does not want to get attached to him. Nevertheless, she agrees to travel with him because she doesn't want to be alone. Being alone is not good for survival either, it seems.
Over the course of the movie, she does get attached to him, and the young daughter of a family they meet in their travels., named Hannah. When they encounter an AWOL military company, who threaten to imprison and rape her and the girl, and execute Jim, they both have to use all their wits and bravery to save themselves, but ultimately it's Selena's attachment to her new family, and his love for her, that's saves all of them. One of the most poignant moments in the movie is when Selena, unable to prevent their degradation from the soldiers, offers Hannah drugs to survive what's about to happen. Not because she's trying to hurt her, but so Hannah won't care what's happening. The woman who was willing to cut anyone loose, who impinged on her survival, offers to do this from a place of compassion.
I initially didn't like Selena, and it took some time for me to understand that that was the point. The things she says to Jim when they first meet are mean and callous. She is a hardened woman, and he rightfully chides her for it, telling her he can't live that way. Ironically, he has to become  hardened, and more than a little brutal himself, if he wants to save the woman he's fallen in love with. He brutally slaughters all the soldiers he meets in an effort to find and rescue the two women. Selena, in turn, has to adopt the qualities she hated in Jim, when they first met, if she wants to save Hannah, and herself.
In the end, Selena and Jim declare their love for each other when he walks through a nightmarish landscape of screaming zombies, and military men, to rescue her and Hannah, and I am totally here for it, as it echoes the plot of Django Unchained, which was based on Siegfried's Story from the German opera, Der Ring des Nibelungen. Siegfried, who rides through a ring of fire, in a locked tower, to save the Shieldmaiden Brunhilde, and make her his wife. Selena could be classified as a Shieldmaiden like Brunhilde. She is a warrior, who at first only fought for her own survival , but later fights for those she loves, Jim and Hannah.
If Selena were White, it would be insulting to see her dameseled in such a fashion, but since we so rarely get to see Black women be vulnerable and loved, but still brave and smart, it overturns the stereotypical narrative of the strong Black woman, who don't need no man. At the beginning of the movie she declares she doesn't need anyone, but she is wrong. Hannah tells her midway through the movie, that they all need each other, and by that point Selena is willing to accept that.
The movie has three different endings. In the first ending, which was not filmed,  everyone arrived at a research medical center, and gets trapped there. The second involved Jim dying in the hospital, with Hannah and Selena continuing their journey without him. The third ending involved Jim waking up in the hospital to discover it was all nothing more than a dream. The director decided to go with the more positive ending we eventually got, of Hannah, Jim, and Selena  being rescued.
28 Days Later was the best zombie movie released that year, so it got a lot of attention, not just for Murphy's presence, and its fast zombies, but because of the multiple endings. If you have no quarrel with zombies that are not strictly zombies, then this is an excellent film to add to your zombie film collection.
It won't be October, but I'm still going to do that last review, which is N'Bushe Wright from Blade.