Who Saves the World
(We do!)
Here's the second set of reviews for 31 Days of Black Women in Horror Movies for the website Graveyard Shift Sisters.
You may not think these two movies have much in common, but you'd be wrong. They have at least two things in common, Black female heroes, and Black female heroes who live to the end of the movie.
If you're not aware of the old movie trope, "The Black Guy Dies First", then you don't know how groundbreaking it is for a movie to not only have a Black hero, but for that Black hero to live all the way to the end of the movie ,while saving the world. This was famously spoofed by the Black slayer named Rona, from Buffy the Vampire Slayer, with her snide remark to Buffy, "The Black girl gets it…"
Thanks to Romero's Night of the Living Dead, horror movies have always tried to have progressive representation. This certainly isn't true of all such movies, but Horror and Scifi movies are at least willing to break with the tradition of a White male hero and cast women, and PoC, as the stars of the movies. From The Afflicted with its Asian male lead, to Halloween's Jamie Lee Curtis, and Sigourney Weaver in Alien,  from Danny Glover in Predator II, and Wesley Snipes in Blade, many of these movies have become iconic films by overturning the tradition of having a White guy be the hero.
Predator, the franchise ,was itself willing to break with tradition, after casting Arnold Schwarzeneggar as the hero of the first movie, by casting Danny Glover as the hero of the second. That movie is also unique in casting a Latina, Maria Conchita Alonso, as one of that movie's good guys, who also gets to live to the end.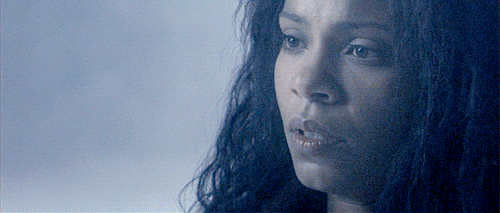 Alien Vs Predator is just continuing this habit by casting Sanaa Lathan as Alexa Woods,  the guide for a team of archaeologists, who are exploring the Antarctic for alien artifacts, along with Charles Bishop Weyland, the CEO of Weyland Industries, and the prototype for Bishop, the android from Aliens. Suffice to say,, she is the only  survivor, after the team gets caught in the crossfire between the Aliens, and the Predators who came to Earth to hunt them.
Alexa is as tough as they come. She's brave and determined, and finally rewarded for her fortitude with the proper facial scars of a successful Predator, by the other Predators, who have been watching the events from on-high. I haven't watched this movie in a few years. I have to admit, I failed to appreciate its novelty when it was released. It's only on later viewings that I realized the film's uniqueness. It, and the fearless Alexa Woods, have since become a favorite. (I find it especially interesting that most of the reviews of this movie seem to ignore her presence in it, although fans of the movie seem to really like her, and Danny Glover.)
This movie is also notable because Alexa is also a scientist, an environmental technician. As depictions of Black women in science are really hard to come by at the movies, its important to take note, its the Blerdgirl who saves the world.
Demon Knight is notable not just for Jada Pinkett as Jeryline, the hero of the movie, but for also starring CCH Pounder as Irene, her bullying work release employer, who is every bit as badass as she thinks she is. I did not fail to appreciate the release of this movie. Mom and I were already Jada Pinkett fans after her work in A Lowdown Dirty Shame and we were looking forward to seeing her work it in our favorite genre, Horror. We were not disappointed. Jeryline is smart as fuck, and fearless too. From the moment you meet her character, she is sympathetic, and you start to root for her to survive this movie, because you just know, somebody's gonna die!
William Sadler (another favorite of mine) plays Frank Brayker, as a Knight of the Cross, attempting to keep a Holy artifact out of the hands of Billy Zane's Collector, to keep the world safe from demons. The artifact is meant to hold the blood of Christ, but over the centuries, the Keepers of the "The Key" began to fill it with their own blood. The blood in The Key is sanctified  to create protective barriers, or to kill demons directly, and when the last of the blood is used, the Keeper, who is immortal as long as he/she carries it,  dies.
When Brayker finally sacrifices his life, he passes The Key to Jeryline. The person who carries The Key must be a thief,  in homage to the first carrier of The Key, a thief who stole Christ's blood at God's command. Jeryline fits the bill because it was the reason for her prison conviction. In the end, Jeryline defeats The Collector, in a novel way that would never have occurred to Frank, and sets herself on the road, followed by a new Collector, a Black man carrying a suspicious looking guitar case. (My mom and I applauded.)
I was disappointed to learn there would be no sequel to this movie. I would've loved to have  seen this take place in Georgia or Louisiana, with an all Black cast.
Hollywood is still somewhat stuck in the rut of pandering to the White male demographic, but that is slowly beginning to change, especially after the success of Get Out, and the forthcoming release of Proud Mary in January, and Black Panther during Black History Month, next year. Hollywood could use Indie and genre films as an example of how to craft movies that appeal to other than White men.
Yes, Black women want to have onscreen adventures. We like to see representations of us in movies, and TV shows, being heroes, being brave, and fearless, and saving the world, just like White women, (and I'll wager that Asian women, and Latinas want to see this too.) There have been so many demographics Hollywood has been ignoring for decades. Horror movies, by their nature, seem willing to be different, to overturn tropes, and even mock its own stereotypes.
These aren't the only Horror movies featuring Women of Color, they just happen to be two of my favorites. Its about time for me to watch them again.
*     *     *   *   *     *       *      *    *       *
https://blackgirlnerds.com/black-women-and-feminism-in-horror-films/
In all these films, these women used their brains, brawn, and instincts to survive amidst a mostly white, male cast. They weren't treated as servants or sex slaves except for that cringe worthy scene in 28 Days Later.
All three women fought just as hard or harder than their white, male counterparts; proving that they could and did survive regardless of their gender or race.