This is the first of my five posts reviewing horror movies where the stars are Black women, all part of the Graveyard Shift Sisters posts on 31 Black Women of Horror, for the month of October.
Okay, despite the fact that I read the book, I still didn't know what to expect from the movie. I should have because the movie is mostly very faithful to the source material. It had not occurred to me that the filmmakers would do the thing, and make Melanie a little Black girl. I loved the character's voice in the book and was looking forward to whoever they would cast as she would be carrying the movie, and I'm glad the director made that decision.
When the writer, M.R. Carey was asked about the development of the movie he stated:
'We went a slightly different way in the movie, especially when it came to point of view. Where the novel moves between the five main characters and lets us see what's going on in all of their heads, the movie sticks with Melanie all the way. And there are no Junkers in the movie. The base falls to a hungry attack. But it's a case of two different paths through the same narrative space. The ending is absolutely faithful to the book.'
— M.R. Carey, in an interview with Mom Advice
[7]
The plot of the movie is very faithful to the source, so if you've read the book, you know the ending. Most of humanity has succumbed to fungal spores and become what are known as "Hungries". ( Basically they're zombies. They attack and eat people. (This is not  unprecedented in nature, as there are actually fungal spores that infect hosts, and force the hosts to  propagate itself.)  Some of the zombies are intelligent, and Melanie is one of the smartest ones.
Melanie, and a group of like children, all of whom were infected in utero, are being taught, studied, and experimented on, at a specially guarded facility, by Dr. Caldwell, played by Glen Close. She is attempting to find a cure for the fungal infection by vivisecting  the children's brains, and Melanie is her star pupil. One of Melanie's teachers is Ms. Justineau with whom Melanie develops a close  relationship.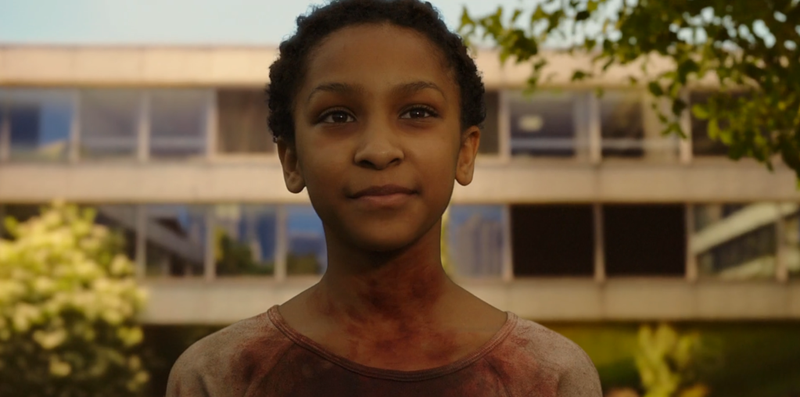 Melanie is played by the unknown Sennia Nanua, and she is absolutely perfect. She doesn't try to play Melanie as sinister, or evil. She's just like any other regular little girl, smiling, curious about the world , and happy, until her hunger is triggered. Those scenes are shocking in their viciousness. We watch Melanie attack and bite people, and at one point she captures and eats a cat. Although the movie has kids in it, it is not for children. Her behavior isn't sugar-coated  or glossed over, and the soldiers are correct to be afraid of Melanie, as her Hunger appears to be something she seems to control. Gemma Arterton is great as Justineau, and I enjoyed seeing her relationship with Melanie.
Justineau doesn't try to control, or change Melanie, seems to accept Melanie just as she is, and unlike the soldiers, seems unafraid of her. She doesn't seem to want Melanie for what Melanie can provide for her like Caldwell. Seeming to genuinely love and care for her, worrying about her safety when she's not around. The two of them seemed to have formed a real and loving bond, and that bond between them, goes a long way towards the audience accepting Melanie for who and what she is, too.
Justineau was constantly cautioned against attaching herself to the children she is teaching, but  she seems unable (or unwilling) to do so with Melanie. There are several scenes of the soldiers being verbally abusive to the children in their care, in order to teach Justineau to avoid them, but Justineau always behaves towards them with dignity and respect.
When the facility is overrun by Hungries, Melanie and Justineau escape inside a mobile lab, with some other soldiers. Caldwell, who has been bitten by one of the Hungries has developed sepsis, but still continues her experiments. The soldiers are wary that Melanie will turn on them so they make her wear a muzzle ala Hannibal Lecter.
They soldiers fear her but Melanie is useful because she can walk among the infected with impunity. In their travels, they use Melanie to lure the Hungries away from them so that they can more successfully forage for supplies. Melanie uses that time as an opportunity to feed. During her explorations she encounters a group of feral infected children who have formed a gang to hunt  any wayward humans.
In one of the movie's most exhilarating moments Melanie challenges and kills the gang's leader, and commands the gang afterward, keeping them in line with the threat of her strength and ruthlessness. I'm not sure how to feel about these scenes. On the one hand, I applaud Melanie's ability to survive and be a leader. On the other hand, I'm witnessing children committing shocking acts of violence, which is something I'm just not used to seeing. I generally avoid movies where children are killing each other. Melanie's leadership of this gang is something that will come into play at the end of the movie.
I have to admit I felt some type of way about watching this little Black girl kicking ass, and being so vicious, because that actress looks so sweet and innocent, when she's not doing those things. I can only guess that's why this particular actress was chosen. There's also the stereotype of the vicious Black brute, who is uncivilized and must be controlled, restrained, and made useful, which is illustrated in Melanie having to wear a plastic muzzle for at least half the film. All of Melanie's captors are White, and with the exception of Ms. Justineau, they are all deeply frightened of her, which gives this movie a  disturbing racial angle, that it would not  have otherwise had, if Melanie had been cast as a little White girl. Her Blackness gives the end of this movie  a wholly different meaning, which I'll have to discuss in another post.
There's very little wasted space in this film, which is less than two hours, but feels   longer because the director takes time to have quiet moments to explore Melanie's world from her point of view. She is in nearly every frame, she is the one around which the other characters revolve, and she moves the plot forward with the decisions she makes, especially the last one.
I considered giving away the ending of the movie, because I wanted to discuss how groundbreaking this is, but if you've read the book you already know it, and if you haven't, I really don't want to rob you of your feelings (and you will have some) when you see it for yourself, as everything that happens in 90 minutes of the movie is what leads up to Melanie's final decision.
This is an excellent movie to watch on Halloween night along with, 28 Days Later, and Train to Busan, two other films that have WoC dealing with a zombie apocalypse.
28 Days Later will be my next review.
ETA: The Website featuring this list is available at the Graveyard Shift Sisters.
http://www.graveyardshiftsisters.com/2017/09/watch-31-horror-movies-starring-black.html