I didn't like this episode.
Not because it was a bad episode, but because it was really, really hard to sit through.
For the record, I don't have a problem with clowns. Clowns don't particularly bother me, but I do have a problem with the rhetoric spouted by Evan Peter's character (Kai) during this episode, and Sarah Paulson's character's panic attacks.
It's extremely difficult to watch someone have a massive panic attack, when you suffer from anxiety yourself, and I had no idea in advance of those scenes, that they were going to happen. Ally (Paulson) didn't  have just one attack either, she had at least three of them, and seemed at least mildly  hysterical the rest of the time.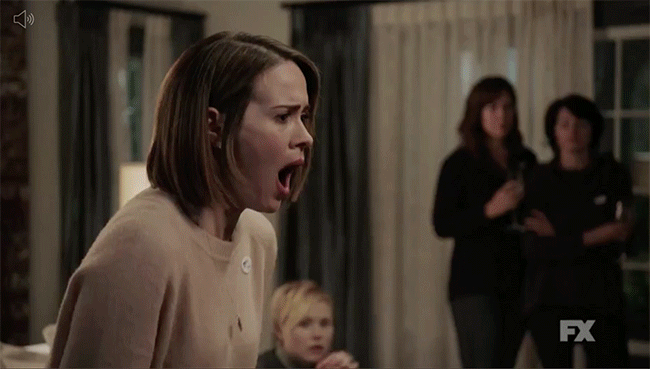 The episode is named after last year's election night. On that night, we see Ally have her first attack, which I, at first, thought was a bit over the top (only because that wasn't my reaction to the election), while acknowledging that she had some good points. Her reaction after the election was bad enough, but Ally is a person without any down points in her emotional makeup. She seems to be upset all the time, if only by a matter of degree. She is beset by a host of various anxieties, phobias, and panics, and the rest of the time she seems barely holding on by her fingernails.
Now couple that character with Evan Peter's Kai, who saw the election as an opportunity to engage in unrestrained assholery, (just like plenty of White men did in the real world), and a speech he later gives at a local government meeting on the nature of fear, and you can see why I found this episode less than entertaining. I get the writers rather heavy handed point, but I still didn't like hearing it, as it 's not too different from the kind of shit actually being said by the president right now.
This wasn't helped by the show's usual overwrought style of writing, and the general plot. The whole thing, when it wasn't triggering my own issues, was also  unbelievably over the top.
After the election, Kai goes upstairs in his house, and smears his face with what appears to be Cheeto dust, Ally's neighbors are murdered in a parody of the movie The Strangers, or The Purge, I'm not sure which, and Ally gets menaced/chased by clowns at the local store, while two of the clowns have sex in the produce section. (I had the distinct impression that that may have not been a consensual act, which upsets me even further. I will not watch rape scenes!) On top of all that, the young lady, who is hired to babysit her and her wife's son, has all of the acting range of a lobotomy patient, and happens to be an associate of Kai. I guess her job is recruit Ally's kid, or something.
When Ally's neighbors are murdered by clowns, she later finds out that the babysitter had taken her son to watch the event through the window. This is really the point where I gave just up and just checked the fuck out. I don't know, and don't wanna know, what happened between any of these characters. At that point, I decided I really needed to watch something else, or just turn off my TV.
Lets face it. This show has finally defeated me.
It upset even my less than delicate sensibilities, and that's saying something, since I've been a fan of this show for the past three years, and sat through some of the most  blatantly outrageous bullshit that the writers could possibly dream up. And that may very well have been the writer's point. If so, then they won! I give up! They've finally gone so far that even I can't watch this show without laughing, scoffing at it,  or crying, and sometimes all three at once.
Either that, or this show just struck too damn close to home for me to be able to comfortably watch it. I watch some shows to get away from reality, which is bad enough in Trump's America, with its daily list of atrocities committed against PoC. On the weekends, I usually turn off all social media, just as a matter of self care. The last thing I 'm going to find entertaining, right now, is a parody of my own  terrifying reality, (although I realize that this may be a form of coping for other people.)
I don't know that I'll watch this for the rest of the season. I'm loathe to stop, but I don't know if I can sit through any more of this. Ally is a really hard person to get past, although her wife has the patience of Job. I like her. (As someone who not only deals with her own issues, I also happen to be the caregiver for someone who is not unlike Ally, so I could identify with her behavior.)
I love that the show depicts a loving and supportive relationship between these two women, where they talk it over,  and work at trying to do and be better, instead of simply fighting, for extra drama. They show love and affection for each other without it turning into titillation for the male gaze. It's just another relationship, like hundreds/thousands, of other relationships. Their son is adorable too, but I'm also not here to watch their child be corrupted into whatever Kai is, which seems to be the babysitter's plan.
Plus, there's all the damn clowns. I get that clourophobia is a thing, but it isn't my thing. I just don't find clowns to be all that scary. They're  less scary than all the other shit happening in the world of the show. And oh yeah, that skin crawling feeling you get at looking at images of human flesh dotted with holes, that's called Tripofobia. I know you're just going to ignore my advice, but nevertheless, I feel I absolutely must caution you DO NOT GOOGLE THAT WORD!!!!!
I probably won't be reviewing any more episodes unless there's a huge event of some kind.
How can a show be both terrifying, and absolutely ridiculous?