Well, I made a list of TV shows, so here's a list of books I'm looking forward to attempting to read this Fall, or maybe they just look interesting right now. I pretty much have to wait for some of these to be in my hand, before I decide if I'm going to finish, or not.
August
Hex Rated – Jason Ridler
From the description this seems like a retro 70s X-Files type of plot. I keep picturing an  Asian cop from Starsky & Hutch, wearing a giant mustache. I still don't know why I find various combinations of paranormal activity and the Federal government fascinating. probably because government organizations represent Order on a large scale, while  anything having to do with the paranormal represents the complete opposite.
Son of the Night – Mark Alder
I got halfway through the first book, Son of the Morning, before having to cart it back to the library, from whence I had procured it! And I do mean cart, because it was a massive book. It was also pretty good, up until I had to put it down. Its an Historical Paranormal Thriller, where actual Angels have gotten involved in Europe's various wars.
Resurrection Game – Michelle Bellanger
Apparently, this is  the third book in a series. I haven't read any of the others but this one sounds intriguing, and I've read Ms. Bellanger's work before, The Dictionary of Demons, and The Vampire Codex.
September
1 – Sea of Rust – Robert Cargill
This one is about sentient robots, wandering an apocalyptic landscape, while trying to find their own humanity.
Iron Angels – Eric Flint
Eric Flint has written lots of Historical Urban Fantasy/SciFi, but this one is  interesting to me. It seems  a little more traditional, with a primary protagonist fighting against some paranormal creatures, in  Chi-Town. It too, has an X-Files type of vibe, with government agents getting involved with the Occult.
The Salt Line – Holly Goddard Jones
This is set in an apocalyptic landscape, where half the US is cut off from the other half, because one side has been invaded by disease carrying ticks, and involves a group of action junkies, who like to play with fate, by jumping The Salt Line.
7 – I Am Behind You – Lindqvist
I don't have a date for this book, but it sounds creepy enough. About a boy and his Mom, who wake up in some kind of twilight zone, with lots of other strange people, and something terrible is coming to get them.
14 – Peace Talks – Jim Butcher
I loved the ending of the last book, so I'm eagerly looking forward to this. There's still no listing on Amazon for this, or I'd have pre-ordered it already.
26 – Unkindness of Magicians – Kat Howard
This sounds not unlike a book I'm reading now about magic in New York City,  called The Last Magician, only this one sounds a lot grittier, and a little less traditional.
Sleeping Beauties – Stephen King
I'm looking forward to King's collaboration with his son Owen King. I've not been much of a fan of Owen's work, but the plot sounds intriguing. The women of the world fall into a deep sleep inside cocoons, and it's dangerous to wake them up. Now you know men can be fairly bull-headed creatures, who would of course wake all of them up,  thereby destroying the human race, so I'm interested to see how these two will write around that.
October
3 – Scandal in Battersea – Mercedes Lackey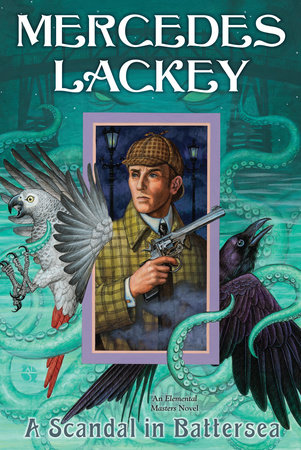 I'm enjoying these Sherlockian Magic mashups by Lackey.
Akata Witch/Warrior – Nnedi Okorafor
I'm only just now getting into this author through her SciFi book, the Binti series. This sounds like a neat Urban Fantasy set in Nigeria. It's being billed as an African version of the Harry Potter-verse.
What the Hell did I Just Read – David Wong
I've liked every one of Wong's books, so far. They're terrifying and hilarious, so I don't want to miss this one, featuring the three main characters from the previous two books, Dave, John (who isn't actually dead), and Amy, trying to stop some kind of biblical cataclysm.
Anno Dracula: 1000 Monsters – Kim Newman
This is set in the Anno Dracula Universe, starring The Diogenes Club, and the Vampiress Genevieve. I've tried to read all of the series, and this one is set in japan, which doesn't have vampires, but has an entire menagerie of its own monsters to deal with. If you like Japanese folklore and mythology then check it out.
10 – Stone in the Skull – Elizabeth Bear
I wasn't going to read this one, but I know some of you guys must like this series, and I'm a fan of Bear's other work. This is set in the Eternal Sky series, and is about The Lotus Kingdom. I couldn't get into the other series, but I'll try this one.
17 – Under the Pendulum Sun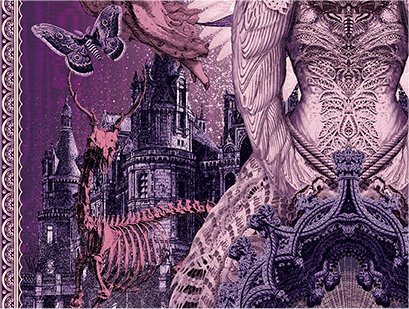 I've already borrowed my copy of this from Netgalley and am working on it now. It's about a Victorian expedition to the lands of the Fae. A Missionary goes missing and his sister arrives to search for him. I like it so far, but I'm still chafing at all the religious stuff.
24 – Strange Weather – Joe Hill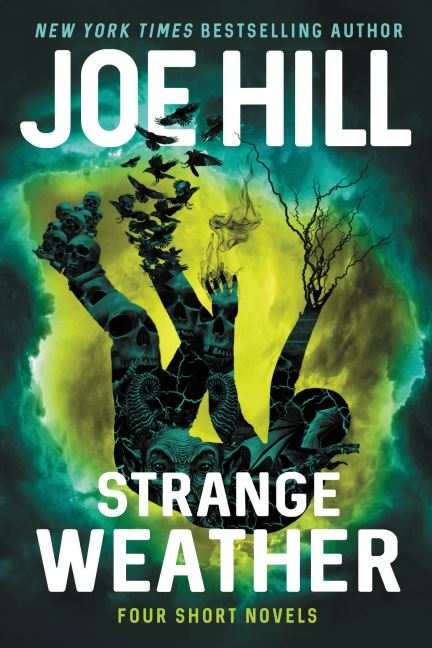 This is another Joe Hill anthology. I'm looking forward to this book, which features four stories featuring horror, and the paranormal, and sometimes, just the normal made horrible.
November
All Those Explosions Were Someone Else's Fault –  James Alan Gardner
This sounds like a parody of the superhero genre, with vampires, capes, ghosts and various weirdnesses. I've like Gardner's books in the past and I like the plot of this one.
14th – Into the Drowning Deep – Mira Grant
I read this first novella about an attack by carnivorous mermaids, on the crew of a Reality TV series, and loved it. This is the sequel.