Currently Reading
This basically means I am well into the book (at least 20%) and dedicated to finishing it. I often have multiple books going at once, and switch out according to mood and whether or not the book needs to be returned to the library soon.
Kill Society – Richard Kadrey
I love this entire series, which really needs to be made into a movie starring Vin Diesel, because that's who I picture, and whose voice I hear, as Sandman Slim. The plot, for this newest book, is a total ripoff of Fury Road, but I'm here for it.
Rupert Wong: Cannibal Chef – Kassandra Khaw
These books are really gory, but also unexpectedly funny. I wasn't sure what I expected when I picked these up, but the title is basically what the book is about. Rupert Wong is paying off some kind of debt  by acting as a chef in demonic restaurants. Yes, they eat people. This is a distinctly Asian setting, and it's also funny as, well..Hell. It's on sale at Amazon for less than four bucks.
Phantom Pains – Mishell Baker
The first book in this series titled Borderline, is very probably the best fantasy novel written last year. That book made my top ten list, and this sequel is looking to make it on there for this year. Its also on sale at Amazon for 2 bucks. Grab it!
Aliens: Bug Hunt Anthology
I haven't got very far into this book beyond the first story, which was all kinds of fun, so  I'm looking forward to reading the other stories. This book is on sale at Amazon for 2 dollars, but I don't know how long that's going to last, so  grab it up,now.
To Be Read
Which basically means I've gotten about 10% of the way into these books before continuing with the books I'm already in the middle of reading. I often read multiple books at once, switching to a different book according to my mood, or  whatever is near to hand. This means that finishing a book can take a while, as I make incremental progress across several books.
The Change (1-3) Guy Adams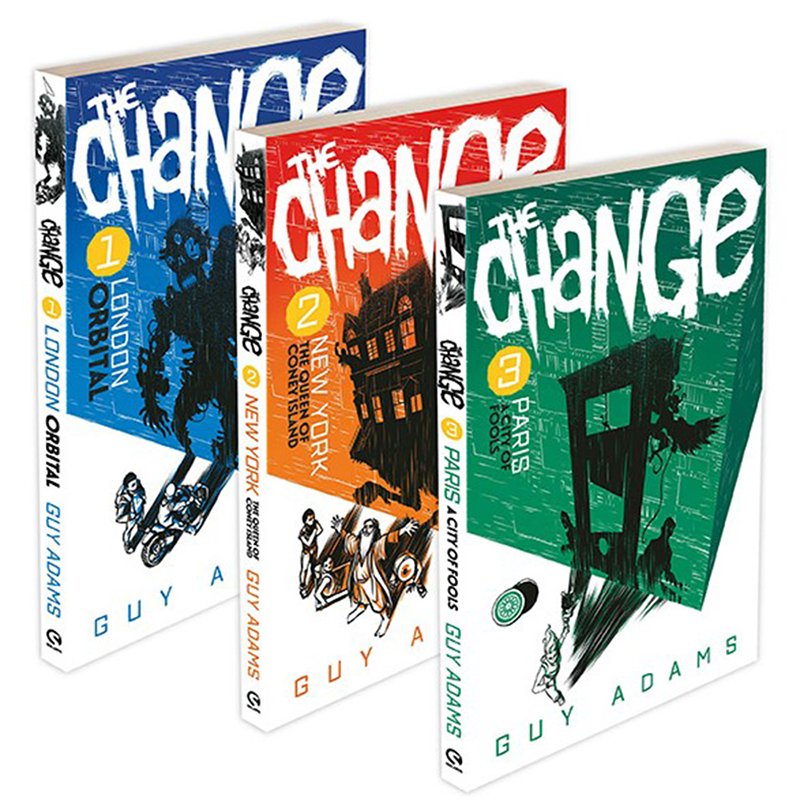 I've read the first book in this short series, and its genuinely scary. Its about an alien invasion of Earth that killed off most of the human race outright when it occurred, but for the survivors, the world has gone hideously, horribly, wrong. I think these are based on his first book, The Change Orbital, which is also pretty terrifying.
The Witch Who Came in From the Cold – Malcolm Gladstone
I like the ideas of spies who do magic, and I like some of Gladstone's writing, so I wanted to try this one. The opening chapter is very exciting. The book consists of a bunch of nested, shared-world stories, by different authors, sort of like G.R.R.M.'s Wild Cards Series.
Strange Practice – Vivian Shaw
I haven't read much of this one but the description is adorable. A woman physician in Victorian London, who is related to Van Helsing,  gets caught up in taking care of the illnesses of various supernatural creatures like werewolves, vampires, and mummies, and has to save their existences from some murderous monks.
Urban Enemies Anthology
Famous Urban Fantasy authors put the spotlight on some of their more villainous characters from their popular series.
Magicians Impossible – Brad Abraham
I have no idea what this is about as I've only read the first chapter. What I did read was very exciting , and I'm eager to keep going.
Graveyard Shift – Michael Haspil
I was really looking forward to this book, the moment I read the first blurb. This is an interesting story, that's not unlike the Rivers of London series by Aaronovitch. The lead character is an ancient Egyptian demi-god, working as a kind of supernatural cop, in a world of vampires, and werewolves, who have just come out of the closet. I'm working on it.
Books To Recommend 
I have so many recommendations to give you, but I'm going to stop at these few.Most of these are Dark Fantasy and Horror. There are no monster romances in any of these books, nobody talking about their favorite pair of boots, or what clothes the hot guy is wearing, because that kind of stuff just puts me right to sleep. The darker and more unusual the Fantasy, the more I'll like it, especially if it takes place in the modern world.
The  Barker & Lewelyn Series by Will Thomas
This is the only mystery on the list. I've become obsessed with Hard Victorian mysteries, and Will Thomas has one of the best. The lead character is totally a Sherlock Holmes clone, but I don't care. I will read about Holme's clones, all day, every day. There's a difference between a hard mystery, vs a soft mystery. A hard mystery is more a police procedural. Its darker and grittier,  and I especially like mysteries that take place before modern forensics.
The Rivers of London Series
I've written about this series before. Its hella fun. I like to think of it as a calmer, British version of the Harry Dresden series. Peter grant is a Black cop who gets involved in magical events in London.
King Rat – China Mieville
This was the very first book I ever read by this author. I didn't know what to expect but the description sounded vaguely intriguing. I was very pleasantly surprised to find that it was unlike any Fantasy I'd eve read. I've read nearly every one of Mieville's books since then, and have never been disappointed.
The Iskryne Series – Elizabeth Bear
I love it when writers take fantasy tropes and  turn them upside down. Bear takes the concept of bonded animal companions all the way to its limit, and that includes how sexuality is handled. Bear's writing partner for the series is Sarah Monette. There's not a lot of human women in the books but it more than makes up for that with the ideas that are introduced, and the setting.
Wormwood: Gentlemen Corpse Series – Ben Templesmith
This is the funniest comic book zombie series ever written. At least part of the reason for that are Ben Templesmith's ridiculous illustrations. Wormwood is not the name of the zombie, mind you, but the name of the tiny, snarky, worm that's possessing the corpse, who fights various lovecraftian horrors from outer space.
The Works of Brom
Just about any one of Brom's books is a gem. They're not comic books but they do contain some beautifully dark illustrations, and cover such topics as: damnation, Peter Pan, toys, and a motorcycling demon. His latest book is called Lost Gods and is about a young man trying to find his way through Hell, to save his endangered wife back on Earth. If you have a taste for weird, then Brom is the writer for you.
God's Demon – Wayne Barlowe
This is the only prose book written by Barlowe although he has written/illustrated other boos about fantasy figures, science fiction, and aliens. In this story, the war in Heaven continues into Hell, as one of the Fallen, Sargatanas, tries to redeem himself, and win back God's favor. The novel is based on a series of illustrations Barlowe did for his book, Barlowe's Inferno, which is a guided tour through Hell.
The Skyscraper Throne Series – Tom Pollock
I love fantasies based on cities, especially when the city is a real character in the book. Such s the case with The City's Son series. If you liked China Mieville's Un Lun Dun, then you'll love this YA series.
The Matthew Swift Series – Kate Griffin aka Catherine Webb
Once again you have a fantasy series where the city is a separate character in the book. The city of London  holds all the magic, and people who are attuned  can access it. This series has a number of Asian and Black characters that I thought were interesting, including a Black female sorceress, who is an apprentice to the lead character, who isn't, quite, human.
Bone Street Rumba Series – Daniel Jose Older
Daniel Older does for diversity in New York what Ben Aaronovitch does for the city of London. The main character is Carlos Delacruz, a half-ghost,dealing with supernatural events in his working class, Latinx/Hispanic, neighborhood. If you're looking for diversity, and strong women characters, check it out.
The Eric Carter Series – Stephen Blackmoore
Much of this series is based on South American mythology. Eric Carter is a modern day necromancer, who gets involved with an Aztec goddess, after the death of his sister. Lots of action, but still less bombast, and more diversity than the Harry Dresden books.
The SNAFU Series
This is an entire series of military horror books, where human beings fight aliens, werewolves, vampires, and various monsters that defy description. If you like military horror then check these out, along with books like:
World War Cthulhu
Operation Arcana