Hi! Welcome to the 101 class about the Black Panther movie. I'm here to speak  on this topic because I managed to graduate to the 201 class. I am by no means an expert on Black Panther, Wakanda, or even the current version of the comic books. I have mastered basic information about who is who, what is what, and what I personally enjoy.
So the Black Panther trailer dropped Friday, and those of you who refuse to read comic books, or don't pay that close attention to Marvel Superhero movies, are probably wondering what all the excitement is about. Why are black people so giddy? Who the hell is Black Panther? Is he related to Malcolm X?
Okay. I see we have our work cut out for us. Alright, c'mon over here and sit down, so we can work this whole thing out. I'm gonna do this by giving some background on the character, and  breaking down some  shit in the trailer.
The Black Panther first appeared in Marvel Comics in 1966, which slightly predates the Black Panther Political Party, so there's no relation. This is notable because he's the first black superhero to show up in the comics, predating both Luke Cage (Wooo!) and The Falcon. Black Panther's real name is T'Challa and he's a prince of the country of Wakanda, located in Africa. His father, T'Chaka, was played by John Kani in Captain America Civil War. After his father's assassination T'Challa inherited the Kingdom.
This movie is remarkable for several reasons. It has a huge  all-star cast of primarily black actors and actresses.  Lupita Nyong'o, Angela Bassett, and Forest Whitaker, are all Oscar nominated/winning actors. It has a large "dark skinned" female cast. There are more women in this cast than are featured in almost all the MCU films together.  In the comic books, these are characters with names and backstories. Where this movie will truly past the Fabulosity test is if  any of the women speak to one another about anything other than T'Challa, although even without that, this is still great representation for Black women who rarely, if ever get to play primary, action oriented roles in such films.
Its also remarkable for the introduction of the term Afro-Futurism into everyday discourse. Yep! This is a phrase you're going to be seeing a lot more often in conjunction with discussions about this movie.
*Afrofuturism is a cultural aesthetic, philosophy of science, and philosophy of history that combines elements of science fiction, historical fiction, fantasy, Afrocentrism, and magic realism with non-Western cosmologies in order to critique not only the present-day dilemmas of black people, but also to revise, interrogate, and re-examine the historical events of the past.
——Wikipedia
http://www.ebony.com/entertainment-culture/black-alt-enter-afrofuturism-999#axzz4k5esHWHx
Not only is this an almost entirely Black cast, so are many of  behind-the-scenes talent. The director is Ryan Coogler, the award winning director of Creed and Fruitvale Station. Hannah Beachler is the Production Designer. She was also the Designer for Moonlight, and Beyonce's Lemonade. Ruth Carter is the Costume Designer, and has worked on Selma, Serenity, and the remake of Oldboy.
*There are people out here asking why we're so hyped for Black Panther.
Like…in case you haven't noticed…there's literally a million and five big budget franchise movies centered around white super heroes.
Black Panther shows a black super hero who is the king of an extremely prominent and technologically advanced African country with his badass royal guard that consist of badass black women in all their natural glory and it portrays black people as something other than poor, enslaved, or savage.
Regardless if you understand or not…that is huge for black people.  
                                                                                       ———- thewolvesring
Black Panther: Chadwick Boseman
After the death of his father in Captain America, T'Challa becomes King, and  inherits the mantle of The Black Panther, which is a  generational position as Guardian of  the country of Wakanda. The Black Panthers inherit their superpowers by eating a mystical herb, which grants them the strength and speed of the Panther God, worshiped in Wakanda. He is one of the wealthiest men in the world, and something of a technological genius, responsible for some of the tech and hardware you'll see in the movie.
Plot Synopsis:
"After the events of Marvel's Captain America: Civil War, King T'Challa returns home to the reclusive, technologically advanced African nation of Wakanda to serve as his country's new leader. However, T'Challa soon finds that he is challenged for the throne from factions within his own country. When two foes conspire to destroy Wakanda, the hero known as Black Panther must team up with C.I.A. agent Everett K. Ross and members of the Dora Milaje, Wakandan special forces, to prevent Wakanda from being dragged into a world war."
For a closer look at this character, and his abilities, see Captain America Civil War, now available on Netflix, and read  Ta-Nehisi Coates current run of the comics, (although there are other versions).
Everett Ross: Martin Freeman
This is one of only two white faces you're going to see in the rest of this trailer, and probably the movie. Everett Ross only gets a  still picture because he does nothing gifworthy  beyond being annoying to the other characters in Civil War. If you see any critiques about how this character is the hero of Black Panther… RUN!!SAVE YOURSELF!! You have wandered into a cluster of White Man's Nonsense.
Ulysses Klaue: Andy Serkis
You may remember this character from Avengers Ultron, where he lost his arm, and got the privilege of locking ScarJo in a cage, I think. No, this movie isn't about him either, but he gets the gif treatment because I like Andy Serkis. If you see reviews focused on either Ross, or Klaue's important roles in the film, I urge you  to escape that review, STAT!!!, and immediately Google a review from a Black critic, as you have probably wandered into a field of White Gibberish. Save your brain cells!! That person is not logicking correctly and that shit is contagious.
Wakanda: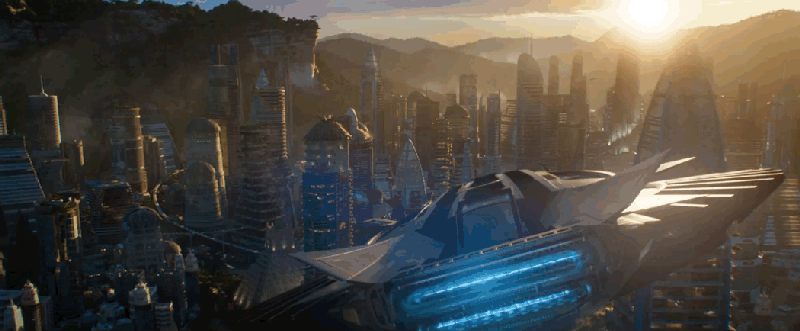 Wakanda is a fictional nation, hidden, isolated, and futuristic, located in the central part of Africa. Its meant to represent what an African country would be like if it had been allowed to develop without colonization or exploitation by the West. Wakanda is one the wealthiest nations on the continent because of its large Vibranium reserves.
In the comic books, the central city of Wakanda is surrounded by 18 other city-states, that are constantly vying for power. You can catch glimpses of these various tribal kingdoms in the trailer.
The Dora Milaje (Dora Meh-lah-shay):
The Dora Milaje are the King's Elite (Special Forces) Bodyguards. In English, their name means, The Adored Ones.  In the comic books they were also considered potential wives for the King, specially trained warriors, who were selected from the surrounding tribes by the King, in an effort to keep the peace between the various rival tribes. These young girls are groomed from a very early age to be warriors.
The Dora Milaje are the best warriors of Wakanda.  They have defeated Namor, and fought even Storm and Black Widow to a standstill, although it is rumored, that over the years, many Black Widows never made it out of Wakanda alive, thanks to them.
It's the custom for them to have shaved heads. No, they are not the King's special booty call, as Adored One is a ceremonial title. They are not his harem.
Okoye: Danae Gurira
Danae is most famous for her role as Michonne on the Walking Dead. She's the King's first , speaking only to him and only in a rare language. This was so the King and his wives could speak in private while out in public. Think of her as something like the head of a federal organization that only answers to the president.
Ayo:Florence Kusumba
Ayo is the Dora Milaje we got to see for the first time in Captain America Civil War. She said six words and stole half the movie. They better not let her say too much in this movie or none of us will remember why the hell we were sittin' in the theater.

Nakia: Lupita Nyong'o
This is Nakia, played by the Oscar Award winning Lupita Nyong'o. In the the comic books Nakia is a mutant of some kind, with enhanced speed, agility, and strength. She later becomes a villain named Malice.
Erik Killmonger: Michael B. Jordan
Killmonger is played by Michael "Bae" Jordan from Coogler's last film, Creed, and unfortunately from The Fantastic Four, but the first time I saw him was in the movie Chronicle. He is one of T'Challa's rivals for the throne of Wakanda, and plays a pivotal role in the movie. In the books, Erik harbors a grudge against T'Challa for exiling him to America, after the death of his father, who had been branded a traitor. When Erik returned he plunged himself into Wakandan history and traditions, and this radicalized him. So now he preaches against outside Western influences, and wants to rule so that he can make the country more isolationist.
Ramonda: Angela Bassett
C'mon! Ya'll know who Angela Bassett is. Ramonda is T'Challa's mother. Note the white hair. Disney doesn't possess the rights to Storm from the X-Men, who is T'Challa's in canon ex-wife, but they can troll the film company that does, by casting the woman who was born to play that role, and making her up to look like her in this movie.
Shuri: Letitia Wright
This Princess of Wakanda is T'Challa's little sister from a different mother. She is the Wakandan genius behind most of the tech you'll see in the movie, including those nifty little cat gloves she's wearing in the trailer. I don't know what they do but I want them. Shuri is the very definition of Afro – Futurism, combining her country's cultural traditions with technological concepts beyond even Tony Stark's skills.
In the books, Shuri is a warrior who was trained by her brother to take over his mantle should the need arise, and who, on occasion,  has had to step in and become The Black Panther, in her own right, after  one of her brother's extended absences. Here she's been re-written as a tech genius.
Daniel Kaluuya: W'Kabi
I got nothing about this guy. I've never paid much attention to him beyond that he grew up with  and is T'Challa's  second in command and advisor. You know him as the actor from the movie Get Out.
Forest Whitaker: Zuri
Zuri is played by Forest Whitaker, is a veteran warrior, and one of T'Challa's senior advisers.
*On a more serious note we have to talk about this issue here:
Since the release of the trailer onto the national stage, I know some of you guys who are the most excited about this movie, have experienced an influx of racist gibberish into all of your inboxes. There's something about this movie that has truly galvanized racist geeks into a paroxysm of harassment. (Well I simply can't imagine what that might be.)
I've been warning my friends on Tumblr, and other social media to have their Block finger ready because it's going to  get a lot of exercise. And it's not just the white racist dudebros out there either. You have a lineup of various hoteps, and native Africans making static too. Everybody whose  got a beef with black people have their fingers tapping, and mouths flapping, to destroy this movie, which is an utterly pointless pursuit.
You've got people writing racist meta about how unrealistic Wakanda is, because  Africa is such an undeveloped country,  how Black people are acting too uppity, and culturally appropriating African cultures, the poster for the movie is militant, there are going to be riots and shootings at the theaters on the day of the movie's release, and a complete basket full of  nonsense. Basically people out there projecting every one of their racial and social insecurities onto this movie, and it hasn't  even been released yet. And its only going to get worse as the movie nears its release date.
And all because  black people are giddy about a movie trailer.
*Black Panther is a FICTIONAL movie about a FICTIONAL country in Africa so people need to stop projecting all of their issues on to it and let ALL black people enjoy something for once.  Seriously.  CAN WE STOP WITH THOSE STUPID DIASPORA BATTLES THAT HAPPEN EVERY TIME BLACK AMERICANS GET *ANYTHING* POSITIVE?! 
—–karnythia from angelsscream
@
@
This isn't my essay, but it says want I want to say much more eloquently. This is from an AfroFuturist tumblr site, and is very deep and entertaining. Please give them a visit.
*Double Standard
I'm sure everyone has seen the trailer for the Marvel Black Panther movie that is set to be released next year. And if we are to be honest, we are over the roof excited about it. Have you seen the memes!? The ones showing how we're going to go dressed for the premier? Have you seen the amount of views the trailer has on YouTube!?  2018 can not come any sooner!! So, tell me why, in between all the excitement and anticipation for the movie, we still see people hating on it?
So, one person called it "unrealistic" and "poorly put together in order to give Blacks a place in the entertainment industry". And I'm like, "the name is science FICTION, afrofuturist to be exact, and the sole purpose of such work is to not just envision Blacks in the future but as the agents and subjects of the future."
And then, I saw this post asking how can Wakanda be so technologically advanced and yet it had no imperialistic goals and its innovations did not spread to anywhere else. Y'all remember Avatar? The one with the blue people with tails that were primitive and highly developed at the same time? They loved that movie right? So why the lack of love for Black Panther then?
Could it be because it is BLACK PANTHER? Could it be because it shows Blacks not just as props and prawns but in the center as kings and leaders and scientists and warriors? But anyway, I hope this is one of many afrofuturist works to be produced because it's about time we have a place in the future, in science fiction.
@
*But here's the thing, this movie is going to be released. Its a done deal. Its going to do as well as any of the other MCU films to date. No amount of online harassment, from people who can't stand to see Black people being happy about something, is going to stop us from going to the theater,  and seeing it multiple times. 
Now I'm done with this particular topic!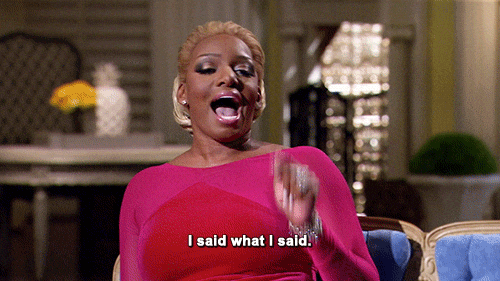 From pathlesspagan: