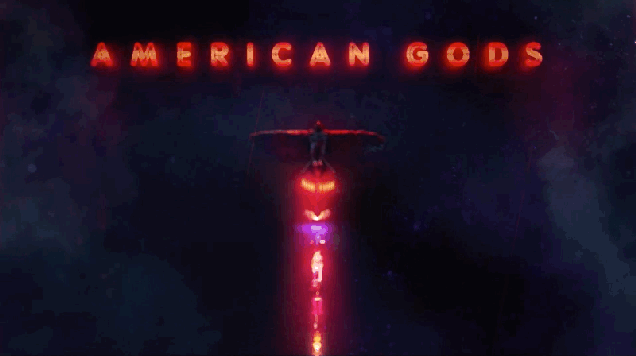 This episode is a big fuck you to American politics, and its Ra-Ra Americana, Gun Loving, Make America Great Again, America is for White people aesthetic. That it puts a Black man right in the middle of all this is no accident. Outside of Mr. Nancy's speech in episode three, this is one of the more politically blatant episodes this season, as Fuller usually tries to keep his social sensibilities clear, but a little more subtle.
In the opening scene, we meet the Mexican version of Jesus, as he shepherds a group of Mexican immigrants across the border. I thought this was a respectful depiction, even though I'm not a believer. Nevertheless, I know that these beliefs are important to someone, and should be treated with a certain amount of respect. One of the immigrants doesn't know how to swim, nearly drowning while crossing a river, but is saved by Jesus. Even I had to admit to feeling a tiny bit of a thrill with the walking on water scene. That was kinda cool.
Everyone makes it to shore but they are fired upon by a group of White men wearing badges with the word Vulcan on them. This is Fuller's open political statement of how immigrants who came here earlier like to set themselves against the immigrants who come after them. This was the primary theme of the movie Gangs of New York, with gangs of White people calling themselves Natives, fighting with the more recent Irish immigrants. The irony in this episode is that the Mexicans are the real Natives, as they were living in this country before White people got here.
The very nature of Jesus is sacrifice, and is illustrated in this scene of him protecting his followers with his life.  Here you have two  old gods who are diametrically opposed to each other. One of them is symbolized by fire and violence, and the other by peace and water, but both of them are willing to make sacrifices. One of them does so for the benefit of others,  and the other does it only for himself. The followers of Vulcan are  older immigrants than the ones they're killing that night, but nevertheless feel that they have staked a claim to American soil and don't want to share it with any others, who came here later than them. They're devoted to the idea of America, only their version bears no resemblance to what America actually is. The Mexican immigrants have a much clearer idea of what America is but their god isn't as powerful as the one who has decided to profit from racism,  and xenophobia, and has a lot of guns. There is a reason Vulcan has to die at the end of this episode. He has been complicit in corruption the very nature of sacrifice.
Also, keep in mind that Vulcan is Roman in origin. So what you have here is also a reenactment of the Crucifixion, with the followers of a Roman god killing the followers of the Christian God.
Shadow and Wednesday are walking back to the motel, to retrieve their car, after their escape from the police station. Wednesday still has not noticed that Shadow is injured, as they discuss what happened at the station. Wednesday still refuses to tell Shadow what to think, insisting that Shadow make up his own mind about what's happening. He insists that Shadow has to believe to understand,  but Shadow doesn't want to go there. It's just too much. Gods are actual real beings, and Wednesday is one of them!
Note that most of the events in tonight's episode are made up of whole cloth by the writers. With the exception of some verbatim conversations and dialogue, none of the events, from Wednesday's healing  session with Shadow, to the return of Salim, to Laura's road trip with Sweeney, to Wednesday's meeting with Vulcan, is in the book. Fuller's general method, regarding adaptations, is to expand on the source material in ways that enhance and deepen the story. In the original narrative, almost the entire book is from Shadow's point of view, but Fuller has changed things here to make the show, an ensemble piece, where we get to see different points of view.
Shadow and Wednesday make it back to the motel, where Shadow confesses that he was visited by Laura. Wednesday claims to be surprised, but still gives no set answer to Shadow about her resurrection. He eventually pressures Shadow into leaving with him. When Wednesday looks in the rearview mirror, he can see Laura chasing after their car, and turns up the volume on the stereo, so Shadow can't hear her. He is determined that the two of them stay far away from each other. Either he's concerned that Lara would be a distraction from him, and he does not want to share Shadow's attention, or he thinks that Laura is working for his enemies and trying to seduce Shadow to their side.
Notice that up to now, there has been no emphasis on weather phenomena during this episode. No transitioning from sky to sky, or shots of storm clouds, as in previous episodes. Instead we often get shots of sun and clear blue skies, along Laura's road trip, and in Vulcan. I can't help but think that must be on purpose. Whenever Shadow is holding his emotions in we often get shots of turbulent weather, but when he's openly expressing what he's feeling, the skies are often very calm and clear.
Shadow isn't your typical hyper masculine asshole, with a stiff upper lip. Nor is he weak. He won't allow himself to be preyed upon, but fights only when he absolutely has to. I like that the show allows him to not only have feelings, but openly expresses them, and that this is never sided as a weakness. When he's afraid, he's allowed to say so. When he's overwhelmed, we get to see it. We've spent the past two episodes watching him hanging on to reality by his fingernails, and that's kind of refreshing. Shadow isn't trying to be "Shaft of the Supernatural", and I like that. He's just some guy, thrown into extraordinary circumstances, trying to make sense of it all.
While we're on the subject I want to address some concerns some people have shown about Shadow not interacting with any PoC in the show. I had the impression that Shadow's lack of interaction with any other black people is meant to parallel his lack of interaction with normalcy, since he signed on to work with Wednesday.
Before Shadow met Wednesday he often operated in all white environments, so he  is used to navigating racial dynamics, while holding on to his sense of self. That's not a problem for him. Shadow is always acutely aware of who he is,  and where his place is in American society.  Here,  he's thrown into an environment,  where he's the only regular human being. He has to renegotiate reality now, to encompass the idea that gods exist, the television will personally talk to you, dead people can walk, and trees can come to life, plus this entire ordeal has been incredibly violent towards him, as he has been attacked multiple times. So while he is very used  to navigating racial politics, navigating the world of gods is some brand new shit he's got no experience with, and he's barely holding onto what is real. Often in situations where black people are in a minority of two or three, you'll see us touch base with each other, to reassure ourselves of our reality, to help each other emotionally navigate an all white environment. As an example of this, see the movie Get Out. Chris regularly touches base with his friend Rod, while trying to navigate an all white environment where he is questioning what's happening to him, and his doubts are being dismissed by the White people around him, and the black people are not reliable either. Shadow is a player in two separate environments, one of them is whiteness, and the other is the supernatural. He is alone in both spheres, as there are no normal human beings for him to interact with, just as there are no PoC for him to touch base with.  I'd like to see him interact with some people of color, but Shadow doesn't actually need to do that. He knows how to navigate the color line. He's got that part down. It's the world of the gods he's having trouble with.
The only assurance he has of the reality he's experiencing, is coming from beings he can't trust, because none of them are human. Notice that Wednesday behaves exactly the same way about Shadow's reactions to the supernatural as he does to all of the racial things Shadow has mentioned.  You could substitute just about any discussion they've had about the supernatural, with discussions that many blacks have had with whites about race. Wednesday uses deflection, derailment, defensiveness, obtuseness, and gas lighting,  to not tell Shadow what's happening to him. Laura also does this in their brief conversation in the last episode.
Notice how the gods in Shadow's presence all speak to one another. It's obvious that none of them think themselves human, but absolutely none of them come right out and say to Shadow, "Hey! I'm the God of Media! Or I'm the God of Commerce! I'm the God of War!" Nobody speaks directly to him about a state of being, that they consider to be obvious. Except for Wednesday everyone makes the assumption that Shadow knows what's going on. Its like one of those conversations where everyone knows everyone but you, and they keep referencing events you were never a part of, in  short hand, as if you had been there.
And there are other parallels too. When Vulcan makes his remarks about the hanging,  Wednesday narcissistically makes Shadow's pain and suffering about himself. White people will often make the pain and suffering of PoC about themselves. (Well okay, in this case, it's actually true. Most of Shadow's suffering is a direct consequence of knowing Wednesday, or is used to insult him.) Nevertheless,  this makes Wednesday an unreliable indicator of whether or not he is insane.
Without any normal humans to touch base with, to confirm what he's been experiencing, Shadow begins to doubt reality, which is something that can  happen to PoC in all white environments, where there's not another marginalized person to keep them grounded, or affirm something they just experienced. That Shadow has not interacted with any black people may be something that's just as on purpose as his not interacting with regular humans. I think we're supposed to see that Shadow is twice a fish out of water, navigating two, separate environments, only one of which he has mastered.
On the drive to their next assignment, Wednesday finally notices Shadow is bleeding profusely, and stops the car to check his wounds. It turns out that the creature that attacked Shadow at the police station is some type of forest god, named Mr. Wood, who used to be the spirit of the woods, but sacrificed his trees for greater power. Once again we have a story about a god sacrificing a part of himself for greater power, and a parallel of Vulcan's story.  Mr. Wood  injected a tree root into Shadow's wound when it attacked him, and Wednesday pulls it out. This scene is so touching and funny. I can't have any idea what Wednesday is thinking in this scene, as he kisses Shadow on his forehead, and shushes him, like an indulgent uncle, but Shadow's level of trust in him is interesting.
Laura returns to the motel to find her car, but encounters Sweeney again. He makes all kinds of promises this evening. He tells her he knows someone who can resurrect her,  while name dropping Jesus Christ. While trying to steal an old taxi, with a toilet for a backseat, they are interrupted by Salim. I was really glad to see him again as this meeting between the three of them doesn't happen anywhere in the book. Salim, overhearing that Sweeney is a leprechaun, asks if he knows where to find the Jinn who left him his taxi. Salim has been searching for him ever since, and Sweeny promises that he will tell Salim where to find the Jinn, if Salim drives  the three of them to Kentucky. Salim agrees, but doesn't go to Kentucky.
Meanwhile at the Vulcan weapons manufacturing plant one of the employees falls to his death in a vat of molten metal, to the incongruous tune of C'mon Get Happy, by The Partridge Family. They were like a white version of The Jackson Five, only with worse outfits. I know this because  I watched this show, religiously, when I was about 8. To say that I enjoyed it, would be too strong an expression. Most likely it was the only thing on TV in that time slot. Anyway this is a singularly horrific death, especially once you realize the guy has just been baked into the factory product: bullets.
When Shadow and Wednesday reach Vulcan West Virginia (Yes, this is an actual place! I checked.) they find the townsfolk having a memorial for their fallen co-worker. Shadow becomes acutely aware that he is a man out-of-place, as the entire town is covered in flags, and everyone, from the smallest child to the oldest grandparent is carrying a gun. It's so over the top ridiculous that it's almost funny, except this is how some Americans actually believe we should all be living. I was uncomfortable on Shadow's behalf, because this very much reminded me of Sundown Towns:
At the memorial, which is really a celebration of the sacrifice to Vulcan, there's a gun salute and Wednesday warns Shadow to stay in the vehicle. At first I thought he was warning Shadow to stay hidden, but unlike me, Shadow remembers what goes up, must come down, and he decides to sit it out, as Vulcan and Wednesday greet each other in the middle of the street. There's a hailstorm of bullets, none of which ever touch either of the two gods.
On their road trip, Sweeney, Laura and Salim get to know each other. Salim figures out that Laura is dead, and takes it in stride. After all, he met a Jinn. I think Salim is very lonely, as  he never stops talking the whole time, while Sweeney snarks at the two of them from the back seat. Sweeney ending up in the back, when he insisted that Laura would be the one, is deeply hilarious to me, for some reason.
Salim proves to be a precious cinnamon roll of sweetness, while Sweeney is the exact opposite of all decency. Yes, I would love it if Laura ripped his lips off, whether he uses the "C" word or not, but we need Sweeney to be the "truth teller". Every Bryan Fuller show has at least one of these, a character who tells the blunt-faced, unbridled truth to the other characters, no matter how much pain it causes, or who it hurts. Salim and Laura bond over their belief that their past is gone, and so are the family members  who were a part of it. When Laura has a chance to visit her family, she changes her mind. She and Salim both agree that they can, "Fuck those assholes!"
The three of them end up at the Crocodile Bar where Sweeney lost his coin. It's like a horrible joke. A leprechaun, a zombie, and a Muslim walk into a bar…
Wednesday and Shadow go  Vulcan's home, where Vulcan keeps assuring Shadow that he's safe, but Shadow ain't buying it. He knows badness when he feels it, and insists that the two of them leave. His instincts are correct because things are not as they seem, especially when Vulcan alludes to events to which he was never a witness, like Shadow's lynching. That was number one. Number two is when Vulcan refuses to drink the Soma that Wednesday brought as a gift, substituting his own instead. Notice that Wednesday tells Shadow that Soma is not  the drink for him. Soma is a drink only for gods.
Soma was a fermented juice drink which was believed to have been consumed by the Hindu gods and their ancient priests, the brahmanas, during rituals. Thought to be an elixir its consumption not only healed illness but also brought great riches. Soma is personified by the god of the same name who is also the god of sacrifices and who may, in some texts, be associated with the Moon.
Not only drunk by priests for its sacred nature it was also credited with uplifting qualities, giving the drinker a boost in energy and alertness. These effects meant that the drink has been considered divine since ancient times; a beverage which brought humans closer to the divine.
——-     http://www.ancient.eu/Soma/
Soma is also another word for "body" and may represent the physical body of humans, in a pagan parallel of the Christian Communion ritual.  Vulcan can't drink the Soma that Wednesday brought, even though he promises to support Wednesday in his war. Vulcan  already made a deal with the new gods, who have set up this system of worship for him, in the town of the same name. He claims that every bullet fired from one of his weapons, is a sacrifice to him.
Wednesday tasks Vulcan to make a sword for him that can kill a god, and he does so. It's a gorgeous specimen, and I want one. (Never mind what I'd do with it! Smite my enemies! What else?) After Vulcan confesses that he betrayed Wednesday to the new gods, Wednesday, in one lightning swift move, cuts Vulcan's  throat and tosses his body into  one of the vats. Shadow freaks the fuck out, which is an entirely appropriate response. We've seen Shadow unhinged from the first episode, but this is really the first time we've seen him totally lose his shit. It will be interesting to see how he behaves in the next two episodes.
Wednesday expresses his complete contempt for not just Vulcan's actions, but an entire setup that's basically a shiny, automated, bloodless form of sacrifice, that gives nothing back to the people who worship him. Wednesday said this to Vulcan earlier, that the new gods take, and promise,  but do not give anything in return, and that the old gods at least did something for their worshipers, which makes them less corrupt.
Wednesday curses the entire enterprise by pissing into the vat. This is probably a pretty good idea of Bryan Fulelr's sentiments, too.
Laura, Salim, and Sweeney are still heading West. They stop to see the sunrise as Salim says his morning prayers.
 On guns:
https://www.bustle.com/p/american-gods-statement-on-americas-gun-obsession-takes-no-prisoners-61502
http://www.refinery29.com/2017/06/157569/american-gods-vulcan-gun-culture-season-1-episode-6
http://io9.gizmodo.com/american-gods-vulcan-is-everything-that-scares-me-abou-1795761610