This was inspired by a Twitter challenge to name the favorite films for each year of your life, starting from birth. You under thirty film folks have this pretty easy, but I'm an oldy (but goody), so its going to take me  time to lay all this out, and I'm obviously going to have do this in installments! This doesn't mean I saw these movies in that year. It's just the year of the release.
I thought you guys might find it interesting to know what films I consider the most influential in my life. I know compiling this list surprised me a little bit. I'd never given this a whole lot of deep thought, and I was pretty certain of what movies I knew I liked, but this was pleasantly eye opening. Also, I'm definitely giving away my actual age, but I'm not ashamed of my age, so here goes:
1969 – The Valley of Gwangi
Well, I had to pick one film a year and this was it. In fact, its appropriate, becasue this is really the first dinosaur/kaiju movie I'd ever seen, and influenced my fascination with Godzilla, The Beast from 20,000 Fathoms, the Ymir, and those Sinbad movies. It also introduced me to the work of Ray Harryhausen, who I have a soft spot for.
Anyway, this is a ridiculous Western/Fantasy movie, about some cowboys who encounter a valley full of  giant beasts. A tyrannosaur gets captured and brought back to the city where it, naturally, escapes, because that's what such creatures do, thereby ensuring my lifelong love of giant monsters destroying cities.
Ray Harryhausen is also the man responsible for this. These skeletons scared the shit out of me when I was eight, and I've loved him ever since:
1970 – A Man Called Horse
I first watched this movie with my Mom, because it contained some graphic scenes, and I was a kid who needed adult supervision, or so she said, so there's definitely a nostalgia factor involved in me liking this movie, which is basically, Tarzan in the Old West. A White Englishman gets captured by some Native Americans, they torture him for a while, but eventually he wins their respect, by going through various manhood trials, which look little different than the torture he'd undrgone earlier in the movie, which had been to less purpose. At any rate, I liked the lead actor, Richard Harris, and was a fan of his ever after.
It was while watching Westerns, that I really began to question the  tropes presented about Native Americans, like why they all wore headbands, and spoke broken English.
I watched a lot of these Westerns with my Mom. She was a fan of Richard Harris, too. She heavily influenced a lot of my early movie watching experiences, by just sharing her love of various movies (and actors) with me, until I started developing my own tastes. She introduced me to The Big Valley because she was a huge Barbara Stanwyck fan, so I liked Barbara, too. She loved Bonanza because she was a fan of Lorne Greene, so I was a Lorne Greene fan, and started watching Battlestar Galactica.  I became a fan of a lot of old actors just because my Mom liked those movies and invited me to watch them with her.
Our movie tastes have  diverged over the years, as I tend  to be more adventurous in my movie watching, (as you will see), and will watch quieter, more intellectual films, while she prefers a lot more drama and bombast.
My mom is of the generation that considers movies to be nothing more than entertaining, or melodramatic, spectacle. I'm of the generation that enjoys  movies that have some level of philosophical insight, or intellectual depth, to go along with all the spectacle, which is basically anything released after 1965. Not that movies didn't have that before 1965, but moviemakers started making more of these types of movies.
1971 – A Clockwork Orange
There were a lot of great movies made in 1971, and I had a really hard time choosing one. I had a choice between Spielberg's Duel, George Lucas' THX-1138, Let's Scare Jessica to Death (a big contender in this category), Shaft, Willard, but I chose Clockwork because its one of the first SciFi films I watched without my Mom's supervision. I don't think she knew about it, or she would have had something to say. This wasn't my first Kubrick film. That was The Shining, which I did watch with her. But I was hooked. I made a point to watch as many Kubrick movies as I could after that.
It may sound as if I watched these movies at a very young age but I was in my teens when I saw  most of these  films, and a lot of the movies I watched, when I was very young, were edited for television.
1972 – Aguirre: The Wrath of God
I know a lot of people choose The Godfather, or  Lady Sings the Blues, but I didn't watch those movies until I was an adult, and I wasn't impressed by them, by the time I saw them. I think you have to be of a certain age for a movie to have a great influence over you. I didn't see this until I was in my twenties, long after I'd watched Salem's Lot.
This is Werner Herzog's movie about the conquistador, Lope De Aguirre, heading down the Amazon River to find the city of El Dorado, and starring  Klaus Kinski, who is not a pretty man. The grotesque is what occasionally fascinated me about foreign films.  Now here's how my thought processes work: I first saw Klaus Kinski in Herzog's remake of Nosferatu, when I was maybe fifteen. My interest, in that particular version of Nosferatu, was prompted by learning that the vampire from the TV movie, Salem's Lot, was based on him. which I saw Salem's Lot the  year it was released, and of course, I watched with it my Mom!
Watching this movie, I think,  informed my love of documentaries, and books, about exploring the Amazon. Up til then, I'd pretty much been consumed with books about exploring Arctic landscapes, or climbing Mt Everest. (I think at one point I aspired to be a Sherpa, but I was  later disappointed to find you have to be born a Sherpa, I guess. )
1973 – The Exorcist
A lot of good movies were released this year: Mean Streets, Don't Look Now, Enter the Dragon. I like all those movies but The Exorcist is the movie I keep coming back to over and over. I will watch this whenever it comes on TV. I've watched it with all the commentaries. I never get tired of it, but I have seen it so many times that I can get a bit snarky on the parts I find exasperating.
Here's a funny story:  I remember lobbying my Mom to watch this movie. She was a bit dubious about that, because I was all of maybe twelve, the same age as Regan in the movie,  but I convinced her that I was mature enough to handle it. So, I watched the TV edited version, with her supervision, late one weekend. I know it was aired past my bedtime, and I needed her permission to be up, anyway.  I watched it, and she saw that I didn't seem unduly affected by it, and didn't give it any more thought.
Now, I live in the Midwest,  an area of the country that is not known for having earthquakes, but guess what? We had an earthquake a couple of nights later.  A pretty strong one, at about a 6.0, and you don't want to know how quickly I sprang out of that bed and ran screaming to my Mom's room. It took her a while to calm me down, and make me understand that my bed was shaking because there was  an earthquake. She'd been watching the news when it happened, so she was perfectly calm.(It did not help matters that I was going through my existential crisis period, where I was questioning God, religion, and my existence in general.)
Yeah,  she was kind enough to indulge me sleeping  in her bed, for a couple of nights.
1974 – Deathdream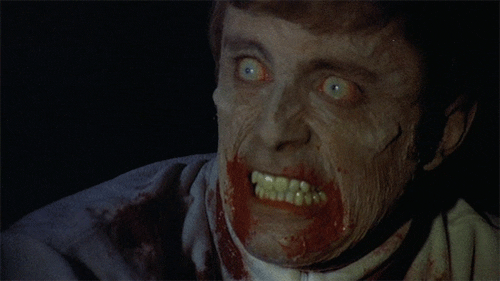 I know everyone always picks Blazing Saddles or Young Frankenstein, and I love both those movies, but this one had a much bigger influence on me. I saw this movie as a teen, and it was the first modern era  vampire movie I'd seen, outside of Salem's Lot. It's set in the modern era of 1970 something, when a young man comes home from Vietnam.
Unbeknownst to his family, he died in that war, and what came home was a revenant, responding to his mother's fervent wishes that he return.  You can tell something is seriously wrong  with him, from the moment you first see him, but his family is so happy he's home, that they don't want to  see it. He needs blood to live, but the blood becomes increasingly less potent, and he starts to break down,  becoming more ghoulish as the movie progresses, attacking his family and neighbors, and behaving very badly. 
The movie is notable  because its narrative is an indictment of the Vietnam War, and what happened to the young men who fought in it, who came home haunted,  broken, and forever changed. This movie had a  greater  influence over how I think about movies than Night of the Living Dead, which also had a socially conscious message. It's also a great illustration of family dynamics, as the drama is every bit as compelling as the vampire part of the story. The mother, who was hanging on to her last threads of sanity before her son came home, and the father who realizes that something's horribly wrong with his son, but can't speak to his wife about any of it, because she is delusional.
1975 – Trilogy of Terror
I would have chosen Jaws, but I chose this movie instead, because although I love Jaws, and watch it every time it comes on TV, this movie had a much bigger influence over me as , once again, I watched it with my Mom, and she was a Karen Black fan. I'm only a middling Karen Black fan, so I didn't get that out of this movie. What I got out of this movie, was a love of Richard Matheson, as his short story, Prey, makes up the third part of this movie, and I thought that part of the movie was awesome. In it, an African doll, He Who Hunts, comes to life and chases a woman all over her apartment. But its harrowing, intense, and  hilarious as this tiny, screaming, doll gets the better of this huge woman, as Karen Black is no delicate two Oz. damsel.
This movie might have something to do with my inarticulate fear of inanimate objects, that come to life,  and move around. I was about ten years old when I saw this movie, and was quite reasonably, terrified. The new Ghostbusters has a scene in it, where a mannequin chases Leslie Jones' character, and I nearly shit myself.
And you're probably also seeing a theme developing here, with  people with fangs and appetites, who aren't what they seem, preying on other people.
1976 – Taxi Driver
I had a hard time choosing which movie was my favorite, for this year, because its the same year Carrie was released. Ultimately, I settled on this one because I think Taxi Driver is a much deeper film.
I didn't see this until I was an adult. It's the first Martin Scorsese movie I ever watched, (I backtracked later, and  watched Mean Streets) and only because I'd heard of its reputation from critics like Roger Ebert and Pauline Kael. Travis Bickle is a painfully awkward character to watch. I'm still unable to articulate how I feel about this movie. I go through periods where I'm loathe to watch it, yet compelled to sit through it. Watching a baby Jodi Foster might have something to do with my feelings about this movie but I'm not sure what.
1977- The Last Dinosaur
This movie is almost comically bad but I still love it. The special effects are awful, and the characters are ridiculous, but the movie makes up for that with its subtext and theme song. It's by the same people that created some of the Godzilla films, and it shows in the awful acting and the rubbery monsters, which all move in slow motion, to illustrate how powerful they are.
Maston Thrust (yes, that is the character's actual name), is a big game hunter who is tired, old, and jaded. He has hunted all of the creatures of Earth and is looking for new challenges. It's the 70s, and Maston, a virile he-man, is a blatant sexist, and the world has changed around him so much, that he no longer recognizes it, and can find no place in it. The world doesn't need rugged white men, who can kill things. He's a dinosaur.
Given the opportunity to visit a Lost World and hunt a dinosaur, he jumps at this, and accompanied by his faithful Maasai tracker friend, named Bunta, (yes, I just typed that name), and a blonde female photographer, played by that era's hottest blond, Joan Van Ark, they all head down. When he gets to this Lost World,  he, and the Tyrannosaurus Rex that killed the last expedition, develop an immediate enmity, as the Rex tries to kill everyone on his team (He enjoys stepping on his prey. He likes his food pureed.) The two of them spend the rest of the movie trying to outsmart each other.
Now, if this sounds like the plot of Kong: Skull Island, you are correct! Kong has better effects,, dialogue, acting, really everything but it doesn't have a theme song. I first heard this song when I was a child, and have never forgotten it, as its a lovely song. It helps to think of the song as Maston's theme.
1978- Invasion of the Body Snatchers
Wow, I do have a lot of favorites! This is one of the best remakes of a fifties SciFi movie ever made. This movie I think began the trend of eighties remakes that were better than the original movies. If it wasn't for this movie, there probably wouldn't be the remake of The Fly, The Thing, or The Blob. I didn't really want to pick just this one movie because Halloween, The Fury, and Superman were all released in 1978, and those are all favorites, but the rule of the game is to pick only one movie.
1979-  Apocalypse Now
The first time I saw this movie, I didn't get what made it so wonderful. Roger Ebert was a huge fan, and so was Pauline Kael, and I trusted their opinions. I watched it and liked it okay, but didn't love it. It's only after successive viewings that I grew to truly appreciate it. To give you some idea of how hard it is to choose just one favorite film from this year: Alien,  and The Warriors was also released, and I chose Apocalypse Now becasue its a deeper film.
You can start to see how my tastes have begun to diverge from my mother's. She loved The Warriors, but was uninterested in this movie, and she  is mostly indifferent to Alien.
1980- Altered States
This was another tough one becasue I have a couple of favorites for this year, but I chose this movie because its such a trippy mess, and at the time I saw this, I had not yet seen 2001. This was the first movie that had ideas and concepts in it that I knew were important, but I was just too young to understand them.
Several viewings (and years) later, I was able to follow most of the arguments made by the characters in this movie, most of which involve a great deal of existential angst. it was also the first time I'd ever seen William Hurt. He's a complete asshole for most of the movie, but he's a cute asshole, and he  learns his lesson by the end.
My other favorites for this year are The Elephant Man, The Shining, and Fame, a musical with a diverse cast, which starred Irene Cara.
Next up: 1981 through 1990.