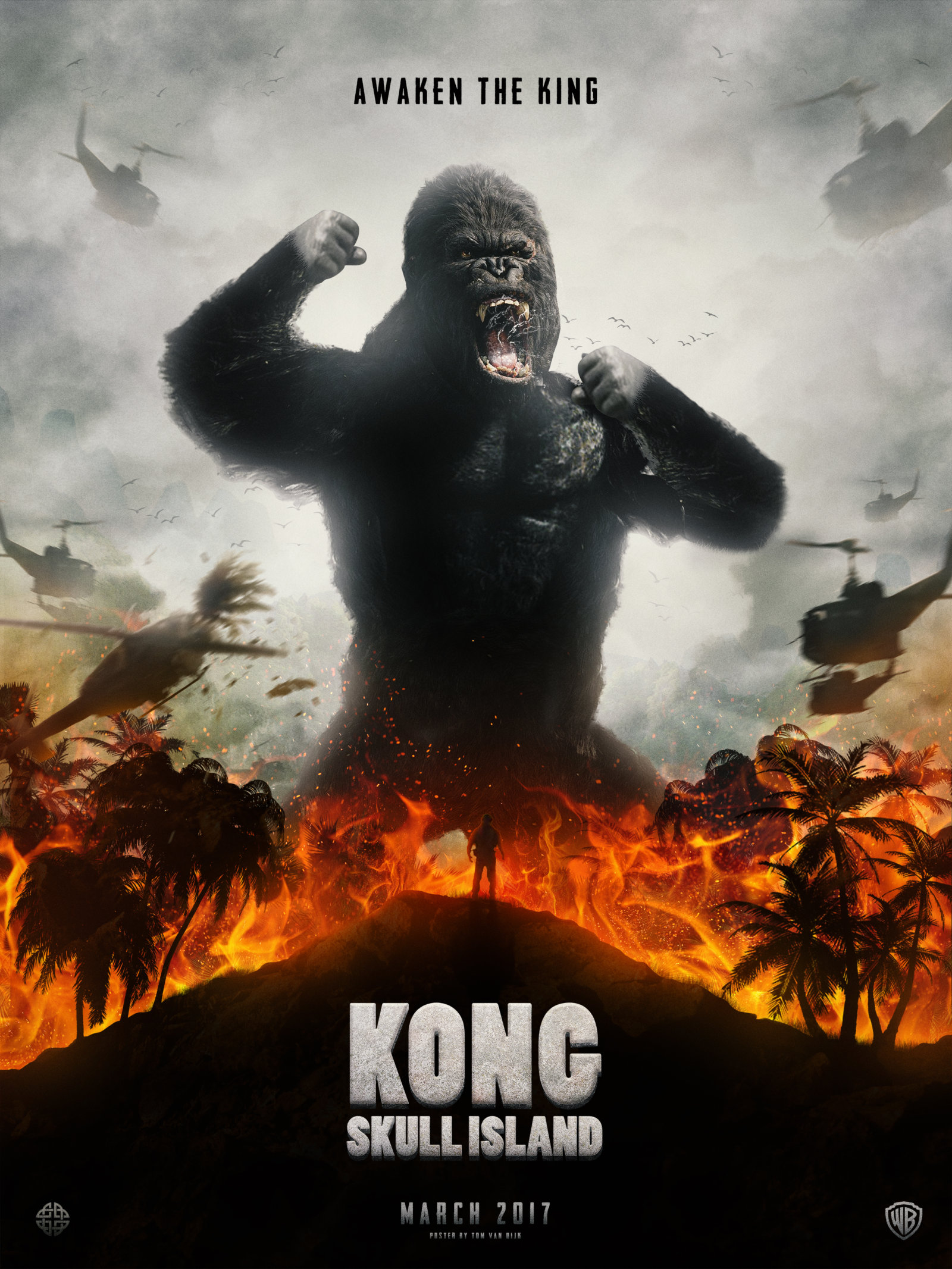 First of all this review contains lots of spoilers. So if you haven't seen the movie, you know the drill.
I had no plans to go see this movie. Not to say I wasn't intrigued. I love giant monsters as much as the next person, but I had a choice between Get Out, Logan, and Kong, and I had chose Logan. I've since seen both of those movies, thanks to friends with more money than me, who enjoy my company. I still hadn't planned to see Kong.
Well, Mom had other plans. She saw the trailer, and because it hit all the check marks for her entertainment, we were gonna be seeing it.
Big guns! Check.
Monsters! Check.
Samuel L Jackson! Check.
I had read some reviews, which seemed neither bad nor good, and I had the impression it would be sort of like Apocalypse Now with monsters. I was, and was not wrong. It was very entertaining, mostly as a war movie with monsters, than a straight up monster movie. I'm a huge fan of Apocalypse Now and it's got more than a few parallels with that movie.
Me, Mom, and two of the little tikes; my niece, The Potato and her baby sister, who we like to call Lil' Momma, had a girls day out. I spent a not inconsiderable amount of time between amusing Lil Momma with treats, hugging her when she got scared, and being scared shitless myself. There's a reason I don't see too many scary movies in a theatre. I can't turn them off, and walk out.
But it was still a helluva lot of fun too, and not exactly what I thought it would be. Most of the tropes of King Kong movies were neatly, and deliberately, subverted.There was a lot more talking but that was okay because most of it was setup for the action scenes. It's not a very deep film. Well, it didn't have a deep message in it, but I think y'all should know that King Kong movies (and those Planet of the Ape films) have always had a deep meaning for Black Americans. We always found subtext in them. This movie manages to neatly set aside that subtext, which in itself ends up creating subtext.
The year is 1974 and the US had just made the decision to pull out of Vietnam. Jacksons character is depressed and enraged by this, which informs his motivation for the rest of the movie. Hiddlestons character is set adrift and looking for adventure. Goodman's character is considered something of a crackpot conspiracy theorist with his Hollow Earth, and Lost World beliefs. Him and his partner, played by Corey Hawkins, have been petitioning the government to fund an expedition to search for one of these lost worlds. They're finally granted permission and have to assemble their crew. Tom Hiddleston is a bland, but brave hero, who didn't really stand out to me, very much. Samuel Jackson plays the Colonel, for whom Kong becomes his white whale, after Kong nearly kills his entire team. Brie Larson is a photographer along for the ride. I barely know who she is, as there ain't any white actresses, under 45, whose careers I pay any attention to. She wasn't bad though, and the movie didn't do with her what I was afraid it would do, which was fetishize the awesome purity of her blonde whiteness to Kong. There's another woman in the movie. She's Asian. She and Brie's character don't say so much as a hello to each other. It's almost like they're in separate movies.
Kong does form an attachment to Brie's character, but not because of her looks ,which is how the director sidesteps the subtext black people see in these movies. Kong likes her because of something she does, and he approves of. At no point do the Natives try to sacrifice her to him, and the rest of the crew don't spend all their time rescuing her. Tom Hiddleston's character does so, but only because he likes her, and she's very brave. At one point he asks her to do a very dangerous thing, to save their lives, and she successfully carries it off. He's not protecting her because he thinks of her as a delicate woman, and the only person who mentions her femininity at all, is Reilly's character, and he sounds ridiculous, when he does.
The writers neatly sidestep the native issues by having there be no Natives. The people on the island are the leftover crew members from a Japanese ship that crashed on the island and became trapped there. They're fierce but not mindlessly hostile, and appear to have developed their own peaceful culture. Storms have caused a lot of crashes there, so there are a lot of shipwrecks lying about. There's a giant wall on the island, but it's not there to keep Kong out, just the hostile wildlife at bay, and it turns out his job is protecting the people. Since the rest of Kong's family were killed by the island wildlife, he's seemingly adopted these trapped humans as his clan. Make no mistake, Kong is the star of this movie. He is the lead character, and the protagonist, and survives to the end.
John C. Reilly's character is the most fun and memorable character in the movie, and I loved him right away. I've found that I enjoy movies a lot more if I can attach myself to a particular character and just follow that character through the plot. His character gives a lot of exposition, but it doesn't feel like speechifying, when he does it, which is a testament to how good Mr. Reilly is, as an actor. We see his plane crash on the island at the beginning of the movie. His Japanese opponent also crashes his plane, and the two immediately commence to fighting, but are interrupted by Kong. After that they stop and become friends. Kong just has that effect on people. Later, Reilly's character gets a sweet and happy ending when he's reunited with his family. He'd been trapped on the island since 1944, and acts exactly the way a person would, after having been separated from a life they missed, for nearly thirty years.
Kong's motivations are also explained in the movie. He's a guy who likes everything peaceful and quiet, because when the military expedition starts dropping bombs on the landscape, to track the islands depth, he becomes enraged, and makes short work of all of the helicopters. They were disturbing the peace. So what's funny is that all of the usual Kong tropes are in this movie but under completely different contexts, with Kong fighting helicopters, or wrapped in chains, or rescuing the blonde damsel. You can tell the writers gave it some thought, playing with our expectations, and knowledge of other Kong movies. The end result of all this is you end up rooting for Kong, as the hero of this movie, rather than the human characters.
Kong is set up as the protector of the island (and possibly the world) from some dinosaur-like creatures, that come out of the Hollow Earth, having been awakened by the bombings. There's some little ones, and one giant one, with skull-like heads, full of teeth, slithering around on two legs. They're fast, powerful, and will eat anything, even Kong. He spends a not inconsiderable amount of time fighting these nasty fuckers all over the landscape. He spends a lot of the movie fighting something. At one point he fights a giant octopus, and then eats it.
There are other monstrous creatures on the island. Some pterosaur like creatures, that like to gang up on a person and carry them off, like in the Riddick movie called Pitch Black. There's a giant spider naturally, and also what we hilariously figured out was a giant walking stick, and just about as bright. The Potato and I guessed this because it looked like a cross between Groot, and a small Ent, from Lord of the Rings. It scared the shit outta my Mom, when she saw it, even though it's harmless. My favorites were the house sized Water Buffalo, because I thought they were dumb but cute, and more importantly, non- hostile.
Brie's character wins Kongs fondness, when he finds her trying to save one of the big dumb brutes, who is trapped under a helicopter wing, and he helps her out. He likes her because she was trying to save one of the creatures he has decided to protect, and even allows her to get close enough to touch his face. It's telling that his closeness to her never directly endangers him. On the other hand, her proximity to Kong, puts her in danger from the skull dinosaurs. Later, she saves his life, by standing between him and a bullet from the colonel's gun, after Kong has been hobbled, by being set on fire with napalm. The military is the bad guys in this movie, and Kong kills them indiscriminately. So if you feel some kind of way about the military, you might want to skip this movie. They're not totally evil, but they're not the heroes.
During a significant portion of the movie, everyone has to ride upriver in a hastily thrown together plane/boat combo, and that, and the helicopter intro when they arrive at the island, is what lends it that Apocalypse Now feeling. But I liked the movie a lot and didn't mind the parallels. I was expecting at some point to be insulted or offended by something in the movie, but the writers were careful to sidestep all the major issues that my Mom and I usually have with Kong movies. Unfortunately, that also took away any depth. That's okay. The movie makes up for this lack with a great deal of spectacle.
Now, I have since seen Godzilla Resurgence, and I heard rumors that both of these movies were being setup for a future sequel, where Kong and Godzilla would be fighting each other. If that's true you could watch the setup in this movie, where Kong is being put forth as a good guy protector to the Japanese people, or whatever group of people survive to the sequel. The Kong in this movie is said to be an adolescent who hasn't reached his full height, and like Godzilla, he's already as tall as an office building. So the reason Kong looks bigger than ever is because of this future plan for a franchise, of some kind. In Godzilla Resurgence, Godzilla is definitely a bad monster who, sort of randomly, destroys parts of Japan, for no fucking reason. I'll be reviewing that movie later this Summer. But keep in mind, if these two characters meet, there will be blood.
After a certain age, I stopped watching Godzilla movies, but I did enjoy the remakes, and I liked this movie okay. I'm not sure I'll enjoy a sequel where these two characters fight, although after watching the fight scenes in Kong, I anticipate that Kong will win.