Fed-up fans turn 'Ghost in the Shell' meme generator against itself
The Major may be a cutting-edge cyborg capable of taking down even the most dangerous criminals, but even she's no match for the withering disdain of the internet.
Ever since Paramount shared the first image of Scarlett Johansson as the Major in Ghost in the Shell, the film's been under fire for its decision to whitewash the lead role, who is Japanese in the source material. So when the studio launched a viral campaign encouraging people to upload their own images and captions into a meme generator, some fed-up fans seized the opportunity to make their displeasure known.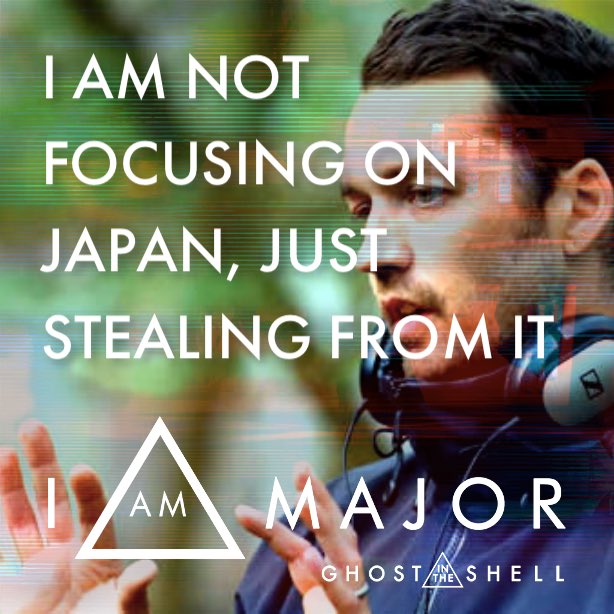 And not only did Ghost in the Shell get a thorough roast, a few people made sure that Hollywood didn't forget about Emma Stone and Iron Fist.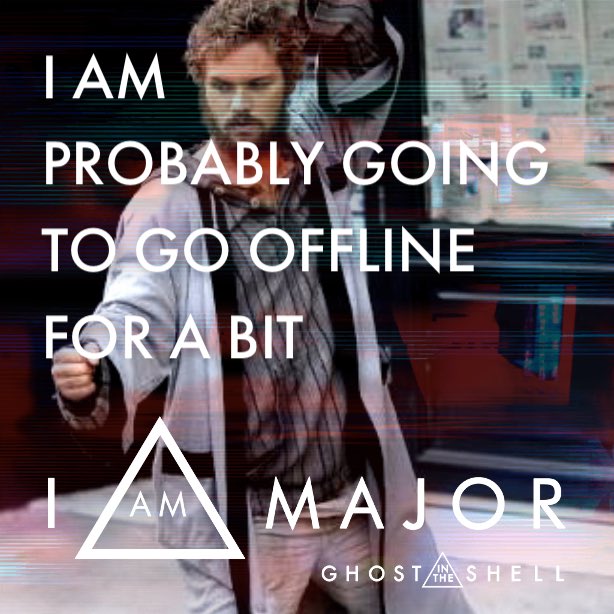 And then there's the recent media implosion over Iron Fist, which got totally trashed by critics who were allowed to watch the first six episodes of the series.The actor Finn Jones, who plays Danny Rand, put his foot in his mouth both before and after the show's debut and has now left Twitter after being dragged by the public.
'Iron Fist's Finn Jones Says He Left Twitter After Diversity Dust-Up To "Stay Focused" On Filming 'The Defenders'
The Implosion of "Marvel's Iron Fist" and Finn Jones Continues
Marvel's Iron Fist Cultural Appropriation Casting Crisis Drives Finn Jones Off Twitter — What's Going On?
Iron Fist actor leaves Twitter after confronting racial issues in series (update)
Yeah, I think someone needs to close their Twitter account and shut the Hell up before they dig a deeper hole.
Here's the thing, if the public can't get Hollywood casting agents, or moviemakers, to understand that we want more and better diversity and inclusion, then I guess the public is just going to shame the actors who contribute to the problem. Especially when those clueless actors go on social media to make excuses for what they just did.
Both Tilda Swinton and Scarlett Johansen have both made remarks about supporting diversity, and both of them were subsequently  roasted on Twitter, and Facebook. The bottom line is that actors are no longer getting a pass about their ignorance of these issues.
In the past, Hollywood actors have managed to get by by just speaking on some issue, without actually doing any of the real work, or being informed, and sometimes actually contributing to the perpetuation of said issue. Well, not anymore. From now on if an actor is going to talk about a social issue, they had better know what they're talking about, and have put in the work on that issue. Its  simply not enough now to simply appear progressive and get points.
Unfortunately, the irony is that Hollywood is a conservative industry, and actors who speak out too much, or are too bold with their actions regarding social issues, can sometimes find themselves with the reputation for being troublemakers, and damaging their careers. I'm not saying they can't have opinions, but they're caught between the Scylla and Charybdis of the film industry and public opinion, and if they're not A listers, they can't serve both. They work in an industry that will allow them to be bold enough to speak out on things, if they have some amount of cache, but they can't be too bold in their actions, or their careers will suffer.
This is the hole that people like ScarJo , and Finn Jones have fallen into. They've done something that genre fans do not approve of and have let them know it. At the same time, the actors can't be too bold in their support of the issue by doing things like, trashing their own productions, or turning down roles.
As for Finn Jones, I don't know what's going to happen here. People are strongly objecting to his presence in this role, yet he is what we have. He's what we're going to be looking at in The Defenders, too, as don't think he is going to be replaced.
As for one of the major arguments against casting an AA as Danny Rand:
Marvel did not seem to have any problem finding plenty of Asian Martial Artists to play villains in its productions. Casting Asians as Martial Artists because it might be stereotypical isn't the problem. The problem is Marvel not wanting any of those Asian Martial Artists to be  heroic.
LOL please skip that 'Marvel just didn't want to do the stereotypical Asian martial artist' argument in regards to casting Danny Rand as white.

Like, if that were true….why would the rest of the cast be full of characters who are….Asian….martial artists???

Also, member that time Daredevil was filled with evil Asian ninjas?? Cuz I member.
And you'll notice nobody was remotely concerned about casting a Cambodian actress to play Elektra, who has always been Greek in the comics. If not stereotyping Asians was such a concern for Marvel, why'd they go out of their way to make one of their only non-Asian ninja characters Asian? LOL.
And Elodie was AMAZING as Elektra, and there was nothing remotely stereotypical about her character at all, because shocking – that's what happens when you don't reduce or limit a character to one specific character trait. THAT'S the danger of stereotyping, and you don't address that by denying characters access to something that's actually legitimately a part of their cultural heritage and something they'd have every reason to pursue should they so desire. You just make sure they're nuanced, three dimensional characters who have a lot more elements to them besides just the one stereotypical element. And Elektra was so much more than just her martial arts skills in Daredevil.
Like, Daredevil the show is heavily racist in a lot of ways, and a lot of that is tied up in their use of the Hand, Madame Gao and Nobu…..and that's not because they're mystical Asian ninjas. It's because that's ALL they are in Daredevil, that everything we know about those characters revolves around stereotypical characteristics with not much else besides that. And before people go 'oh well they're the villains, what do you expect'…..lmao pleeeeeeeeeeeeease. Compare what Marvel did with the Kingpin's character in Season One to how they used Nobu in Season Two, not to mention Killgrave over in Jessica Jones. Marvel LOVES their nuanced, complicated villains, and yet for some reason, Nobu and Madame Gao remain just secretive Asian martial artists with vaguely defined mystical connections and whose motivations seem confined to uttering cryptic pronouncements but also drugs and taking over the world, we guess.
With Elektra, they actually bothered to breathe some life into her character and flesh her out beyond a two dimensional secretive ninja, and voila….suddenly, shockingly….she's a full fledged character instead of a stereotype. Imagine that!
Asian American Danny Rand would only have been a stereotype if his characterization began and ended with 'zen martial artist who barely talks because did we mention how zen he is'.
Of course, its not like this particular bullshit argument is new for Marvel. Remember how when Tilda Swinton was cast as the Ancient One instead of a Tibetan man, Marvel and the director both claimed it was because they were trying to stay away from Asian stereotypes?
And yet, in every still I ever saw from the movie, Tilda Swinton's character (despite supposedly being Celtic, I heard?) has her head shaved and is wearing brightly colored garments traditionally associated with Tibetan monks in Western perceptions.
Like….umm….again….if you're worried enough about stereotypes that you cast a white woman instead of the elder Tibetan monk seen in the comics….THEN WHY DID YOU GO OUT OF YOUR WAY TO EVOKE EVERY SINGLE STEREOTYPE ABOUT ASIAN MONKS WITH THE VISUALS YOU CHOSE FOR HER?