Brooklyn 99
Today I am  singing the praises of one of my favorite sit-coms, Brooklyn 99. I don't often watch comedies, because most of them  aren't particularly funny to me, try too hard, or I just don't have time for them, and I was not going to watch this one, because I have trouble watching cop shows, (Apparently I can watch cop comedies, I guess.  I loved Reno 911, and thought this might be similar to it. It both is and isn't.)
Brooklyn 99 is just as ridiculously over the top as Reno 911, but the characters are much more likable, and competent. They're certainly less raunchy, as this is a Primetime show. The 99's characters are the kind of people you want to meet and make friends with. The characters from Reno 911 are  much more like  your annoying co-workers, that you'd  like to punch in the  neck. The 99 characters are the kind of people you laugh with and cheer for. The Reno characters are the kind you laugh at, while hoping they don't  blow anything up. What's refreshing about Brooklyn 99 is, you start the series with what you think are just a bunch of standard tropes, and gradually, these characters become fleshed out, and more complicated, but not in the usual ways.
This show is also an example of getting diversity right. (Except for the lack of Asians, which it really needs at least one. ) I love the attitudes of the characters. They really do act as if they are a family.
There's none of the passive-aggressive hostility that passes for humor in other ensemble shows. The characters acknowledge that they are very different from one another, there's occasional teasing about that, but no one is ever made to feel ashamed of, or less than, for who they are. The only time characters are ever made to feel ashamed, is when they behave badly, and their friends call them on their shit. There's a general acceptance by the other characters when someone is just a certain way, even if that way is mildly annoying, like Charles Boyle, or in Rosa's case , occasionally terrifying. The closest you get to meanness in the show is Rosa, but she makes up for it by only kicking the asses of people who mess with her friends, (or inanimate objects that ain't actin' right.)
One of the things  I really like about this show is when characters make mistakes, they're willing to acknowledge they made the mistake, and either apologise, or atone for it. They're willing to not only  admit when they've been foolish, but when they've been doubling down on their foolishness too, which is a refreshing change from the real life model of people who actively work at being their worst possible selves. Brooklyn 99 makes me like people, and is a perfect example of how to Grownup.
Here, in some kind of order, are:
Det. Rosa Diaz  (Stephanie Beatriz)
Rosa is the kind of girl you want to have your back in a fight. If I was arranging a team of people to survive the Zombie Apocalypse, Rosa would be Michonne. She has an appetite for destruction that is awesome. In fact, one of the best birthday presents Gina ever gave her, was a hammer, and some time alone in a soon to be demolished house. According to Rosa it was: The Best Birthday Ever!
Strangers see me like  Rosa, or Captain Holt, depending on their personal anxiety levels. Rosa began the series as a typical anger management case, which is funny when you contrast that with how model pretty she is, and this is part of the show's charm.The humor comes from the character traits and how various teammates respond to the events in the show. They're usually involved in some situation that requires them to react, and because their personalities are all so different, you get some spectacularly funny moments. Occasionally the show likes to give us a real treat and put certain personalities together to solve some issue. Hilarity often ensues.
Over the years we find out many surprising things about Rosa, like she's occasionally intimidated by people too, she used to be a ballet dancer, and  that she was raised by nuns, but when we first meet Rosa she's beating up a copy machine, with a battering ram, and at first you think she's just a stereotypical "Spicy Latina". Thankfully, anger isn't all there is to her. She's also honest, forthright, insightful, supportive, loyal, and encouraging to her teammates. Rosa is the shows truth-teller. She specializes in stating uncomfortable truths, and doesn't shirk from that, even when those truths are about herself.
Gina Linetti  (Chelsea Perretti)
If I had to choose someone to be friends with, it would be Gina. She's that best girlfriend, who always knows where the latest get-togethers are, and how to finagle her way into them. She's carefree and deeply self involved, but not in a neurotic way, because this is a woman who has realized her fabulousness and is very comfortable with her greatness. The funny thing is, she is pretty fabulous, mostly because she acts like it, and truly believes it. She has a deep and abiding love affair with her phone, through which she receives copious amounts of gossip. She's also totally  unwilling to let others forget how wonderful she is. Gina is also one of the laziest assistants to ever be in an office. She's so fabulous however that not only does she not make any secret of this, she is hilariously quite proud of that, (and her interpretive dance skills).
One of the most surprising things,on the show,  is her relationship with Jake, which I truly enjoy. They've know each other since they were little children, having grown up in the same neighborhood, and they have one of the best platonic friendships I've ever seen on TV. One of my favorite moments is when Jake gives Gina the forehead kiss, as if she were his little sister, and she lets him do it, although she really isn't affectionate, like that,with anyone else on the show, and I think she's older than him.
Det. Jake Peralta  (Adam Samberg)
Jake Peralta is everybody's cool best friend (and Charles Boyle would be more than happy to tell you this).
Jake begins the show as an irresponsible, sloppy, childlike character, but you can see his growth over the course of three seasons, as he learns to be honest with himself and others, and even manages to win Amy's affections, after being so annoying to her at the beginning of the show. Heck he was annoying to me, and definitely to Captain Holt, but I've actually grown to like, and even admire  him.He has matured throughout the seasons but not so much that he doesn't still think that frosting his hair blonde looks really cool.
When I first started watching this show, I was watching it for Andre Braugher, and I initially dismissed Jake as someone I would have to simply tolerate. I thought he'd be the typical White male protagonist who is the center of all the stories, and  everything he did and said, would be treated as gold. But that's not what happened. Adam Samberg is willing to step aside from time to time, and let the other characters shine, and  teach his character how to grow up. Samberg understands he doesn't need to be the center of every episode. He's no William Shatner and that's refreshing.
Jake always had trouble showing affection, not because he didn't want people to think he was gay, but because he had father issues, and is still immature enough not to know how to handle affection from others. But he has grown, over the course of the show.
Witness his gradual change of character, as he attempts to become the kind of man who deserves to have someone like Amy, in his life. Jake is still immature, but he genuinely loves Amy, and tries to be the kind of man who can make her happy. Amy's  love encourages him to want to be a better man. The distinction is subtle but there.  Amy is  the polar opposite of him, and he acknowledges that keeping her with him might require him to act more mature. Jake is also willing to acknowledge his mistakes,  apologize for them, and attempts to do better, not just for Amy, but for all those he considers his friends.
Captain Ray Holt (Andre Braugher)
Captain Holt is the father figure of The 99. He's the no-nonsense, emotionally restrained, backbone to the department. Or at least that's  how it starts. I love the way this character has grown since the beginning of the series. He started out as real hard-case, coming down  hard on Jake, to get him to be more responsible and adult. He has since come to  understand Jake a lot more, understanding that Jake is at his best when he's allowed to just be himself, realizing his influence over Jake, and he's even begun to loosen up  just a bit, under Jake's influence.
Throughout the seasons, we've witnessed Holt loosen up a more, finally becoming comfortable with his detectives, and allowing them to see just a little of his silly side, although he would probably be insulted at that description, not having ever believed in, or condoned, silliness or frivolousness, of any kind. At first, I just saw Holt as The Inscrutable Negro, mysterious, and unflappable. Now I really enjoy this character and I'm always eager to see how he'll surprise me, during an episode by, for example, having an impromptu dance-off with some street thugs.
Over time, Holt has come to admire Jake, and think of him as a son, which is a total turnaround from when they first met. After all, Jake possessed every quality that Holt disdained, and he didn't believe Jake took his job seriously, but now he's very proud of Jake and encourages him to do his best. Jake, who spent the earliest part of his life trying to please his absentee father, and never measuring up, has found the perfect father-figure in Holt.
Holt's team  admires him, and  strive to make him proud of them.  Captain Holt is an out, gay, Black man. His job might care about him being gay, but his team doesn't, and they are always respectful of his relationship with his husband Kevin, treating the two just  like every other couple on the show.  For example, when Holt wanted to visit Kevin, who was on Sabbatical in France, Amy, Charles, and Jake, volunteer to dogsit the couple's Corgi,  Cheddar. The humor doesn't come from "Oh, these gay men have a cute dog." No, the humor comes from the usual wackiness that ensues because Amy, Charles, and Jake are such different personalities which clash over babysitting Cheddar.
The show doesn't browbeat you over the head with After School Special moments, though. How Holt handles his sexuality, in an environment where it is much more likely to meet with resistance, is done with grace and dignity. His gayness isn't the joke. In fact, no one's race is ever a joke, and no one's gender is ever used as a joke.
I admire the hell out of this character. Hilariously he's the character that most people who don't know me well, see me as. My close friends find that hilarious, btw.
Sgt. Terry Jeffords (Terry Crews)
Terry is like everybody's fit  uncle. He looks intimidating, but after a while, you find out that Terry is merely extremely health conscious and an actual Teddy Bear. Terry is such a gentle soul, that he has to be carefully talked into using his tremendous strength ,and has deep anxieties about firing a weapon. I love how the show bucks stereotypes of Black men, by having two very intense looking black men, who  are nothing like they first seem.
Terry is a devoted family man who truly, madly, deeply, loves his two twin baby daughters, even though he thinks they are possibly trying to kill him. Known for speaking of himself in the first person, Terry  also loves yogurt, exercise, and his job, which mostly involves wrangling all these different personality types, to focus them on one thing together.Terry is the Peacekeeper. His job is to make sure everybody is getting along and ready to work. He's strong, encouraging, and always speaks up,and goes to bat, for his people. Captain Holt depends on Terry to run the day to day operations, and considering the types of personalities he has to work with, Terry is doing an excellent job.
Det. Amy Santiago
Amy is the girl I was in High School, except I was a lot more snooty. Amy is that best friend , that you hated just a tiny bit, because not only is she smart, organized, and ready, she's a classic goody-two-shoes, (with just a tiny competitive streak). In fact, I think when that description was created, Amy was who they had in mind.
Amy is an extremely moral and ethical person, who believes in strictly following the rules, and lots and lots of planning. She dislikes how Jake likes to cut corners, or sometimes just wing it. Amy doesn't wing anything if she can help it. She loves to please people she admires, and will go out of her way to get Captain Holt's approval, going so far as to cook him a large and tasteless Thanksgiving dinner, or agreeing to babysit his Corgi, Cheddar.  I love Amy because she really is a girl after my own heart. Like me, she is a stickler for prudent planning,  and  loves a nice sized binder of information.
But Amy's life is so rigidly defined that she needs a little chaos, and that's where jake comes in. Initially, I think she hated him because Jake is everything she isn't, but as Jake began to prove his love for her, presenting her with options of when and where to be with him, and then waiting for her to decide, she began to see Jake's true colors.
Det. Charles Boyle (Joe Lo Truglio)
Charles is everybody's favorite grandma and/or best friend. Hes loving , admiring, supportive, encouraging, and Jake's right hand man, even though Jake didn't choose him for it. He's the kind of guy who always has a bowl of candy on his desk to offer to co-workers who are feeling a bit down.
I love Charles because, well…he's just lovable. Joe Lo Truglio, formerly from Reno 911, is the complete opposite of his character, on that show. On 911 he was a venal, angry drug user, but  Charles is a warm, gracious, polite, foodie, and that you believe this, is a testament to Joe Lo Truglio's acting skills. Charles is always upbeat and optimistic. He always looks on the bright side of a situation, no matter how horrible that situation may seem to others, like when his best friend, Jake accidentally shot him in the butt, or when his dog died. Charles was the only one capable of seeing the silver lining. He has a tendency to be a floor mat because he always puts others needs before his own. Now that he has a young son, whom he adopted, he has someone at which to throw all his tremendous caring.
He's very devoted to Jake and I love the show has this depiction of a close m/m friendship without screaming no homo, everytime he and Jake show affection.
Det. Adrien Pimento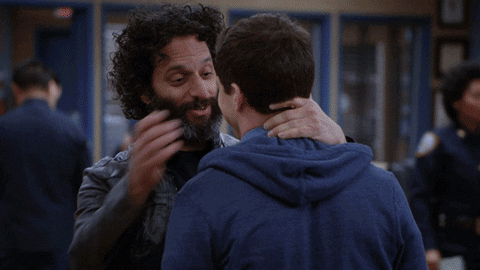 Adrien is the newest recurring character at Brooklyn 99. Having suffered an emotional breakdown, after going undercover with some mobsters, Adrien is in a very  fragile emotional state, when he returns to his job as a detective. He's paranoid and full of anxiety, and definitely suffering from some form of PTSD, but his mental state is never made the butt of the joke, and is not actually connected to his zany behavior. He acts wild, not because of his emotional fragility, but because he is thoroughly lacking in any boundaries, like breaking into Jake's apartment to do Tai Chi, in his underwear. The humor comes from the reactions of his co-workers, who never have any idea what Adrien might  do next, not from making fun of his emotional state. The show skirts a fine line between acknowledging his emotional disability, and  understanding that it doesn't necessarily inform  his behavior.
Adrien is definitely what's known as  Chaotic Good.
Adrien is a good man, which is why the rest of the team accepts him. Also,  he and Rosa develop an intense, frantic, (and inexplicable) attraction to each other, although Adrien  explains, at first, that he's not capable of having a relationship with her, they do eventually decide to get married.  Rosa seems   okay with Adrien's unpredictability, and takes most of his decisions  in stride. She never tries to change Adrien, or make him behave, (although when she first met him she called him a freak, that she will only fall in love with). After a while, she just accepts him for the wild card that he is.
Actually, once everyone has gotten used to Adrien, they  just try to work  with him, or around him, for example, Gina is one of the few people Adrien will actually obey, when she tells him to do something, and Charles pretty much loves everyone, when he's not terrified of them. Over time, the team's acceptance  and trust starts to heal Adrien's emotional wounds, and he starts to feel confident enough to form healthier relationships with others.
I'm geeking out about Brooklyn 99 because it's an example of a show thats getting its humor and diversity right, with smart, funny, well rounded characters. It resumes its fourth season on April 11th, on the Fox network. Go figure!