Westworld is a feminist narrative hiding in plain sight. The Westworld's logo/sculpture, based on Da Vinci's Vitruvian/Ideal Man drawing, is actually the body of a woman, and the primary protagonists/antagonists are women,  Dolores, who has had everyone's attention for five episodes, and Maeve who's awakening has hidden just below everyone's radar. Dolores' path to enlightenment is flashier and more upfront, but I believe it's Maeve who will spark the true robot rebellion. It's not an accident that these two women, one Black, one White, were chosen to be the pov of the robot rebellion of Westworld, where its primary setting is a time period in which women  were limited to only two roles, the Whore, or the Virgin.
The Madonna-Whore complex has been baked into Western society since Judeo-Christianity rose to prominence. Named by Sigmund Freud, the complex stuffs women into two mutually exclusive boxes: women men respect and women men want to sleep with. Madonnas are virgins and mothers, kind and submissive. Whores are sexually promiscuous, raunchy and aggressive. The idea infiltrates pop culture in so many ways, from the Final Girls in horror films and Disney Princesses to Betty and Veronica and Taylor Swift music videos. Madonnas are to be lifted up and venerated; whores are to be lusted after and discarded. But Westworld has other ideas. Subversive ideas.
—Read more at http://www.hitfix.com/harpy/despite-the-orgies-westworld-has-shockingly-feminist-pthemes#xqEmWuZjfIVwCYQ8.99
Earlier this year, I reblogged an article about the show Daredevil, and its ignorant reliance on the Virgin/Whore Dichotomy, within its narrative. Marvel got it wrong because they  obviously did not think it through, and merely presented the stereotypes without any comment on their greater impact to the story. (Marvel isn't very good at deep thinking in general, and what progressive feminist considerations we've gotten are largely because of the actors and directors. It's certainly not from any of the writers, who seem to emphasize style over substance.)
Westworld gets it right, and the argument can be made that this is the point.  It's no accident that Dolores is a White, blonde, virginal, damsel in distress, who is meant to be loved and rescued by the hero, Teddy, and that Maeve is a Black woman, treated as disposable, and a saloon whore, who Teddy only flirts with. He makes no promises to save Maeve, or take her away from all this. He is programmed to only have eyes for Dolores. In fact, nothing about these women's storylines is an accident, and some amount  of actual thought was put into their characters, and plot arcs. I know these are not accidents, not just because of the plotline, but because of the things the characters say, and this is something that will have greater impact on the plot than most viewers think.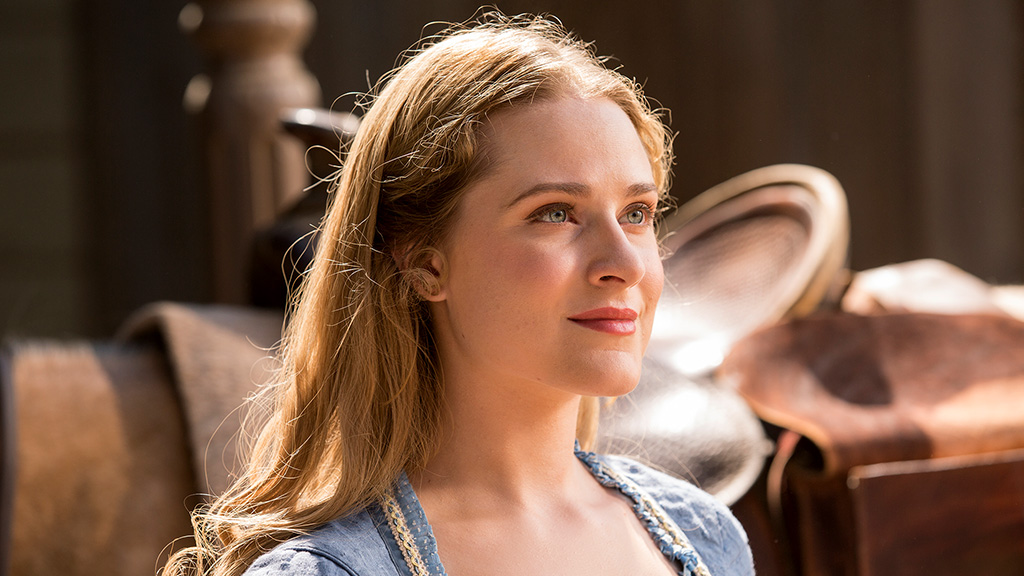 Before the show aired, there were criticisms aimed at the writers for its depiction of  violence towards women, and the fear that, as in GoT, it is gratuitous. If you've been watching, Dolores is regularly threatened and assaulted, not just by the Guests, but the other Hosts as well. Why? So that Teddy can be her hero. The writers of Westworld directly addressed these concerns, saying that the violence wasn't just for titillation, and the violence we see aimed at Dolores, in particular, serves a plot purpose. We can see that happening, as Dolores has begun to evolve beyond her programming, and in the last episode she said she was no longer going to be a damsel. In other words, her recollection of the violence done against her, has aided in her awakening to consciousness, and the decision to choose her own fate. She is tired of her pain being used to further other people's stories rather than her own.
Dolores cannot rely on Teddy to save her, as he is a false hero. He is a trap meant to keep her in her loop. In his first encounter with the MIB, he is gunned down, and the MIB goes on to violate her. She cannot depend on Teddy to save her, or take her away from her pain. No matter how much he cherishes her, he cannot free her, echoing the real world equivalent of White women's journey to liberation.  She abandons Teddy and his false promises, to be with William, and from there, she  begins to come into her power. But only her power, and not her freedom, as it is Bernard who sets her on the path to freedom, by introducing her to the concept of the  maze.
For Maeve, the saloon whore, who keeps getting shot in various massacres, the awakening of her consciousness comes in time with her acknowledgment of her disposability. Earlier in the season we hear technicians speculating that if she doesn't procure more customers she will be decommissioned, which is the writer's  indirect criticism of the usefulness of the Black body to Whiteness. If it can't be used, then it must be destroyed. She is saved from this fate  by another marginalized woman, Elsie, a gay woman, who recodes Maeve to be a better whore. Later, just as she is about to be gunned down again with Hector, she proclaims that her death doesn't matter, but rather than being a rebuke of the statement  Black Lives Matter, as some people have chosen to see it, I see it as a statement of her freedom. If her death doesn't matter, she is free to do as she pleases, with no fear that death will be the end for her. She is acknowledging that she is eternal, and declaring herself a Queen that can move anywhere on the chessboard, because she cannot die.
Like any slave that realizes they are a slave, Maeve's  awakening is birthed in blood, nightmares, and trauma, echoing that of real world slave women.   It  is Maeve who witnesses the bodies of her Host brothers amd sisters, stacked like cordwood, being hosed down,  in a place she cannot name, and  it is through witnessing their disposableness that she comes to knowledge of her own. Unlike Dolores, Maeve must find her own path to consciousness and her own allies.
It is telling that the people who aid Maeve are in better positions to  facilitate her liberation than the ones that Dolores has found, and that they are all marginalized people, like her. Elsie is a lesbian, Hector is  Mexican, a Host and a slave like her, who aids her by giving her information on the Native American religion that sparked Maeve's first questions,  and  Felix is Asian. (Asian men have historically been emasculated and dehumanized by White male patriarchy). So, is the message here that marginalized people can only be liberated by helping each other, or is this a real world comment on how African Americans were aided in their liberation by disenfranchised others? It is interesting that the one person who actively works against Maeve's, and Felix's, plans is Sylvester, a White man. I don't know what to make of the fact that Dolores is aided in her awakening by a Black man, Bernard, who people are theorizing may actually be one of the  Hosts.
http://racism.org/index.php?option=com_content&view=article&id=1277:aawomen01a&catid=72&Itemid=215
Parts of the Virgin/ Whore narrative arose out of slavery and gave birth to the White Madonna, and the Black Jezebel stereotypes.  White female purity was used as an excuse to torture, and kill Black men, and rape black women (although White women who fell through the cracks, and were the unclaimed property of another White man, were also fair game). Since the given understanding was that a whore couldn't be raped, black women were declared un-rape-able. Like Maeve, their sexuality, and offspring , were treated as consumable commodities.
Echoing the narrative of actual slave women, Maeve has memories of a lost child, that was never actually (i.e. legally) hers. During the  examination, where it's decided she will be decommissioned, the technicians "up" her aggression levels, making her more "sassy", which is the writer's indirect criticism of the stereotype of the Angry Black Woman. It is Elsie who recognizes what the technicians have done and fixes their botched (and indirectly racist) coding.
Ironically, or maybe not so much, Maeve's name means enchanting or alluring.
Its telling that it is a Black woman who says the things she says, just that it is a White woman who declares herself no longer to be the impetus of another man's storyline. The series creator, Lisa Joy, has some knowledge of intersectional feminism, as these are the very restrictions that Black and White women fight against in the real world. For White women it is being considered helpless, and for Black women, it's being considered worthless, and  each stereotype is used as an excuse for silencing and violence, against the other, by men.(White women's fear of being compared and treated like WoC, keeps them from aligning with WoC, on issues pertinent to them both.)  But this particular dichotomy was most directly captured in the Dylan Roof shootings that occurred last year in Charleston, when the protection of White female purity was used as an excuse to enact violence against black female bodies. (The protection of White feminine virtue has always been used as an excuse for Black male disposability, most notably in the case of Emmett Till.)
https://newrepublic.com/article/122110/i-dont-want-be-excuse-racist-violence-charleston

It is not an  accident that the Virgin/Whore dichotomy between Maeve and Dolores is being set within the allegorical slave narrative of Westworld, as we see Dolores being carefully shepherded by Bernard and William towards her freedom, (on a literal railroad, no less), while Maeve has had to find her own path. But this close attention to her is  the reason why Dolores is unable to move as freely as she wants, while Maeve's liberation has largely gone completely unnoticed, just as in the real world, where women at the bottom of the socio-economic ladder were able to freely move about in ways that more heavily scrutinized (wealthier) White women could not. Nevertheless, poor women's ability to move about more freely ( travel, hold down jobs, speak their minds, as long as it was in service to others) was also harnessed to facilitate the imprisonment of White women to the rigid gender roles of marriage and childbirth. (This utilization of poor Black women's fewer, or different, social constraints, is what gave birth to the Mammy/Sapphire Stereotype.)
I have been at some pains to find articles on this subject online and the only one I could find that came close to approaching this subject, written by a White woman, focuses almost exclusively on Dolores, ignoring Maeve's part in the greater story. I think after this week's episode, titled  The Adversary, there will a greater focus on the part Maeve has to play in the story of Westworld's robot rebellion, and no, it's also not an accident that the first skirmish in the rebellion would be led by a black woman, who has no fear of death.
*This is one of my most ambitious metas, for any show I've reviewed this year, so let me know what you think!