Okay, this is my last review for a couple of episodes because I'm going to be reviewing other stuff. It doesn't  matter too much as the show, even though its season has been shortened by a couple of episodes, still insists on meandering its way towards the plot. I think I can skip at least a couple of episodes, as nothing important is likely to happen. I don't dislike this season  exactly, but everything that was most annoying about the last season, is pretty much still happening, only with slightly quicker editing.
I was really hoping, with it's emphasis on Quinlan and Gus that I wouldn't need to look at either Zach or Kelly during this episode, but the show decided to torture me anyway by opening with a completely unnecessary scene of Zach and Kelly hanging out.
In the last episode, I noped out before the scene where The Master infected Zach with a single worm.The writers seemed to consider that some sort of cliffhanger (not realizing we don't give a shit what happens to Zach) and left that scene until now, where we find that Zach is fine. Well, at least we got the two of them out of the way. We don't see them for the rest of the episode.
Setrakian finds the Occido Lumen has been stolen. Fet's conclusion, jumped into with both feet and a yahooo, is that Quinlan did it. Well he's not wrong. Quinlan and Eph did it, so that Eph could trade Zach for the Lumen. And this is yet another reason why the writers need several good punches to their necks. Eph clearly  and succinctly outlines to Quinlan, why giving the Lumen to the Master, is a bad idea.  He could be dooming the entire human race if he does so, but decides to go along with his plan anyway because he's a parent, he loves his boy, blah, blah, blah. Honestly, if Eph isn't the most irritating white male protagonist I've ever seen in a show, I don't know who is. I'm guessing he's meant to be unlikable.
Quin gets some backstory outlining how he was found by an old witch woman and given civilized behavior, in an effort to fulfill the prophecy that he would one day kill the Master. The Master, discovering his existence, traps Quin and the old woman in a cave. She feeds herself to Quin before he can starve, and become too weak to fight the Master, when he returns.
Its nice to see Eph and Quinlan bonding like this (NOT!). Quin has no patience for Eph's general foolery. Yeah, Quin doesn't like Eph very much either. I quite understand.
Plot is  still dawdling along despite having only 7 episodes left.
We go to Gus' circumstances as he and Angel try to hide his mother from the local security patrols who are going from building to building looking for vampires, I guess. I'd have more to say about this but I was distracted by all the garbage strewn throughout the halls of Gus' apartment building. I kept wondering if it looked like that before the apocalypse, and if not, when did the apartment dwellers find time to leave all this loose trash all over the building. Its just a tiny thing, but it strikes me as some white middle-class set designer's idea of extreme poverty. Lots of trash everywhere.
Gus is successful at letting his mother get away, but he and Angel get conscripted by the local police to do patrols. Actually, that isn't a bad idea. The guy who conscripts them says it doesn't make any sense to have able-bodied men just sitting in jail, when they could be out fighting the plague. Its heartless, but sensible.
Eph makes a deal to exchange the Lumen for Zach at a neutral meeting place. Eph is so dumb that he takes the real book with him trusting that the Master is going to live up to his end of the bargain. Setrakian and Fet track the book to the meeting place.
Glowing red eyeballs on the vampires still make me laugh, tho'!
All these forces converge at the meeting, and the show keeps teasing us with  wonderful ideas, like an infected SEAL Team, that we will never get a show about. Naturally, the Master betrays Eph. That was to be expected. (Just not by Eph.) All the vampires get poisoned when Setrakian, bad-ass that he is, sets off several silver grenades. He even manages to poison the Master enough to slow him down long enough for Quin to chop off his head. So the master appears to be dead, but since its only the third episode and I did read the books, I'm pretty sure he's not, as most of his worms got away. And we've seen him switch bodies before, so…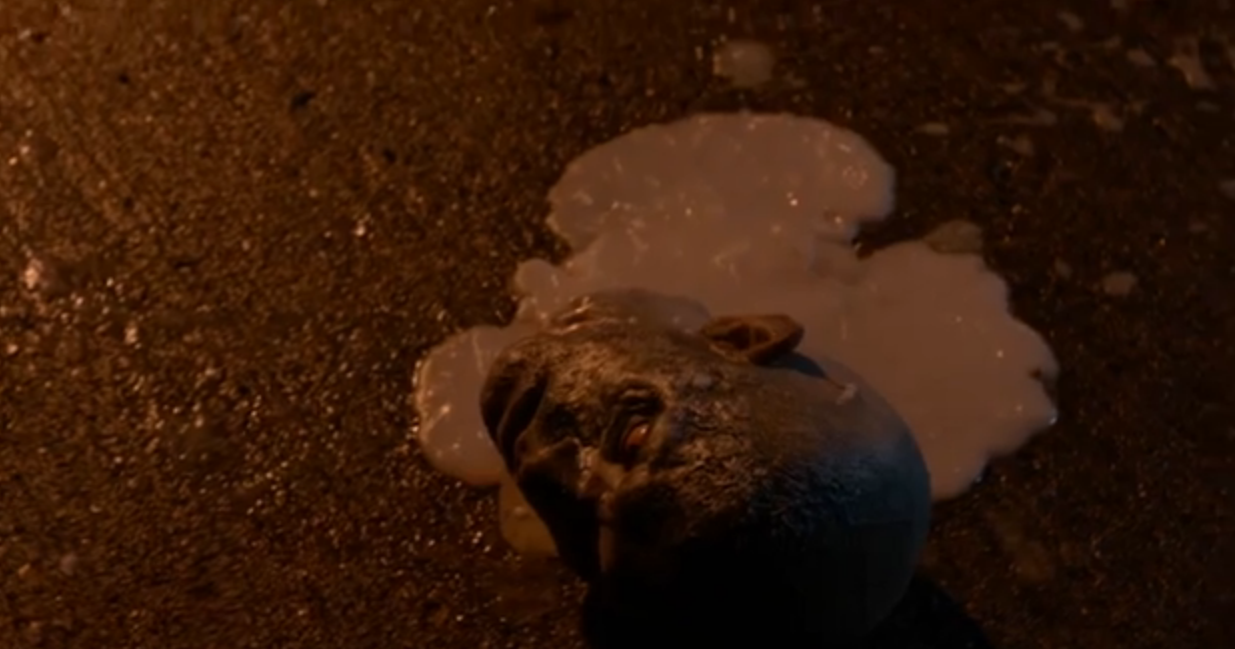 So really, it was just an okay episode. Not bad, but nothing really great.I liked all the Quinlan stuff because that's always cool. Ephraim Goodweather is an annoying idiot that needs a good face-punching. Setrakian continues to be OG, while Fet, Gus, and Angel are his smaller, less intelligent, backup gangstas. Zach needs to be burned in effigy, thereby exorcising him from the show. And no Palmer, Eichorst or Dutch, so that's in the plus column. I hope this episode isn't as good as the show gets though.